It's time to take a deep dive into the world of SEO and review the best SEO tools of 2023.
In this blog post, I am going to review some of the most popular SEO webmaster tools and make sure you understand what each of them brings on the table.
Quick note: One of the reasons why I do this often is that I don't believe in doing marketing for the sake of it. Yes, it's important to get the word out about your product, the web page, or the event. But more than that, it's about understanding what you, the reader, like. It's about keeping 'What You Want' on a pedestal and creating the most valuable content around it.
Passion marketing, ladies and gentlemen, is what I practice and being a Passionate Marketer, it's my responsibility to create content like this as well.
If you like what I do, let me know in the comments section and don't forget to subscribe to my weekly newsletters!
So, let's cut to the chase and get started!
Here Are The Best SEO Tools:
Overview
If you are looking for a complete tool suite for your digital marketing agency or campaigns, you need to use SEMrush now! The tool is so useful when it comes to providing professional visibility about the campaign traffic tracked on different marketing and communication channels. This can really help you get deep insights into your marketing approach and make informed decisions in the future.
Main Features
Oh, SEMrush is good at providing result-oriented Search Engine Optimization features and plugins to its customers who are looking to build a solid SEO campaign. The ability to perform organic and advertising research and couple that with the audience insights can help you build an impeccable SEO campaign for your website, blog, or business. It helps you track and audit backlinks, perform KW research, do organic traffic analysis, SEO audits, and provides a state-of-the-art Reporting tool. If you are into Paid Search (PPC), SEMrush makes sure you get a perfected PPC Keyword tool and Ad builder that can help you get the most out of your PPC campaign. Keyword Magic Tool is something that will become your favorite keyword research tool for sure.
For Whom Is It A Great Choice?
SEMrush is a technical SEO tool every online marketer should use. But since you have asked, let us tell you for whom this tool is the best option.
If you are a user that doesn't know how to find the top-performing or best keywords, or want to check the website's health, or have no idea about what your competitors are up to when it comes to SEM, SEMrush can help you out.
SEMrush's marketing suite is designed in a way that can help any beginner marketer learn the basics and can provide advanced features to a veteran advertiser as well.
How Is It Different From Other Tools?
SEMrush is known for providing a complete package that has an overabundance of marketing tools that hardly any other marketing suite provides.
The sheer variety of tools it features can really make digital marketing effortless.
However, it might not be the best online marketing tool for casual users as it can take a lot of time to get used to the whole UI and that could make it difficult for them to glean useful information for their SEO and keyword strategy.
Pricing
SEMrush is smart when it comes to pricing.
There are different plans it has on offer and when you consider the scope of the SEO campaign you want to run using SEMrush, the plans give you excellent flexibility.
So, SEMrush has a Pro Plan, a Guro Plan, and a Business Plan and pricing range from $99 to $399. These plans can be subscribed annually as well.
Pros
SEMrush has an in-depth backlink checker platform that produces some spectacular reports and domain authority tracking.
The keyword magic tool is just out of the world as it provides top-notch keyword selection.
SEO is effortless with SEMrush as it enables users to implement daily and weekly domain and search position monitoring.
With the enhanced traffic metrics, SEMrush makes sure your campaigns are well-monitored.
Cons
The complexity is really a turn off when it comes to using the said page optimization tools on SEMrush.
But, that's not something you should worry about because you can perfect your SEMrush skills using SEMrush Academy.
Overview
Ahrefs is an SEO suite that was launched in the year 2011 and is particularly a SaaS-based tool that helps users to check any domain, check website's health, page speed, check domain ranking, search for specific keywords, check backlinks, site structure and so much more. Ahrefs is Singapore-based and adds all the important SEO-related features to a digital marketers arsenal. Here is a list of tools Ahrefs provide –
Keyword Research Tool
Keyword Gap Tool
Backlink Gap Tool
Backlink Profiling Tool
Internal link audit
Site SEO audit
Disavow Tool
Content Explore
Main Features
There are tons of features to talk about when it comes to Ahrefs. The SEO toolbar, real-time keyword mention alerts, backlink notifications, multi-language keyword rank tracking, and desktop and mobile rank trackers are some of the prominent Ahrefs features. Others include adjustable reporting frequency, disavow file creation, competitor tracking and analysis, batch analysis, position tracking, and more.
For Whom Is It A Great Choice?
Given the amount of information Ahrefs provides to its users and its commitment to providing improved functionalities, it is great for people who run SEO agencies, businesses with in-house digital marketing team, and content marketing teams.
How Is It Different From Other Tools?
There are many keyword research tools out there in the market. But, Ahrefs is the only one that will give you a list of nearly 6 million search queries with the word 'iPhone'. Yes, you can generate millions of keyword ideas on Ahrefs, which is almost 211% more than the closest competitors.
Pricing
When it comes to pricing, Ahrefs makes sure it keeps the charges low so that every marketer and SEO specialist can use the tool for his or her needs.
Ahrefs comes with four different well-thought-out pricing plans – Lite, Standard, Advanced, and Agency.
The pricing for these plans ranges from $99 to $999. These plans come with an option to go annually. I highly recommend you go for the annual plan as you can save 20% on the whole thing. If you are not sure about Ahrefs, you can go ahead and give it a shot using a 7-day trial that costs just $7. Available payment methods are credit card and PayPal.
Pros
Marketers are crazy about Ahrefs. The simple UI is the best thing that can happen to a beginner who is looking to get SEO done for his website.
If there's anything you need to know about your website's SEO and performance, all you have to do is put it in Ahrefs and use the features.
Ahrefs really has your back. The most important thing to note is that Ahrefs keep updating their functionality and options to improve user experience on the platform.
As a paying user, you can even contact support and suggest the changes you think will bring the platform improved functionality.
Cons
Believe it or not, Ahrefs is one of the most likable SaaS-based SEO suites as you won't find much to complain about.
Of course, there are times when the features and the tools I mentioned above don't work. But, that is mainly because the support team of Ahrefs is busy maintaining or updating it with the latest algorithms. It can really set you off if you are busy working on a project.
Overview
If you are looking for a perfect content marketing partner for your SEO campaigns, look no further. Answer the Public is an amazing visual keyword research & content marketing tool. It is popular for its consumer insight tool which works perfectly and provides great results by combining Bing and Google searches to come up with a search cloud. Users get a complete list of the most important questions people are asking on the Internet about the particular issue or topic or keyword you entered.
Main Features
Answer the Public does not use a very special technique to pull information from the Internet. But, the technique it uses to bring the suggested searches together in a unique form of visualization is really what sets it apart from other tools that provide content ideas to the marketers.
For Whom Is It A Great Choice?
Answer the Public has been built to help online marketers, WordPress bloggers, and content marketers to come up with great content ideas for their blogs or online marketing campaigns. It is a great choice for any marketer with all experience levels as the fresh content and niche ideas it provides is highly useful to everyone. If you are an affiliate marketer, Answer the Public can become a great partner for you.
How Is It Different From Other Tools?
Although Answer the Public uses quite basic techniques to bring together all related suggested searches from the Internet, the visualization technique it brings to the table makes it different from other tools.
Pricing
This is one of the best free SEO tools for bloggers and SEO marketers looking to generate a handful of content ideas. In case you are running an agency and have an SEO team handling multiple client projects, you should go for the PRO plan which costs $99/month.
Pros
To start with, Answer the Public will cost you nothing. Yes, that's right. This free tool can get you tons of ideas for your content.
It's extremely fast and easy to use.
With the visualization technique, your ideas can also be displayed as data and the results can be saved.
All the results are accumulated from over 12 countries and the report can be saved in the form of CSV.
Be it a beginner or seasoned content marketer, Answer the Public can be used for SEO purposes.
Cons
Answer the Public is not a very complex tool. There are no advanced functionalities attached to it.
One of the most discussed cons of Answer the Public is its inability to provide essential metrics for page 1 Google rankings.
Overview
I'm talking about Long Tail Pro which is one of the most powerful keyword research tools in the market. It enables users to generate hundreds or thousands of related keywords in a matter of seconds using one base keyword. It is great if you are looking for a keyword research tool that keeps speed at a pedestal.
Main Features
The list of features for Long Tail Pro is long. But, I should discuss the most important features. You get the functionality to create multiple projects, get keyword ideas and suggestions on the basis of seed keyword, export/import keywords, check keyword difficulty and Google rankings for them, and mark your favorite keywords for future use.
For Whom Is It A Great Choice?
If you are someone who is tired of using Google's Keyword Planner, then Long Tail Pro is the way to go. The thing with the keyword planner is that it gives you a great variety of long-tail keywords that have low competition. But, everyone is using those keywords which ultimately means that you will have to compete against the thousands of people who are using the same low competition keywords. With Long Tail Pro, you don't just get low competition keywords, you also get keywords that are highly profitable. That essentially means that you will be able to rank your keywords easily and make money with them quickly.
How Is It Different From Other Tools?
One of the biggest competitors is Google's Keyword Planner. Now, as I mentioned earlier, the keyword planner's ability to provide low competition keywords is commendable, but Long Tail Pro takes this to a whole new level by providing the user with keywords that are more profitable and have low competition.
Pricing
The pricing plan of Long Tail Pro has three different packages you can subscribe to – Annual Starter and Annual Pro. You will be surprised by how nominal prices are for each of the plans. The pricing for the plans ranges from $207 to $375.
Pros
Long Tail Pro helps you get keyword suggestions in large quantities without compromising the competitiveness score.
Users can get great help as the competitor analysis screen allows them to get more than enough information on the probability of your ranking on Google.
The rank tracker tool on Long Tail Pro is exquisitely built to provide you with accurate data and ease of use.
You can generate as much as 800 results for the seed keyword you input in Long Tail Pro.
Cons
Most of the disadvantages of using Long Tail Pro are associated with the limitation it has set for different features.
I definitely think that the limit on manual keywords and seed keywords could be higher.
This would have allowed users to get keyword ideas for a variety of base keywords.
The way Long Tail Pro displays information could have been better as the text and URLs displayed in the competitor analysis are not clear enough.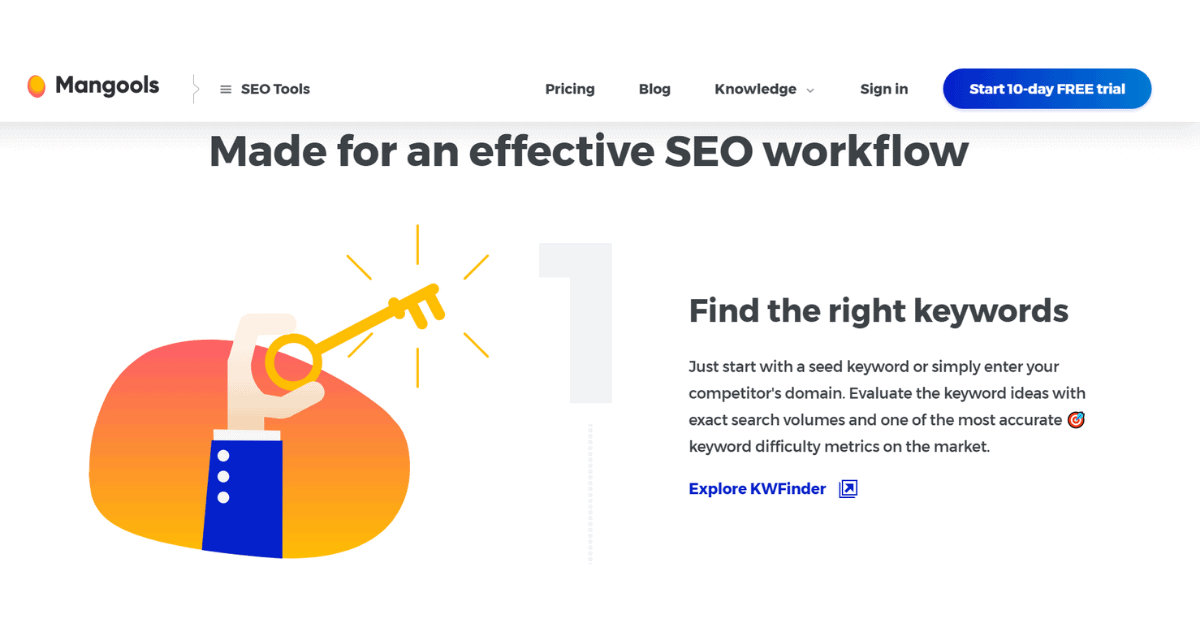 Overview
Here's another SEO tools suite that has made our list of best SEO tools in the market. This is a very affordable SEO suite that helps bloggers and small businesses to develop their SEO strategy and get started with a solid SEO campaign. But, don't go by the pricing, this tool is as premium as you can think since this 5-in-1 SEO toolbox has a lot to offer.
Main Features
Mangools is a 5-in-1 SEO Suite and includes 5 most important SEO tools – Google SERP Checker, SERP Watcher, Link Miner, Site Profiler, and KW Finder. Most of the expensive tools we have in the market limit the features they provide their customers. That is not the case with Mangools.
For Whom Is It A Great Choice?
Mangools is a great SEO tool for marketers and bloggers who are looking for a superb SEO tool without having to shell out extra bucks. Mangools is an affordable SEO tool that does not compromise on quality and functionality. If you want to get ahead in the SEO game by knowing what your competitors are up to, look no further.
How Is It Different From Other Tools?
Mangools major competitors are tools like Ahrefs, Moz Pro, and SEMrush. These are premium tools that offer a lot and are quite popular in the market. These tools have starter plans that cost $99/month. While they provide limited basic features in the base plan, Mangools provides its user with all the premium features in the basic plan itself.
Pricing
There are three different plans you can choose from when subscribing to Mangools. These are Mangools Basic, Mangools Premium, and Mangools Agency. All the plans lie under the $100 mark and even provide great discounts when you go for annual packs. If you are a beginner or have a small site to manage, go with the basic plan. The premium plan is for affiliate marketers and bloggers who rely heavily on SEO for generating traffic. If you are running a freelance SEO or SEO agency, grab the agency plan to manage all your clients' SEO campaigns and check out their competitors.
Pros
Mangools is a suite of SEO tools that provide 5 different SEO tools for the price of one.
The keyword research options available in Mangools beat every other tool by a huge margin.
It won't be wrong to say that Google Keyword Planner cannot compete with KWFinder of Mangools.
SEO is greatly based on competitor analysis and SiteProfiler helps you do that effectively.
One of the coolest pros Mangools has to offer is the ability to automatically track all the keywords of your website.
This removes the need to add your target keywords one after one saving you a lot of time.
Cons
Well, there are a lot of things you will have to miss if you use Mangools.
It does offer an agency plan but a lack of a client dashboard really makes it difficult to manage campaigns.
If you aren't running an agency, you should not opt for the Mangools Agency plan.
Another thing that you should consider while opting for Mangools is that it is a new player in the market and will have to go through a lot of development to make it 'the best SEO tool'.
The database for links in Mangools is very small when compared with that of Ahrefs and Majestic.
Overview
SpyFu exposes the search marketing secret formula of your most successful competitors by providing a range of advanced features. It provides a series of reports that are packed with all kinds of metrics, data, charts, and important performance insights that can help you make informed decisions about your SEO and SEM campaigns. You can easily know the backlinks, similar sites, top-ranking keywords and irregularities on your websites which can get your website penalized by Google.
Main Features
There are a number of features on SpyFu that make it completely worth the shot. You can get unlimited backlink results, data import/export functionality, in-depth SEO reports, backlinks searches, keyword searches, keyword history, API access, and more.
For Whom Is It A Great Choice?
SpyFu is a great choice for users who like to know what their competitors are up to. This 'Spy' tool can also be used to get deep into the insights and get more out of the usual SEO reporting and performance analysis. If you want an SEO tool that indexes more than 7 billion organic search results and want to use its exclusive database, you should be using SpyFu.
How Is It Different From Other Tools?
SpyFu is an SEO tool that literally 'Spies' on what your competitor is up to. Unlike other SEO tools, it gives you access to every keyword your competitor has bought using Google Adwords, provides you a list of keywords they organically rank for, and a complete report on the ad variations your competitors used in the last 12 years!
Pricing
The pricing plans for SpyFu are devised to help novice users, professionals and agencies. There are three pricing plans – SpyFu Basic Plan, SpyFu Professional Plan, and SpyFu Team Plan. These range from $33 to $199 annually. The functionalities provided are different for different plans.
Pros
There are so many advantages of using SpyFu for SEO purposes. Firstly, it provides a full suite of tools that help you execute core keyword research and manage campaigns effectively.
The user experience on SpyFu is premium and sleek which makes it one of the most subscribed online SEO tools in the market.
Even the reporting and analysis tool of SpyFu is top quality as it provides adequate information about all your SEO, PPC and other paid advertising metrics like CPC, CPA, and more. Not just that, SpyFu enables its users to track backlinks, 24/7 site monitoring, and get unlimited search results.
Cons
SpyFu is an SEO tool that is well-equipped for an advanced SEO user. For beginners, getting used to SpyFu can take a lot of time and effort.
The Ad metrics displayed on SpyFu can be quite slow and confusing at times.
Also, the absence of web-wide crawling can be a factor why marketers don't choose SpyFu.
You get limited data for niche industries and users are not able to figure out which geolocations are used to show rankings.
Overview
Screaming Frog's SEO Spider tool is a powerful website crawler that has the ability to crawl all kinds of websites and provide real-time results. The crawling is exceptionally efficient and does not fail to gather key insights about the website which can be used to make informed decisions in the future.
Main Features
Screaming Frog can help you find all the broken links on your website and provide guidance on how to fix them. It can effectively analyze all the page titles and metadata for each page on your website. With the help of XPath, it can extract the data and provide you with great SEO analysis and reports. Duplicate content can be discovered using Screaming Frog, helping websites to escape any kind of penalty by Google. It is a complete on-page SEO tool and can also help you review robots and directives. Integration with Google Analytics also makes Screaming Frog a great SEO tool.
For Whom Is It A Great Choice?
If you are looking to make a perfectly SEOed website, you need to give Screaming Frog a shot. Screaming Frog is essentially a website crawler that crawls your websites to find all kinds of irregularities in on-page SEO and site performance. Everything, from metadata to sitemaps to general on-page SEO parameters are tracked and analyzed so that your website has the best chance to rank high on Google search engine results.
How Is It Different From Other Tools?
First of all, it is an SEO software that is not cloud-based i.e. it needs you to download the whole thing onto your computer system and then install it. Screaming Frog is first a crawler and then an SEO tool.
Pricing
Pricing on Screaming Frog is quite simple as there are only two plans available –
1) Free and 2) Paid. The paid plan will cost you £149. The free plan has a crawl limit of 500 URLs.
The prices mentioned on Screaming Frog's official website is for an annual subscription. However, you can go for multiple licenses as well if you require to have more than one license. You can get as many as 20+ licenses registered for 20 different users and can get discounts on bulk purchases.
Pros
The advantages of using Screaming Frog will definitely make you try this SEO tool for sure.
Screaming Frog, firstly, has a well-designed and easy-to-understand user interface that helps beginners get used to the software quickly.
It has great speed and it uses this quality well when crawling heavy websites.
Marketers need to export data all the time and Screaming Frog has done a commendable job when it comes to exporting or importing data. Google Analytics and Google Search Console integration make it an unbeatable SEO tool in the market. Also, it is ridiculously inexpensive.
Cons
The interface and the software keep on updating and make you wait for long hours before you can start working on your projects.
Screaming Frog does not run in the cloud and requires you to download its software on the system you are using.
The interface is easy but looks like an Excel spreadsheet. Also, the features in the free account are very limited.
Screenshot of Tool
Overview
Wordtracker is essentially a keyword research tool and is one of the oldest SEO tools in the market. It dates back to 1998, which is also called the birth year of SEO. The tool played a crucial role in helping marketers understand and adapt to the growing search activity and offered reports on what search terms were being used at that time. Wordtracker has done well to adapt its software with the changing times and has successfully developed to match the present SEO trends. This has helped it provide tremendous value to the marketers.
Main Features
Here Are The Top Features of Wordtracker –
Highly trustworthy keyword research and analysis
A massive keyword database
24/7 Cloud Access
Easy to Organize
Complete Competition Analysis
World-class customer support
Wordtracker API
Note: Wordtracker API (Application Program Interface) is a feature on the platform that provides insights of keywords from a range of sources like Google, eBay, Amazon, and more. The API can be used to build tools and applications that interact with Wordtracker's keyword database.
For Whom Is It A Great Choice?
If you are someone who is looking to get a list of keywords you can trust, want to save time on research, and successfully boost your search engine rankings, you should go for Wordtracker. This is a dedicated keyword research tool that can help you discover profitable niches in the market and drive highly targeted and profitable traffic to your business website. It can provide you with up to 2000 keyword ideas from one seed keyword and present the result in an easy-to-understand interface.
How Is It Different From Other Tools?
As mentioned earlier, Wordtracker is essentially a keyword research tool that has been featured on all popular magazines and websites like Inc., Entrepreneur.com, SEO book, and more. The track record of recognition and excellence in the field of SEO has made Wordtracker everyone's favorite keyword research tool.
Pricing
Wordtracker has three plans on offer on its official website.
The plans are namely Bronze, Silver, and Gold. The plans are based on the number of keyword results you are looking for in a particular month.
You should even consider the number of territories and API access before committing to a plan.
All the prices have been mentioned on Wordtracker's official website. However, competitor analysis is one feature that is common to all the plans.
Pros
The advantages of Wordtracker is mainly about the level of intricacy it shows in generating keyword data and presenting it in a way that it can help SEOs to make highly informed decisions in the future.
Wordtracker makes sure that all the data generated is of top-quality and can be trusted at all times.
It delivers the data in the most accessible way and allows marketers to export the data as well.
The Wordtracker Academy is something that can help budding SEOs and content marketing enthusiasts learn the art of SEO inside and out.
Cons
Local SEO is still not to be found on Wordtracker. Yes, you heard it right.
Wordtracker specializes in providing state-of-the-art keyword analysis but fails when it comes to helping local website rank on search engines.
Local SEO is something that is in trend and I can only hope Wordtracker develops its platform for that as well.
Overview
AccuRanker is an online tool made for SEO professionals and agencies which helps them track the ranking of keywords and websites in real-time. This is the world's fastest and most accurate keyword tracking tool that can catalyze your online growth exponentially.
Main Features
One of the most important features you get on AccuRanker is its ability to connect to your Google Analytics account which helps to track the targeted keywords effortlessly. Not just that, you can even import/export some of your keywords on the two platforms. The keyword performance tracking and analysis can be automated on AccuRanker which takes daily analysis to a whole new level. It, in fact, delivers great reports as well which are automated. AccuRanker allows marketers to send a detailed progress report almost instantly. Reporting is coupled with appealing graphics and easy-to-understand charts. The ability to import and export data is necessary and AccuRanker does that right. There are many other features like agency-specific monitoring, competitor monitoring, and share of voice.
How Is It Different From Other Tools?
AccuRanker provides accurate and up-to-date data to keep your website safe from Google penalties. It alerts you whenever Google updates its search algorithms. The keyword data gets updated every 24 hours to make sure your website is safe from any kind of penalties. It's intuitive and easy to use interface is a huge plus. Third-party integrations to Google Analytics and social media websites can help do some cool stuff. Also, you get automated and customizable reports which have your company's name and logo on it.
Pricing
AccuRanker's pricing plan is based on the number of keywords you are looking to track.
It is great when it comes to keeping the cost low for business owners who are looking to grow their businesses. The lowest-priced package is for 500 keywords and the highest is for 100,000 keywords.
All the price details are present on the AccuRanker website.
Pros
AccuRanker works well when it comes to maintaining the structure and keeping everything organized for every campaign.
It is very intuitive and easy to navigate thanks to the clean design and easy-to-understand interface.
Beginners find it easy to use as well. It understands the importance of featured snippets and shows if your website has ranked to make it to Google's featured snippet.
From automated reports to multiple platform integrations to affordable pricing plans, AccuRanked has it all.
Cons
AccuRanker can get slow when refreshed for new data. You might have to use other SEO tools as well since AccuRanker only tracks and provide results about rankings.
Overview
Serpstat is one of the most popular SEO toolkits that can take charge of everything from competitor research to extensive keyword research. This can be a great alternative for SEMrush or Ahrefs SEO tool as well.
Main Features
Here's A List of Features That Serpstat Has To Offer:
Keyword research
Site audit
Competitive analysis
Rank tracking
Backlink analysis
Market analysis
Search analytics
PPC analysis
Content ideas
Reports, alerts
Infographics
API (Application Program Interface that allows you to build apps and tools to interact or use Serpstat's features and database.)
For Whom Is It A Great Choice?
Serpstat is for people who know where they are in the lifespan of their business. If your goal is to create more and more content, Serpstat will prove to be a great SEO tool. If you are looking to build massive skyscraper links, Serpstat can get it done for you. In case you were hunting for a tool that can help you with link building, look no further.
Pricing
Serpstat has four different pricing plans you should consider before subscribing to the SEO tool. These are Serpstat Lite, Serpstat Standard, Serpstat Advanced, and Serpstat Agency.
The pricing is based on the number of keyword queries, the number of keywords you can track, and the number of websites you can look up.
The pricing plans are mentioned on Serpstat's official website.
Pros
Serpstat is known to offer more for less. SEMrush like features you get on Serpstat cost you 33% less than what it will cost you on SEMrush.
It's not built for people looking to build backlinks but has a lot of firepower when it comes to tracking keywords and websites.
Strong keyword analysis, website auditing, and SERP analysis are Serpstat forte.
The limits are very high for any plan you choose on Serpstat.
Cons
There's no backlink analysis on Serpstat which is a major let down as building and tracking backlinks are one of the most important things you can do when it comes to SEO. It has an Eastern Europe time zone which can make it very difficult for you if you are from the US. You should expect 12-24 hours between replies.
What Are The Free Best SEO Tools?
There are many free best SEO tools that you can use like Answer The Public, Woorank SEO, Ubersuggest 3.0, Siteliner.com, Animalz Revive, and CanIRank. SEMrush is one of the best free best SEO tools whose free plan allows you to do 10 searches per day, 100-page crawl, and 10 keywords to track using the Position Tracking Tool.
Wrapping Up
I hope this piece of content brought great value to you. It is essential for you to know what the best SEO tools of 2019 can do to help your website, blog, or business grow and I hope this blog post helped you out with that. Since you are here, don't forget to subscribe to my weekly newsletter as I bring all the latest updates from the world of online marketing.