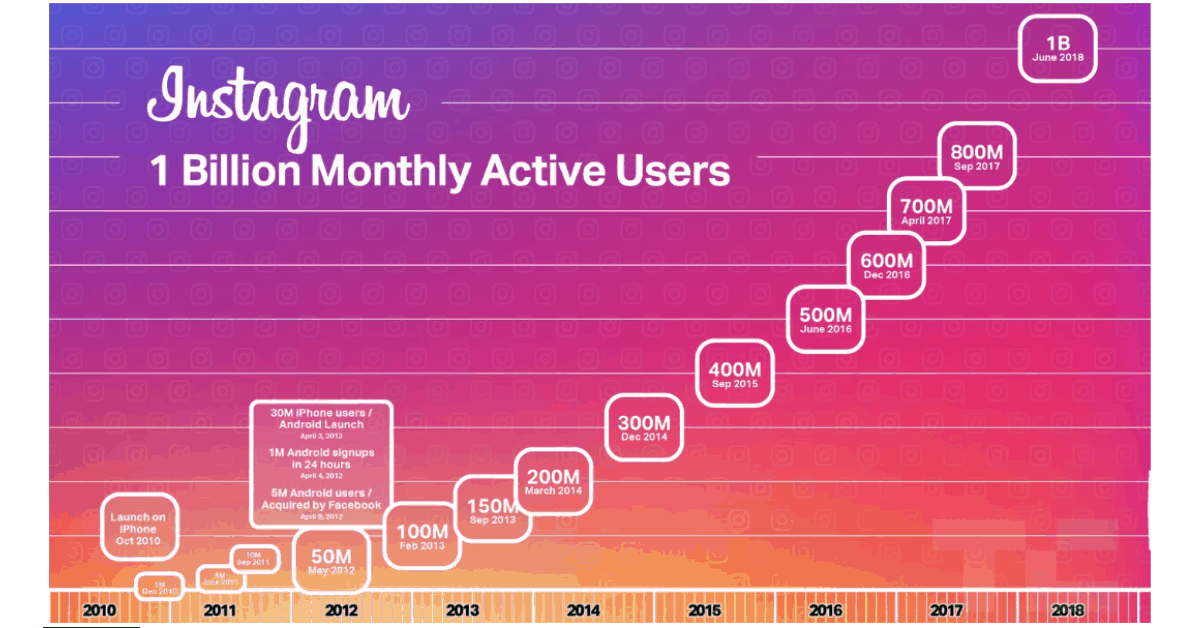 Since Instagram came to light on 6th October 2010, it has grown into the largest photo-sharing social media platform. 
Instagram has over 1 billion active monthly users, according to a 2018 report by TechCrunch. More than 95 million photos are published on the platform every day. Additionally, the most engaging social media platform gets over 4.2 billion likes every day. 
We also can't ignore the fact that Instagram has a ton of influencers with a ton of followers. For example, Cristiano Ronaldo has 191 million followers. This is just proof that with the right strategy, you can crush it on Instagram.
And that leaves us with the million-dollar question: What is the best time to post on Instagram? 
In this post, with stats and screenshots, I'm going to try and answer this question. 
And by the end of this post, you will know what the best times to post your Instagram stories, photos, or videos on the world's most engaging social platform. 
So without wasting time, let's cut it to the bone. 
Best Time to Post on Instagram: Frequently Asked Questions
Is There a Good Time to Post on Instagram?
I must say that the answer to this question: what is the best time to post on Instagram will depend on your audience. 
According to HubSpot, it doesn't matter who you are targeting – posting early in the morning is still a good strategy. 
Therefore, posting from Tuesday to Friday (Thursday most preferred) at 5 am is a better strategy to increase your engagement on Instagram. 
Sadly, posting on Mondays isn't a good idea. This could be because brands post on Mondays, which increases competition among Instagram users.
In a nutshell, the best time to post on Instagram ranges between Tuesday to Thursday – 9 am to 6 pm (time may vary depending on your audience, as I had stated earlier). 
And the reason why that's the best time to post on Instagram is that Instagram users will either check Instagram stories either before they start work or after work. 
Is Saturday, a good time to post on Instagram?
It's hard to deny the fact that there is a considerable amount of engagement on Saturdays, around midday, but the truth is that weekends aren't the best time.  
Also, it's important to note that Instagram's engagement rate drops late in the night and picks up very early in the morning – at around 5 am. 
Therefore, posting on Instagram on Saturdays isn't the best idea for you. Maybe, you can try scheduling your posts between Tuesdays to Fridays from 9 am to 6 pm, depending on your target audience. 
Is Sunday the Worst Day to Post on Instagram?
For undeniable reasons, there are specific days or times that you shouldn't post on Instagram because the engagement rate is too low. 
For example, posting on Instagram during late hours will not be appropriate because the chances are that your audience is asleep by this time, depending on your time zone. 
Additionally, experts suggest that Instagram users shouldn't post on Sundays or Mondays because these days receive the lowest engagement rates. 
Therefore, posting on Sundays will not be appropriate if you are serious about getting more eyes on your Instagram posts. 
When is the Best Time to Post on Instagram?
A Case Study of 12 million Instagram Posts
The question of when is the best time to post on Instagram has been on debate for the past few weeks, and not everyone seems to get it right. 
To find out the most substantial answer to this, Later analyzed 12 million Instagram posts in different time zones in accounts with followers ranging between 100 to 1 million. 
Below are the top 3 best times (expressed in Eastern Standard Time – EST) to post on the world's most popular photo-sharing platform.
That said, here's a quick breakdown of the best time to post on Instagram: 
Mondays: 6 a.m, 10 a.m, and 10 p.m (EST)

Tuesdays: 2 a.m, 4 a.m, and 9 a.m (EST)

Wednesdays: 7 a.m, 8 a.m and 11p.m (EST)

Thursdays: 9 a.m, 12 p.m, and 7 p.m (EST)

Fridays: 5 a.m, 1 p.m, and 3 p.m (EST)

Saturdays: 11a.m, 7 p.m, and 8 p.m (EST)

Sundays: 7 a.m, 8 a.m, and 4 p.m (EST)
That said, it is better to find your best time, depending on your time zone. If you like, you can convert the above times to your time zone – whether CDT or CAT using this time zone converter. 
Timeliness is a critical factor in the Instagram algorithm, and that's why Instagram's algorithm changed in 2018, which now values posting times. 
Best Times to Add New Content on Instagram According to Niches
1. Retail
More people are using Instagram as a shopping outlet. Therefore, the time you post on Instagram as a retail business owner is critical. 
That said, if you want to get more engagement with your retail posts, then you should consider these times: 
Best Times

: Wednesday during midday hours at around 11 am and Fridays in the morning between 10 and 11 am (weekdays)

Best Day

: Wednesday is the best day of the week,

according to blog.kicksta

.

Worst Day

: Sundays. 

Lowest Engagement/ Peak hours

: Late night or early in the morning (Low peak times) because a ton of people are asleep during these times. 
Elise is a fashion and lifestyle writer and blogger. Below is the strategy that Elise Armitage uses to post on her Instagram account. 
What's Elise's Best Posting Time on Instagram?
Elise says, "For me, the best times to post are in the morning or evening, and the best days of the week are Sunday through Thursday. This makes sense—people are scrolling their Instagram feeds in the morning in bed, and during their commutes, and then again once they're relaxing at home after work. And on Fridays and Saturdays, people are pretty checked out, doing their own thing and enjoying themselves."
2. Media and Entertainment 
Since Instagram has grown into the world's largest photo-sharing social platform, more and more media, and entertainment influencers are finding Instagram as the ideal platform. The question, though, remains: what is the best time to post on Instagram?
Best Day/Time

: Fridays in the morning between 9 am, and 10 am

Peak Hours (High engagement)

: Wednesdays, Thursdays, and Fridays during work hours between 8 am and 5 pm

Peak Times (Lowest Engagement)

: Saturdays and Sundays because people are taking a break from the tiresome weekday tiresome work hours  
Crystal Lee is a host and producer living in San Francisco. She shares her best time to post on Instagram strategies. She says that she prefers posting in the mornings during weekends, as well as mid-late evenings during weekdays. 
Check out her Instagram account and her popular posts below:
Crystal Lee's Advice to Media and Entertainment Instagram Users
: 
Crystal Lee says, "Know your audience and serve up content that they've followed you for. But don't get too stale. Try out different types of content to learn which ones drive up engagement. Don't be afraid to take risks, you can always archive or delete a post if you regret it, but you never know – something you didn't think would work might end up performing beyond your expectations!"
3. Nonprofit 
If other industries are leveraging the opportunity on Instagram, and nonprofits are also jumping into the bandwagon. With Instagram fundraising, Nonprofits are raising more funds with help of their existing donors and supporters.

Facebook could also be an excellent place to promote your events, but then, Instagram is the best when you want to target a sizeable number of Millenials. 
Below is the best time to consider if you are in the nonprofit industry: 
Best Day

: Wednesdays in the morning at around seven a.m 

Highest Engagement

: Wednesdays between 6 am and 4 p.m 

Worst Days with the Lowest Engagement

: Saturdays and Sundays
Ways to Calculate your Best Times to Post on Instagram
1. Find Your Top Time Zones to Know When Your Followers are Online
You need to consider your time zone before choosing the best time to post on Instagram. For example, time zones in America and Africa will never be the same. 
Therefore, try to research using Instagram's native analytics tool to know the best times your followers are online. You can also use Instagram Analytics tools like owlmetrics to dig deeper into the numbers (costs you around $50 to $200 a month).
With Instagram's native analytics tool, rest assured you will get everything you need – from where your audience is located, their age, gender, and when they are active on Instagram. 
But for you to get these insights, you will need to turn your Instagram personal profile to an Instagram business profile or an Instagram creator profile. 
2. Experiment Posting Times
If you'd rather crunch the numbers yourself, you can create a spreadsheet to track how much engagement you receive when you post at different times on different days.
You see, every hack and tip you read on the internet was once tested and proven to work. You can also do the same by creating a spreadsheet and tracking how much engagement you get at different times when you post on Instagram. 
You can start with five different times each week to test the engagement rates/engagement times. 
For example, if you realize that most of your followers are active between 5 am and 9 pm, schedule your posts using scheduling tools to appear during those times. 
Record the likes, shares, and comments you get for each of your posts with the date and time you posted. 
Factors to Consider When Choosing the Best Times to Post on Instagram
1. Day of the Week 
People post on Instagram at different times on different days, but there are specific times when the engagement rate is either lower or higher. 
The reason is that people tend to check their phones early in the morning before they leave for work and late in the evening after work. That means that people will more likely check your posts from Mondays to Fridays. 
Even though Monday is a weekday, Instagram engagement rate tends to be lower, and the reason could be because more brands post on Mondays, hence higher competition. 
2. Breaks in the Workday Such as Lunch Hours
People will check their phones before leaving for work, during breaks at workplaces such as lunchtime hours, and late in the evening before going to bed. 
Therefore, if you have a working audience, you should consider posting on Instagram early in the morning, between breaks (lunch hours), and late in the evening. 
Adopting this strategy could boost your engagement rate and increase your Instagram post viewership. 
3. Time Zones
Another factor you should consider when determining your posting times on Instagram is the time zones of your target audience. 
If your target audience is located in one area, use their time zone to determine what time is best or what time they are mostly active on Instagram. This will help you decide when to schedule your posts. 
For example, if you want your Instagram followers to see your posts when they wake up, be sure to check the times when your audience is waking up. That way, you know the time to schedule your Instagram posts to go during times when your audience is waking up. 
4. Frequency of Posting on Instagram
Because Instagram is currently the most engaging social media platform, it's essential that you post regularly, so that your posts can appear fresh and also reach a large number of people, especially if you make good use of hashtags. 
For example, you can try posting two to three times a day and see if that works for you. If you are starting on Instagram and desperately looking for genuine followers post more than three times a day and include relevant hashtags so it can reach a broader audience. 
In most cases, if you include relevant hashtags, people who are seeing your posts for the first time are more likely to follow you because they know you both share similar interests. 
Also, be sure to figure out what type of posts work best for your audience. It could either be photos or videos. While videos tend to attract many users, make sure you are feeding your audience with the right posts. 
Understanding Instagram Algorithm 
Instagram uses an algorithm depending on your past activities to determine what appears on everyone's Instagram feed.
It doesn't matter which Instagram profiles you follow. What shows on your Instagram feed will be unique and can never look like some else's feed. 
That said, below are the main factors that determine what comes on your Instagram feed: 
Interest

: Instagram will show posts similar to the ones you interacted with in the past. You may have liked, commented, or shared a related post. The Instagram algorithm will assume that you want such posts, thus push similar posts on your feed. 

Recency

: Instagram also uses recency to determine what shows up on your Instagram feed. Recency refers to the time the post was posted or shared or posted on Instagram. Recently posted or shared posts will rank high on your feed. 

Relationship

: If you are keen, you'll realize that Instagram will try and push posts for people whom you closely interact with. Sometimes you might have replied to their comment, talked via direct messages, among others. 
Additionally, Instagram takes into account the following considerations to determine what comes on top of your feed: 
Frequency

: Instagram will try to show the best posts depending on the last time you logged into your Instagram account.

Following

: How many people you follow will also factor in. If you follow many people, Instagram will have a wider gap to choose from, so there's a likelihood that your feed will get updated every time. 

Usage

: Finally, how long you stay on Instagram determines what you see on your feed. Remember that new posts are published every minute. So the more you stay, the more likely that you will see recent posts. 
Tactics to Outsmart Instagram Algorithm in 2020
1. Improve Your Photo Quality
You probably have heard about great content. Great content has many definitions. It depends on how best you understand it. But let's give a succinct but straightforward definition. 
Great content is valuable, resourceful, and appealing to your audience. In other words, it must meet the expectations of your audience. 
In this case (Instagram), great content is all about quality images and short videos because Instagram is a visual social media platform. 
Therefore, step up your photo quality to make sure that everything is clear. Take a look at the kind of photos Airbnb posts on Instagram. 
2. Keep Publishing on Instagram Stories
This sounds weird, and you may even rubbish it off, but what if I told you that Instagram stories just hit the 500 million daily user mark? 
More and more people are posting stories each day, and the more you post Instagram stories, the more you attract Instagram users to your profile. For example, check out Paul Labile Pogba's Instagram story here. 
3. Publish More Video Content
You might be wondering why I'm telling you to prioritize videos over photos, yet Instagram is known as a photo-sharing platform. Video posts are one of the most popular ways of reaching an audience.
Instagram will never come out and tell you that video content ranks way better than photos, but think of it this way. What attracts your attention the most? 
Is it a photo or an eye-popping video content? 
Videos are arguably the best type of content that attracts people's attention the most. So form a habit of creating more videos. Keep in mind that I didn't say that you abandon posting images. Balance both, but don't ignore the power of Insta videos. 
Make good use of IGTV. Go live often and share with your followers what you think. It doesn't matter what you post. You can even share a video of you doing some shopping at your best mall in town. 
In Conclusion 
In the beginning, your struggle was to figure out the best time to post on Instagram. 
By now, hopefully, you know the best times when you should post on Instagram. 
Use your time zone to determine the best times. Also, make good use of the hacks to get more eyes on your Instagram posts. 
I wish you the best of luck as you keep soaring to greater heights on Instagram.