Are you looking for the best e-commerce platform that will match everything you need to start and establish a successful online business? You may know what you want after days of research, but picking the right platform among several amazing choices may get confusing.
This is where I'm about to help you decide. Based on factors such as user-friendliness, customization facilities and other special features, you can go through this blog and weigh in your options by comparing the top 10 to arrive at a decision.
Pick a platform that caters to most of your needs by being mindful of the drawbacks as well. With a detailed comparison at one place, your job just got easier. That being said, let's jump right in!
What Are The Best eCommerce Platforms?
Here Is My Personal Top 10 List.
Shopify allows you to build your own e-commerce store without technical or design skills needed. You can choose from a variety of templates that best fit your branding to sell digital or physical goods. Catering to over 800,000 business people, Shopify is one of the best in the game in terms of marketing tools features, design, payment, and secure checkout.
What Makes Shopify Special?
Shopify is undoubtedly one of the best e-commerce platforms on the internet today. What makes it special is how it is built for people with little knowledge about coding and website structuring to design their online store with ease. However, it also offers people with knowledge of coding to customize their store by writing and modifying the code. Through Shopify, you can sell your products across several social media platforms and online markets.
What Does Shopify Offer?
Shopify offers a user to create their online business store and host it for them. This means that you can bypass the hassle of finding a web developer to create a specific website or pay for the site hosting. This makes it an affordable option to pick while saving on big bucks you'd rather invest elsewhere.
Shopify has features such as:
Multiple channel integration
Search Engine optimized (SEO)
Translate in 50+ languages
Integrate with Dropshippers or Fulfillment centers
Recovering an abandoned cart
A choice of over 100 payment gateways
24/7 customer support
What you need to watch out for in Shopify is how they charge you 2% for every transaction unless you use Shopify Payments. This is a small issue among others like having only 10 free themes and the paid options being between $140-180. You will also need to mind the apps you add since they may amount to a large sum you can't spare from your budget.
For Whom Is Shopify A Great Choice?
Shopify makes a great choice for small businesses and ambitious online sellers. The fact that it is meant for every kind of user gives it huge popularity. The features are customizable to the scale of your business and help you to put your best foot forward. With features such as inventory tracking and shipping tools along with over 1,200 other tools, Shopify suits everyone, no matter the scale.
However, in case you want to open a dropshipping store, Shopify is the best bet for you. The app Oberlo makes dropshipping absolutely convenient and the basic version is free with a 500 product limit.
Shopify – Pricing:
You can choose from five different Shopify pricing plans:
'Shopify Lite' – starts already with $9 per month
'Basic Shopify' – $29 per month
'Shopify' – $79 per month
'Advanced Shopify' – $299 per month
'Shopify Plus' – the fees is negotiable with an approximate of $2000 per month
Shopify – Pros:
Easy To Use – Don't worry about technicalities bothering you; the clean interface makes it easy to use.
Designs – There's a huge option for high-quality designs that are mobile optimized too. You can also create your own theme if you don't like the existing 170+ options.
Flexibility – You get full access to the code for modifications.
Scale – You can scale the online store according to your business' size.
Multiple Apps – Several free and paid apps at your disposal.
Community Help – with several independent developers helping you.
Scored the highest – in features and customer satisfaction
Top-notch inventory system – to assist you in managing your online store
Sell across multiple channels – including Facebook, Instagram, Amazon and eBay.
Shopify – Cons:
Shopify is the only platform to charge customers its own transaction fee unless you use Shopify Payments.
The content doesn't automatically recalibrate according to the new format if you switch themes
As you add extra features to your store, the apps can quickly add up.
Shopify – Summary:
Fast Load Time
Super Easy Set-Up
1-Click Selling Apps Available
SEO is weaker than other platforms
Checkout Layout Is Not Customizable
Apps Can Become Costly
Try Shopify free for 14 days, no credit card required
---
Bigcommerce is an online store builder that will help you from the initial stage of setting up shop to marketing your product with its advanced tools. Since this platform plays in the big league, its clients include Toyota and Kodak. The data tools will help you sell your product on various channels and make your page look great with multiple customizations available.
What Makes Bigcommerce Special?
Bigcommerce's 'product options' and 'product rules' let users create a very large number of product options (up to 250). This is a welcome feature in comparison to its competitor Shopify which only allows users with three product options without resorting to workarounds or the installation of third-party apps.
Bigcommerce is your best bet if you sell products with a lot of variants.
Bigcommerce also has several features for dropshipping companies where you can use third-party apps to facilitate your business. These apps include Aliexpress, Sunrise, Printful, Spreadr and Wholesale 2B.
What Does Bigcommerce Offer?
There are a lot of perks you get from Bigcommerce when you choose it as your online store's host, some of which are:
No transaction fees.
Product review functionality which isn't present in most e-commerce platforms.
Integrate Bigcommerce with email-marketing services.
Unlimited Staff accounts
Sell an unlimited range of products at a shipping rate of your choice.
Multiple payment gateways.
10 free templates.
Automated image optimization and full content management functionality for better SEO.
Create Discount Coupons and Offer Vouchers.
Abandoned cart saver.
For Whom Is Bigcommerce A Great Choice?
Bigcommerce is the best match for businesses that lean towards the large scale. Fast- growing businesses will also benefit from using Bigcommerce over its competitors. The huge selection of built-in features will never let you outgrow the platform, no matter how big your business gets.
Bigcommerce – Pricing:
You can choose from five different Bigcommerce pricing plans after your 15 day trial:
Standard Plan – $29.95 Per Month (Billed Annually)
Plus Plan – $71.95 Per Month
Pro Plan – $224.95 Per Month
Enterprise Plan – Custom Pricing
Bigcommerce – Pros:
Amazing SEO tools.
Has more built-in features than its competitors.
The most scalable e-commerce platform on the internet.
Can be used to sell across multiple channels like Instagram, Facebook, Pinterest and more.
Bigcommerce – Cons:
Uses complex jargons and terminologies that don't work well for novices.
No mobile app to run your store away from your desktop.
Bigcommerce – Summary:
Flexible and scalable
Excels with multi-channel selling.
Strong SEO Performance.
Inconsistent loading speed.
High volume stores pay more.
No 1-Click Selling
Try Bigcommerce free for 15 days, no credit card required
---
3dcart is an online store website building platform that was founded in 1997 by Gonzalo Gill. Over 17,000 businesses use this platform today to sell everything from stationery to supercar spare parts. It has several features and a good grip on the SEO (Search Engine Optimization) front.
To put it simply, 3dcart has:
200+ built-in features
91 free templates
What Makes 3dcart Special?
3dcart has over 100 payment+ gateways, which is higher than any other platform on the internet. With such a vast selection of payment methods, you can be assured that customers will face no problems regarding payments due to the options they have.
What Does 3dcart Offer?
24/7 help and support is available to its customers, 365 days a year.
A choice of 91 templates that caters to every available industry.
Abandoned Cart retrieval
Original SEO prompts
Mobile App to run your business on the go
Integrated payment methods that don't require coding at all.
Customizable shipping costs
No transaction Fees
App integrations like Address Verification and Shipping Easy.
Powerful API
Thanks to their partner Zapier, they can integrate 1000 applications to streamline a user's business.
For Whom Is 3dcart A Great Choice?
3dcart is good for small business owners and solo entrepreneurs who are just starting off their business. It works well in favor for small but ambitious online sellers looking for powerful management tools. If price is your constraint, this platform will be a good fit for you.
3dcart – Pricing:
3dcart offers a 15 day trial and the monthly plans are as follows:
Startup Store- $19 Per Month
Basic Store- $29 Per Month
Plus Store- $79 Per Month
Pro Store- $229 Per Month
3dcart - Pros:
Gives you SEO prompts.
Users can change the themes of their online store at any given time.
3dcart has over 160 payment gateways and methods.
3dcart - Cons:
Relatively more expensive for the features it provides.
No mobile app for sales away from your home office.
3dcart - Summary:
Better Blog Feature Than Shopify
Tons Of Integrations
Great Business Management Tools
Templates Feel Old and outdated
Negative Reviews On Customer Support
Potential Issues While Upgrading
---
Woocommerce is a free online store builder available for the public to use. It is a plugin for WordPress, also free for public use to build a powerful eCommerce store. Automattic, the maker of WordPress released this plugin into the market in 2015. Since then it has been responsible to power about 30% of all online stores, which is no small feat.
What Makes Woocommerce Special?
Woocommerce is unlike its rivals Shopify and Bigcommerce. This is attributed to Woocommerce being an open source eCommerce solution, which means that people can use it for free for both personal as well as commercial use. What it doesn't include in the free tag are aspects like domain name, hosting, plugins and others.
Woocommerce also has professional themes that provide added security to your online store, but at an additional cost.
What Does Woocommerce Offer?
Woocommerce is a plugin and has several WordPress themes and plugins optimized for its own use. Where one would say that Woocommerce is free to use, you are now aware that there are several paid aspects to building your own site through this plugin. However, you will also find a lot of free themes and add-ons to pick from if budget is your constraint.
Woocommerce provides these 10 free extensions to the users:
Google Analytics
Jetpack for security, protection from spam and slow loading images
MailChimp for excelling marketing and communications
Facebook Ads
Engaging with visitors using Live Chat
Abandoned cart remarketing
Product review auto-request post sales
Inventory tracking and payment in person facility
Image optimization for fast loading pages
Coupons and discount codes to boost sales
Irrespective of the paid or free add-ons, Woocommerce has the following features that the users can access:
Wishlists
Abandoned cart recall
Fast checkouts
Loyalty programs
SEO
Merchandizing
Search navigation
Customer communications
For Whom Is Woocommerce A Great Choice?
Woocommerce is one of the best options for large scale stores due to the freedom it has during the designing process. As a WordPress plugin, Woocommerce has access to several paid features such as themes, add-ons, extensions and updates that can be afforded by such large scale sellers. The site builder is also scalable and won't slow your store down if you have an unlimited amount of products to sell.
Woocommerce - Pricing:
Woocommerce is free in itself, but you will have to pay for a good domain host like Bluehost. While Bluehost offers discounts for the first year for hosting, these rates include a domain and email in them. You will also have to pay for the domain name if it is any other hosting site. To have an e-commerce store that looks impactful, you may have to invest on themes and other tools to use.
Here are a few costs you will have to pay for Woocommerce plugins:
Groups for WooCommerce: $79
WooCommerce Subscriptions: $199
WooCommerce Memberships: $149
Stripe for WooCommerce: $79 This extension is now free
Table rate shipping: $199
Product Add-Ons: $49
Bookings: $249
If you've decided to not spend a single buck on building your online store, you will find access to plugins, extensions and addons for free. However, to find customizable variations, you may have to shell out some money to invest in your site.
Woocommerce - Pros:
Larger online stores of the log have access to advanced features: You will gain access to extensive plugins and extensions to make your online store more powerful in business. There is also a huge Woocommerce community to help you with the advanced features.
Amazing Designs: Woocommerce provides a tonne of free and paid themes that you can use for your online store. These themes can be easily modifies as per your skills and can adapt to your e-store's requirements.
Availability of Customer And Store Administrator accounts: Customers of your online store can have access to guest check-outs without the hassle of signing up. The admin account with separate rights makes running the store more efficient.
Woocommerce - Cons:
Not As Easy To Use: The setup process has been reported to be a hassle for several users even though they started with the preinstalled version.
Weak Support: On Woocommerce, every plug-in, add-on and theme comes with separate support. This is inconvenient compared to Shopify's centralized support system. The free add-ons lose their appeal with this problem.
Woocommerce - Summary:
Best Platform For SEO
1-Click Selling Apps Available
Lots of Service Providers
Hosting Can Be Expensive
Difficult To Troubleshoot
Needs Lots of Extensions
---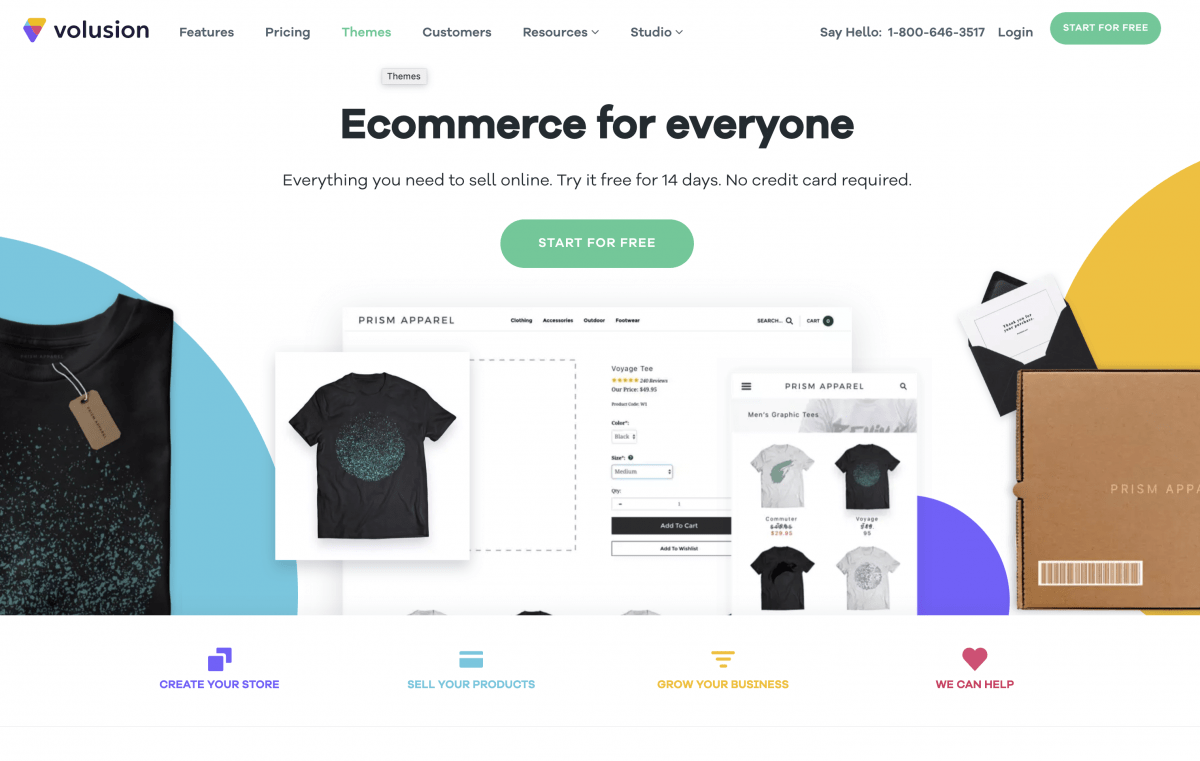 Volusion is one of the oldest e-commerce site building platforms to exist. Created in 1999, volusion enables users to pay the bills with your business sales.
Volusion is the chosen platform for roughly 30,000 online stores and has worked through 185 million orders since it first was launched.
What Makes Volusion Special?
Volusion has recently updated to 'V2', its new operating system that integrates UX (User Experience) improvements. With a clearer inventory system, it's really easy to manage your stock.
The most important feature is how it provides tons of useful data, analytics tools, and payment options to users.
To keep up with the standards set by eCommerce pioneers like Shopify, Volusion has focused on introducing business features and site-creation tools together, by commencing the user journey in the storefront editor.
What Does Volusion Offer?
Responsive Themes: Mobile and tablet optimized themes are ready to go when you're on the move.
Rich Content Editor: Volusion's intuitive Easy Editor tool lets users make changes to their online store without any backend coding.
Custom Domain: Allows users to customize their store and optimize it for sales with a custom domain that lets customers and search engines easily find your site.
Navigation Editor: Volusion helps the user's customers enjoy stellar shopping experience with a collection of navigation styles designed to help them browse with comfort.
Product Category Pages: Volusion enables users to add subcategories, upload images, manage SEO to customize products.
Search Functionality: Helps customers find products quickly with advanced search tools.
Homepage Slideshow: Highlight upcoming discounts and favorite products directly on the homepage with Volusion's free, professionally-designed Slideshow feature!
Logo + Favicon Upload: Volusion allows you to showcase your brand across your site with their built-in promotional tools.
CSS Editor: Anyone who has the knowledge of CSS can customize the site and add-ons to fit their requirements.
For Whom Is Volusion A Great Choice?
Volusion is a good fit for a business owner or company that wants to launch its online store but does not have the technical knowledge to do so.
Volusion - Pricing:
Volusion provides a 14 day trial period. Structured similarly to Shopify, Volusion's pricing is segregated into $15, $25, $75 and $135 a month depending on the plan you opt for.
Also, this platform charges 0.2-0.5 percent as transaction charges.
Volusion - Pros:
Excellent analytical tools to market and sell your products.
Has a mobile app to sell your products on the go.
Has access to several payment methods and gateways for customer's ease.
Volusion - Cons:
Volusion doesn't let you sell digital products, which takes away a big chunk of its user base who have a market in both the physical and digital products sector.
Volusion does not have a blogging feature, which takes away a major portion of your online marketing strategy. Without social media blogging, it may feel like your work is half done and may not be worth the price.
You will have to pay an extra amount to get an SSL certificate.
Volusion - Summary:
Great On-boarding / Help Center
Subscription/Recurring Payments Included
SMB Friendly
Lacks Up/Cross Selling
Slower Load Times
Many Sites Look Dated
---
Magento is an online store creation platform built on open source technology that provides online sellers with a flexible shopping cart system, as well as complete autonomy over the display, content and functionality of their online store. Magento also offers powerful marketing, search engine optimization, and catalog-management tools to its customers. Whether the seller has just a few products to sell that transitions into tens of thousands, Magento has amazing scalability that will adapt to the needs of a growing seller as and when required.
What Makes Magento Special?
Magento is one of the most special eCommerce platforms because it is open-source. This means that it is free to use on the public domain by anyone who has knowledge of coding.
This also makes it a professionals-only kind of platform, unless you decide to hire a coder or are one yourself.
Magento is also very flexible; you can add any kind of feature to build your site and this is the reason why it powers around 20 percent of online stores.
What Does Magento Offer?
Magento provides you everything you could need to build the most spectacular online store. The platform provides features like marketing and customer segmentation. Other features come along with the open-source Magento, so you can work on your SEO with the necessary tools for Google sitemaps, Google Content APIs and search engine friendly URLs.
The marketing and conversion tools in Magento consist of coupon codes, customer groups, product bundles, and newsletter management.
From the huge range of features a user can work with on Magento, some of the notable and essential features are as follows:
SEO
Marketing, promotions, and conversions
Site management
Catalog management
Catalog browsing
Product browsing
Checkout, payment, and shipping
Order management
Customer service
Mobile commerce
Persistent shopping
Private sales
Gift registries
Store credits
For Whom Is Magento A Great Choice?
Magento is not the platform to use if you're a beginner and small business holder trying to open an online store. It is more suited to bigger enterprises with users that have the technical experience and knowledge of setting up an online store from scratch.
Magento needs the user to code their site either by themselves or with the help of a coder. Hence, if you are a medium to large enterprise that can afford a coder to make your elaborate site successfully, Magento is for you!
The code to every site can be tweaked as per your customization to make every site unique, and hence is for advanced coders or bigger businesses that can afford to hire a professional.
Magento - Pricing:
Magento is an open-source platform on the public domain and free to use for the users. The only charges you will be paying for is hosting your online store. You will also have to pay for the themes, add-ons and extensions that you use.
Additional expenses also consist of you having to pay for the domain name, SSL certificates and a payment processing partner.
Magento - Pros:
Huge Community Support: Magento has a forum that will answer every single query you have in case you hit the deep end of trouble. The query database has the answers to every question that is explained in a comprehensive manner yet is easy to understand. You can also consult other Magento users to help configure any problems you're facing; they're all of great help and you will never feel left out in the cold with such community support.

Extremely Flexible Platform With Lots Of Freedom To Operate: Magento gives you no limitations or bottlenecks while designing your online store. The crook of the matter is that you need to understand coding or hire someone who can work on it for you. With this kind of freedon, you can make your online store look unique from the rest and garner more attention by helping clients remember your page.
Magento - Cons:
Needs Knowledge Of Coding: To build your online store, you mandatorily need to have knowledge of coding. If you don't you will need to hire a coder who will do the job for you. This becomes an expensive affair and you're better off sticking to platforms like Shopify that are convenient for non-coders to customize and easily build.

Consumes Too Much Time: Magento takes too much of your time, which is an investment, to get the store into a fully functional phase. Since the platform takes time to familiarize with, the users have to spend significant time getting around the basics and learning the ropes of its functions. At times, this is time that a seller can't afford to spend tweaking the codes to fine tune it according to their requirement.

Costs: Even though a user has to pay for only hosting, it turns out to be an expensive affair.
Magento - Summary:
Robust and Feature Rich
Strong SEO
1-Click Selling Apps Available
Pricey Themes
Easily Slowed Down
Requires Development Skills
---

Weebly is a website builder that lets you conveniently make a great-looking e-commerce site without having to write a single line of code. Its drag-and-drop editing tool makes your job of creating an online store easier than any other platform on the internet. Weebly's interface is intuitive and suggests what would look best for your e-store with its various themes, add-ons and extensions. This platform has everything you need to build your own online store minus the trouble of purchasing individual aspects since the features are all bundled up.
What Makes Weebly Special?
The quality that makes Weebly so famous is how it requires no knowledge of coding to build the perfect online store for yourself. With a variety of sleek and professional themes, designs and advanced features, Weebly is catching up to its competitors.
In contrast to other website solutions where you have to buy and assemble extensions, Weebly simply needs you to drag and drop them in place.
What Does Weebly Offer?
Weebly is a convenient and easy site builder to use that provides the comfort of not going through the pain of coding an entire online store. With its efficient drag and drop options, Weebly also offers the following:
A website builder for small businesses and entrepreneurs, that has all the basic tools a user could need to build a great-looking online store.
Attractive and customizable templates: Weebly's theme designs are simple, stylish, and mobile optimized which can be switched as and when you like.
Weebly has a very useful SEO guide in Weebly's help and support center. You can look up the guide for tips on coding, keyword optimization, and ways to increase your site's ranking.
If you know how to code, Weebly allows customizations.
For Whom Is Weebly A Great Choice?
Weebly is suitable for online stores and websites that are primarily focused on lead generation, information sharing, etc. but also want to sell a few products of their own. This platform is also a good fit for users wanting to test out products before moving them to a long-term platform. Start-up companies, small businesses and entrepreneurs will find it of great use. It's not suitable as a long-term fit for websites that are focused on eCommerce and online sales.
Weebly is good for you if you want a site builder that is convenient with simple drag and drop options to get the job done without too much of trouble.
Weebly - Pricing:
Weebly is priced in four modules, which are:
Free
Pro– $5 per month; consists of a free domain worth $20.
Connect– $12 per month; consists of a free domain worth $20 and a $100 credit for Google Ads.
Business– $25 per month; consists of a free domain worth $20 and a $100 credit for Google Ads.
Weebly - Pros:
Speed and Security: Weebly has a fast loading speed as well as effective protection from spam and hackers. Since they host their own website, Weebly is optimized accordingly to handle any snags and security issues like a pro. They also install SSL throughout your site in the Business Plan.

Costs: If you don't mind running your store on a sub-domain, Weebly is free to use. This works in the favour of those looking to create temporary sites for short term business. Even while you opt for their business plans, you'll notice all the services are bundled up and still cheaper than the rest of the competitors.

Site Building Process: The process of making your online store with Weebly is easy because you don't have to use HTML or CSS. All you do is drag and drop elements at the places you need them to prepare your e-store. Although extensions are to be paid for, there are enough to be found for each payment plan that one can use.

Onboarding Process: Weebly does an excellent job of inducting new users to educate them on how to go about using the store builder. You won't only get emails in a sequence to train you but also bubble messages showing you what to do next along with helpful suggestions.

Features and Extensions: Weebly takes away the hassle of having to build a site from scratch with no idea. Their set of features and extensions like blog functionality, redirect page, contact us forms and all the other basics are covered.
Customer Support: They offer mail, phone and chat-based customer support whenever you need them in record time.
Weebly - Cons:
Content Management System: The CMS of weebly is far from efficient.
Advanced Marketing Tools: Since a user doesn;t have complete control over their site like they do in Magento and Woocommerce, the use of advanced marketing tools like custom email collection tools, custom social shares and the others cannot be added.
Platform Lock-in: Moving to a new platform after using Weebly is difficult as they take a lot of time to migrate data.
Not a full-fledged Online Site: Weebly is missing several elements and operates on a different mechanism altogether. Hence, it is not a full-fledged e-commerce site platform like Shopify.
Weebly - Summary:
Excellent Value For Basic Store
Stunning Template Designs
Powerful Email Tools
Transaction Fees On Lower Plans
Weak SEO
No Amazon Integration
---
PrestaShop is an online store building platform that uses self-hosted or open-source technology. This implies that a user can download it for free and modify it any way they want. This eCommerce website solution was launched back in 2007 with its headquarters situated in France.
Prestashop is written in the PHP programming language with support for the MySQL database management system. PrestaShop currently powers 250,000 shops globally and is available in 60 different languages.
As an open-source platform, PrestaShop is totally free to download, customize and use. However, this does not say that PrestaShop has zero expenses. You will have to pay for web hosting if you choose to download it. It is also possible that you may have to purchase several expensive modules to integrate different software programs with your online shopping site. If you have limited tech knowledge, you may want to hire a web developer to help you.
PrestaShop may be free at first glance but can end up being more expensive than fully-hosted options if you don't watch your payments.
What Makes PrestaShop Special?
PrestaShop has recently wheeled the PrestaShop Ready version; it is their Software as a Service (SaaS) or hosted option for users with lesser experience in coding. However, this option restricts your access to the code needed for customization. Is can be overlooked since it's more user-friendly unlike its open source version.
What Does PrestaShop Offer?
Ease of Use: Only the setup and integration of Prestashop if the difficult part, which can be handled by a developer if you have less expertise in coding. After that, the process of running your store is a breeze.

A collection of 1500 templates and customizable themes to give you the best online site.
Product Creation: Allows you to list as many products as you'd like to sell.

Marketing: Prestashop has built-in marketing tools such as special offers, discount mode, coupon codes, free shipping, email marketing, gift wrapping and affiliate programs.

Payment Processing: Prestashop has over 250 payment providers as add-ons. It consists of Amazon Pay, PayPal, First Data and several others as payment gateways. Prestashop Ready has only four payment options that are Stripe, bank transfers, PayPal and cheque payments

Customer Relationship Management: You can keep in touch with your customers and send them automated emails after their transaction to help them feel safe about their purchase. Prestashop also helps in targeted promotions and abandoned cart reduction.

Legal Support: Prestashop provides you carts that adhere to the legalities of your country. You also will find design tools to add legal information for the customers to read, which is rare to be found on other e-commerce site builders.

Security: The open source version of Prestashop will require you to buy and verify your SSL certification while Prestashop Ready comes with an updated security feature.

Integrations and Add-ons: Prestashop gives you access to several free and paid integrations to work with. Prestashop Ready comes with over 100 inbuilt modules ready to use minus the cost.
For Whom Is Prestashop A Great Choice?
Prestashop is a great fit for small to medium business owners and enterprises because of the flexibility of customization to scale you can access.
The Prestashop Ready version also makes it easier for small business people to create a store without much knowledge of writing a code.
PrestaShop - Pricing:
Prestashop, being an open source site builder on a public domain is free to use. However there are extra costs of hosting and getting access to a domain name. The user also has to invest in buying add-ons and extra features such as themes and extensions which might turn out to be costly if you're not careful.
Prestashop Ready currently offers only one price module at $19.90 a month and is not free to use. Here is what you get for the price you pay:
Unlimited Products
Unlimited Employee Accounts
Unlimited Images
Data Export
Customizable Themes
Mobile Version
Blog
Newletter (Free Up To 12,000 Shipments/Month)
7/7 Support
Payment By Card Or PayPal
Shipping With Major Carriers
0% Platform Fees Up To €3,000 Turnover (After That Fee Is 2%)
Hosted On Google Cloud Platform
SSL Certificate
Multiple Languages & Currencies
PrestaShop - Pros:
Free to download
Highly customizable
Numerous integrations
Excellent support materials
Strong user community
PrestaShop - Cons:
Expensive customer support
Developer skills required
Limited integrations with hosted version
PrestaShop - Summary:
Tonnes Of Apps Available
Strong SEO
Flexible and Free
Slower Load Times
Apps Can Become Costly
Limited 3rd Party Automation Integration
---

Squarespace is a website building platform that was designed to help users create their own online stores and showcase their work, with no weight to their lack of technical ability.
Without any coding knowledge, one can create their own stunning website in a matter of a few hours. All you have to do is create an account, choose a suitable template, and then edit it according to your needs to create a totally unique and aesthetic looking e-store.
Squarespace is great for anyone who loves design aesthetics and wants their website to look as amazing as the stuff they're showing off online. This is where Squarespace brings you to the forefront with immaculate presentations.
What Makes Squarespace Special?
Since Squarespace is all about design and aesthetics, it requires you to have high-quality images to make the best of the site builder. While there is something for everyone to find, Squarespace is an excellent choice for artists to sell their work online because of the attention to beauty and detail on the templates.
What Does Squarespace Offer?
Personal Domain Name: Have access to your own domain name.
Depth of Navigation: Lacks depth of hierarchy as there is only one level after the main menu.
Widgets: Widgets such as scheduled meetings, gallery widgets, social media widgets and more are available.
Monetization: Allows the use of Google AdSense or Ad Banners.
E-Commerce: Integrate a shopping cart into a website with ease.
SEO: Customizations for title tags, meta descriptions and URLs are available to boost your store's SEO.
Blogging: Can be used as a replacement of WordPress with stellar blogging features like multiple authors, as well as geolocation tags, AMP support and the option to schedule posts. If you already have a blog on WordPress, Blogger or even Shopify, you can also import it. Another special feature of Squarespace is podcast hosting, complete with RSS feed and iTunes syndication.
Visitor Statistics: Use the in-built stats and analytics tools to see visitor activity. You can also check the reports through Squarespace Metrics App. This requires you to install Google Analytics.
Contact Us Form: Customizable Contact form with several field options.
Password Protection: Protect a site or individual pages.
Newsletter Tool: Users will be connected to MailChimp and a newsletter service called Email Campaigns to be integrated with your e-commerce store.
Add HTML Code: Use the developer platform to create the code of the template you want. Users can also use this to add more widgets and tools to the site.
Unlimited Storage Space
For Whom Is Squarespace A Great Choice?
Squarespace suits everyone's requirements, be it a small artist to an entrepreneur selling their goods online. Since it is one of the only site builders that come with such beautiful design features, this would go well with boutique businesses, fashion e-commerce stores, handicrafts and anything of artistic value. Business people of all scales can make the best of this platform due to its scalability.
Squarespace - Pricing:
The pricing of Squarespace is based on monthly charges on a year-based contract including the domain name.
Personal– $12 per month; useful solution if you don't need and online store.
Business– $18; An online store with a transaction fee of 3 percent.
Online Store (Basic)- $26; no transaction fees charged.
Online Store (Advanced)- $40; unlocks advanced e-commerce features.
Squarespace - Pros:
Template Designs: Squarespace has over 100 of elegant themes that are optimized according to phones and tablets. Every theme seems just about perfect with the font, layout, design and style. Also, their themes are highly customizable.
Blogging: If your site puts blogging as a focal point to boost sales, Squarespace is a good pick for you. They have everything you need to publish multiple-authored blogs with all the latest features.
Support: You can have access to help almost instantly with the live chat facility. To help you understand better, the customer support team also takes the time to record screencasts so you can follow the steps.
Mobile App: There are four Squarespace apps, out of which the one titles simply Squarespace is available for iOS. It allows you to customize and edit your website, blog and store.
Squarespace - Cons:
Usability Of Website Editor: A few usability issues encountered during editing including no autosave changes feature and a greater number of clicks to perform a simple task than on other site builders.
One-Sub Navigation Only: It is almost impossible to create multilingual websites. Squarespace is unsuitable for large online stores with a vast hierarchy.
Page Speed: Sqaurespace ranked low on Google's page speed testing tool. This could harm the site's search engine rankings.
No backup and restore option for data.
Squarespace - Summary:
Easy To Set Up
Great For Simple Stores
Stunning Template Designs
Limited Ecommerce Integrations
Limited Payment Gateways
No Phone Support
---
Wix.com is an easy drag-and-drop online e-commerce site builder to create small websites. There are over 100 free templates available for the users to pick and customize. Wix provides business owners its own web hosting as well as domain names, which come in both free and paid modules. The Wix.com App Market helps a user conveniently add extra functionality to their store such as photo galleries or eCommerce carts.
What Makes Wix.Com Special?
The ultra flexibility of Wix.com gives a user the freedom to move around elements by their pixel. With a flashy reputation to maintain, it offers a series of absolutely stunning templates that will make your site catch the customers' eye in a glance.
Beginner-friendly and scalable to any business, Wix.com is suitable for anything from personal online portfolios to small business websites.
What Does Wix.Com Offer?
Template aesthetics with amazing designs
Own Domain Name
Monetization: Can include Google AdSense or banners ads and affiliate links.
E-commerce: Set up an e-commerce cart on your site.
Wix Widgets: The Wix app market has unique widgets to add to the site. For Example, Wix Music, Wix Bookings and others.
SEO Optimization
Blogging Add-on Available: Users can leave comments through Facebook and Disqus.
Visitor Statistics: User must integrate site with Google Analytics to view metrics.
Simple Contact Form Builder
Exemplary Password Protection
HTML Customization: Wix Code allows coders to customize their site by setting API interactions using Javascript.
Newsletter Tool: Wix's Shoutout tool can be used as a newsletter service for customers.
Storage Space:500 MB- 20 GB according to the pricing module.>
Backup and Restore: The site history feature allows easy access to restoring any previous version of your site.
For Whom Is Wix.Com A Great Choice?
Wix.com is a small website building platform suitable for business people wanting the same. The various pricing modules indicate that Wix can be used for freelancers and entrepreneurs because of their features and storage options. Medium businesses have high storage demands that Wix Business and E-commerce modules can keep up with.
Wix.com - Pricing:
Free– $0; includes Wix ads and does not include a personal domain name.
Combo– $13 per month ( 2GB bandwith, 3 GB storage, Connect your domain, Removes Wix ads)
Unlimited– $17 per month ( Unlimited bandwith, 10 GB storage, Connect your domain, Removes Wix ads)
Pro– $22 per month (Unlimited bandwith, 20 GB storage, Connect your domain, Removes Wix ads)
Vip– $39 per month (Unlimited bandwith, 20 GB storage, Connect your domain, Removes Wix ads)
Wix.com - Pros:
Excellent Templates: The remarkable templates have designs that show elegance standing a class apart from any other ecommerce site builder.
Extremely Flexible: To get the perfect effect on the website you're building, Wix offers you to move things around by the pixel.
Add Animations: Wix.com has enabled animating text and other elements.
AppMarket: You can add third-party apps that you can add on your Wix site.
For instance, the newsletter tool, social media handles, online booking widgets and more.
Artificial Design Intelligence: Wix offers an intelligent way to create your website for a few variants (yoga websites and portfolios etc.). The design feature connects all your social media handles to the site, for example. It can be undone if you don't prefer it, but Wix intelligence uses its intuitive sensors to give you the best customization possible.
Automatic Site Backup: This is a refreshing change from site builders that do not automatically save changes made or back up site data.
Wix.com - Cons:
Pricing: Wix's $13 combo plan is where the no ads policy begins whereas its competitor Weebly does it for $8.
Template Change: Once you pick a template, you can't completely change it by switching to another. However, you can change the design within itself.
Wix.com - Summary:
Tons of Free, Amazing Themes
Simple to Use and Set Up
Poor SEO
HTTPS Issues
Lacks Marketing Features and Integrations
What Are the Best Free eCommerce Platforms?
The following are the top-three e-commerce platforms meant to be used for free on the public domain. However, there are additional costs attached to building your website that begin with users paying for their online stores to be hosted and a domain name. Add-ons, extensions and paid themes are also counted as ancillary costs for a business person.
1) Woocommerce
2) Magento
3) Prestashop
What Are the Best eCommerce Platforms for Small Businesses?
Since small businesses can always enlarge their scale to fit bigger orders, the following platforms cater to their needs initially and in the long run when they eventually grow:
1) Shopify
2) 3dcart
3) Weebly
4) Wix.com
What Are the Best eCommerce Platforms for StartUps?
As start-ups are growing businesses with different demands that inch towards better SEO and attracting customers, the following platforms will prove to be most useful to them:
1) Shopify
2) Weebly
What Are the Best eCommerce Platforms for Dropshipping?
Keeping in mind all the tools needed for efficient dropshipping services, the following e-commerce platforms are the perfect match:
1) Shopify
2) Bigcommerce
Conclusion:
Based on the reviews above, I hope you are able to make an informed decision as to which e-commerce platform suits your needs the best. I believe there is something useful meant for everyone in this blog and would love to know what your preference of the site builders are. Did you find this information helpful? Which platform are you going to choose for your online store? Let me know in the comments below.