You're here because you want to learn how to make money with a blog?
You dream of waking up without an alarm clock. Pouring a cup of coffee as you plan out your day. Firing up your laptop and working where you want, when you want?c
And more often than not, making money while you sleep or traveling the world?
The reality of running a popular blog is closer than you think. You just need to know how to monetize your blog the right way.
Below you'll learn the ins and outs of how to make money with your blog. By the end of this post, you'll be equipped with an exact blueprint that'll show you how to turn your blog into an income-generating machine with multiple different income streams behind you.
How Much Money do Bloggers Make a Month? 
Here is a small selection of some successful bloggers:
What Actually Makes a Blog Profitable?
Before we jump into how to make money with a blog, we're going to get some blogging basics out of the way.
If you want to build a blog that makes money, there are a lot of things you'll need to do correctly.
First-time bloggers should keep the principles below in mind as you build your blog:
1. Choosing the Right Niche
The niche you choose will determine how easy or difficult it is to make money online. Some niches are more profitable than others. Most new bloggers make the mistake of choosing a blog topic based on passion alone.
For instance, the health, wealth, and relationship niches, and the sub-niches they contain are all very profitable. However, you can also find a ton of successful bloggers in hobby niches as well, like golf, or the survival niche.
Sure, you can create a blog on underwater basket weaving, but you'd be hard-pressed to turn that into a business.
But, your niche goes well beyond the market and audience you're writing to. It's the deep why that goes into every piece of content you create.
Maybe, your own blog is in the personal finance niche. But, your overarching theme is helping people retire at 50. You need to have something that makes you unique and will give your readers a reason to stick around and come back for more.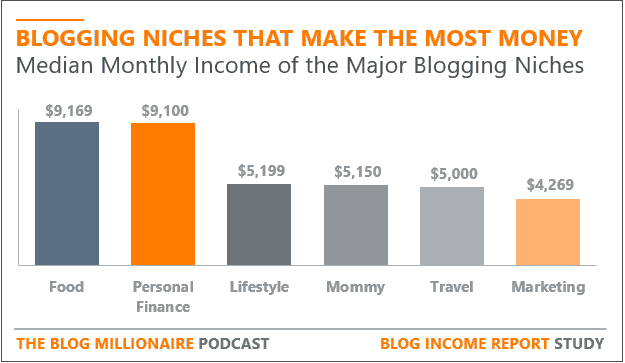 2. Setup Your Blog the Right Way
Your blog is the foundation of your business.
With a cluttered, confusing, or low-quality blog design you'll have a hard time making money, and here's why:
Your visitors won't trust a low-quality site, so they'll be less likely to purchase the products you recommend, or are selling through your site.
With a low-quality site your ad layouts will be confusing and won't convert as high, which means less money.
Important on-site user engagement metrics will be low, which means Google won't rank your site as high in the search engines.
Basically, with a low quality site you're going to have an uphill battle to making money with your blog.
Your website should inspire trust, cement you as an authority, and let your visitors know they're in the right place.
Luckily, with high quality hosting and self-hosted WordPress this is easy to accomplish.
Sure, you could use a different blogging platform, but virtually 100% of successful bloggers use WordPress to power their sites. For example, uber successful and multiple six-figure bloggers like Ryan Robinson, Authority Hacker, Smart Blogger, and Wait But Why all use WordPress to power their sites. Not to mention some of the biggest Fortune 500 companies rely on WordPress as well. Plus, WordPress powers ⅓ of the internet, so you'll be in good company.
To set up your own blog the right way, you need quality web hosting (two of the best are Bluehost and Siteground) and a domain name. Both of these hosts make it incredibly easy to install WordPress and register a domain name at the same time. Once you've installed WordPress, you'll also need a high-quality WordPress theme.
Some great sources for WordPress themes are MyThemeShop and Elegant Themes.
With a quality host behind you and a rock-solid WordPress theme, you're ready to blog your heart out.
3. Write, Write… and Write… Some More
To make money with your blog, you need to write and publish consistently. But, not just any topic will do, you need to find keywords that are lower competition, while still providing a decent volume of traffic.
Your keywords will inform the topics you write about and how you optimize your content.
If you're not sure where to get started with keyword research, then check out the following in-depth guides:
Keyword Research: The Beginner's Guide to SEO
Keyword Research for SEO: The Ultimate Guide
Keyword Research: The Definitive Guide
Even if you've achieved decent rankings for a few profitable keywords, you can't stop there. Blogging is competitive, and you need to continually be pushing out new content to grow your authority, rankings, and income.
At the very least, you should be publishing a handful of 2000+ word posts every month. Why 2000 words? Research found that the average word count for blogs ranking on the first page of Google was just under 2000 words. While, even more research has shown that writing content with at least 2000 words increases the chance of your post going viral and getting more social shares.
4. Treat Your Blog Like a Business
Even though you might not be making much money with your blog right away, you will if you do the right things consistently.
This means you need to publish high-value content consistently. You need to understand SEO to rank your page No. 1 for relevant keywords. You need to understand how to monetize your content (aka keep reading this post). You need to start building a list to unlock the power of email marketing. You need to branch out into other content types, such as starting a podcast.
Treating your blog like a business is not just registering your blog as a legal entity and choosing the best LLC state but also means that you don't have to do everything yourself.
For example, you can:
Hire freelancers to help with building and setting up your site


Outsource content creation and website copy


Hire an SEO team to help with link building


Recruit writers to guest post on your behalf


There's a lot that goes into a money-making blog, so you should outsource time-consuming tasks, so you can focus on generating income, not just writing blog posts.
Of course, there's a lot more that we could cover, but that should be enough to get the ball rolling in the right direction. Becoming one of many successful bloggers means a lot of hard work. But, you're building a business that can support you for years to come.
This page may contain affiliate links, meaning I may receive a commission if you make a purchase. I try my best to keep things fair and balanced and link only to products that I recommend. This is at no additional cost to you, in some cases you get even a special discount. 
6 Proven Ways How to Make Money With A Blog
It's time to start making that cold hard cash!
Below you'll learn six different tried and true methods for making money with your blog.
Nearly every method below will be applicable to your niche, no matter if you're writing about cooking, technology, managing your money, or something else entirely.
1. Sell Advertising Space or Join an Ad Network
The quickest and easiest way to make money from your blog is with advertisements. When most people are trying to figure out how to make money blogging, they end up settling on display advertisements.
The process is simple. First, you join an ad network, then you display ads on your site. You receive income based on the number of impressions and clicks the ad receives. So, the more traffic your site receives the more money your website will make.
However, keep in mind that display ads tend to have a much lower payout than the other methods in this post.
But, it's still a great way to get started making money with your blog.
Here are some of the most popular ad networks:
Google Adsense is the easiest ad network to get started with as there's no traffic minimum. However, Media.net, Mediavine, and Ezoic have traffic requirements before you can get approved for the platform.
If you wonder how much your website could be earning, you can use the Setupad Ad Revenue Calculator, a powerful tool that can accurately estimate your website's potential ad revenue.
If you don't want to rely on an ad network, you also have the option to sell ads directly, such as sidebar or banner ads. This will be a little more time consuming, but you have the ability to earn more money.
Instead of populating your site with media network ads you'll offer those same spots to private buyers. This can help you generate more revenue if you have a blog that gets lower traffic, but that traffic is very targeted.
This is usually done by having an advertiser or partnership page on your site. Here prospective buyers can enter their website and ad information. After which, you can work out a deal.
For example, here are a few native ad placements on the Smashing Magazine blog:
2. Make Money With Affiliate Marketing
It's time to talk about affiliate marketing. Affiliate marketing is one of the most popular methods for monetizing a blog. When done well, you can generate a ton of revenue, and in time it can become a very passive income source.
With affiliate marketing, you promote a product or service, and when a visitor clicks through to their site and purchases what you recommend, you receive a commission.
For example, one of the most popular affiliate networks in the world is Amazon Associates. Here you'll be recommending Amazon products in exchange for a commission.
Here's the fee breakdown for the Amazon affiliate program:
Although the commission structure is low there are a ton of successful sites built on the back of the program.
For example, the review site 10Beasts was able to generate six-figures in the first 8 months of the site being online.
The best thing about affiliate marketing is how easy it is to get started. All you have to do is join a handful of affiliate programs, create content on your site related to what you're recommending, and insert your affiliate links.
But, if you're not a fan of Amazon's low commissions, there are a ton of other options available.
For example, there are a ton of other affiliate networks you can join as well:
If you're looking to generate the most income possible, then you'll want to join a high paid affiliate network. Here's a look at some of the highest-paid affiliate networks out there:
When you've joined a handful of different affiliate programs, it can be challenging to keep track of all your affiliate links. Without tracking and managing your links, you can end up sending traffic to the wrong offers or not knowing which links are actually converting.
Luckily, there are some WordPress plugins that can solve both of these problems and more.
But, the best plugin is called Thirsty Affiliates.
This plugin will help you manage your affiliate links, and a lot more like:
Cloaking affiliate links, so they look less spammy, and your visitors are more likely to click
Get access to detailed reports that show how well your links are performing
Integrated link checking to ensure all of your links are working 24/7/365
Link geolocation, so you'll always send your visitors to the right storefront for their country
3. Sell Digital Products to Your Readers
If you don't want to clutter your site with ads, or reach out to prospective companies and try to work out value-add deals, then selling your own products and services might be the path for you.
When you're thinking about the best approach to monetize your blog, you'll need to consider your own unique strengths and how you want to spend your time.
For example, does creating your own course teaching marketing professionals programming basics excite you? Or maybe you want to write an eBook that shows people how to run a zero-waste kitchen?
If your blog is in the educational space, then selling products and courses is the next logical step.
The best thing about selling digital products, downloads, and courses is that you're able to front-load the work. You create an asset once, and you can profit from it for years to come.
You don't have to go massive scale either; you can create a simple product that caters to a particular niche.
For example, the blog Succulents and Sunshine has a profitable course that's dedicated to growing succulents:
Creatively talented? Create Templates for Email, Social Media, Business Cards, etc. and sell them on CreativeMarket.
You receive 70% on each sale because you put the hard work to create amazing products and then earn money while sleeping.
South African graphic designer Nicky Laatz earned over 1 Million USD selling her work on Creative Market.
Or, how about the site UX Kits which sells digital downloads for designers:
Once you create your eBook or digital download you're going to need a way to host your product and make sales.
The absolute best tool for this is called Podia. For a low monthly fee of $39 per month,
If you want to create something more substantial than a digital download, you could tackle a larger piece of the pie and create an online course.
The key step in creating a successful online course is validating the need for your course. For example, you can see what posts have been the most popular on your blog and see if those could be fleshed out into a course, or you could start with a small product or eBook and see how sales perform.
There are all kinds of examples of successful online courses.
For example, Danny Marguiles of Freelance to Win has a series of courses dedicated to helping people become full-time Upwork freelancers.
While Joseph Michael has created a course called Learn Scrivener Fast, which is dedicated to helping writers learn the ins and outs..
..of the writing software, Scrivener.
Both of these courses make well into the six-figures.
If you're unsure if there's a market for your course, spend time browsing massive course marketplaces like Udemy and Skillshare. If there are a handful of popular courses on a similar topic you want to create a course on, then that's a good sign that the market is big enough for your new course too.
If you're going to create an online course, then you'll need a platform to host your course.
Here are the absolute best online course platforms out there today:
4. Sell Monthly Memberships
Recurring revenue is the holy grail of making money online.
One great way to achieve this is to create a membership site. With a membership site your members pay a monthly fee and gain access to something you create.
This could be a course, a paid newsletter sharing your insider tips and strategies, a monthly coaching group, or something else entirely.
Paid memberships also work great as an upsell for any general course, eBook, or download you're offering.
But, memberships don't have to be super expensive either in order to be profitable. For example, the website NicheHacks has a monthly premium membership for $29.99 per month:
Feel free to get as creative as possible with your membership offering. However, you'll want to ensure you continually add new content, so it makes sense for your members to renew.
But, beyond creating the material required to run a monthly membership you're going to need a place to host all of your membership materials.
Luckily there are a few super useful tools that'll help you do just that:
Wishlist Member. Starts at $197 with no monthly membership rate.


Podia. Starts at $39 per month for continued access to the tool.


MemberPress. Currently starts at $149 per year.


Both Wishlist Member and MemberPress will convert your existing WordPress website into a full-fledged membership site, while Podia will work no matter what platform you're using to run your site.
5. Create Sponsored Blog Content
Sponsored content is a great way to make money with your blog. Brands like BuzzFeed and Millo make a lot of their revenue from sponsored content.
Here's an example of what Millo is charging for a sponsored post from the Millo blog:
While, Buzzfeed has several success stories due to their sponsored content, making it a no brainer for brands trying to reach the same audience that reads their site.
But, what exactly is sponsored content?
It's when a company will pay you for either writing an article about their company, service, or product and posting it on your website.
Sometimes, sponsored content can come in the form of writing an article about a topic related to that company, or it can be a type of review of their products or services. It's similar to how an Instagram or social media influencer will create a post highlighting a product.
The more efficiently you're able to write sponsored content, and the more intangibles you can add, such as promotion to your email list, or social media followers, the more money you can make.
For example, Ryan Robinson has a post titled 10 Steps to Build a Content Marketing Strategy, which was sponsored by Skillshare.
You'll find a note at the end of the article that mentions the sponsorship:
With this type of relationship, both you and the company you partner with are benefiting.
You're getting paid to write an article, and the company is receiving free press, new leads, more traffic, and more.
If your blog is getting decent traffic, then there's a chance that potential sponsors will reach out to you. But, if you're not at that point yet, you can still reach out directly to sponsors.
Here's how you do it:
Make a list of products or services (and the associated companies) that you would endorse wholeheartedly, and you know your audience would love.


Find a contact at their company who's in charge of PR or marketing.


Reach out via cold email and let them know how much you enjoy their products, your audience metrics, and ask if they'd be open to sponsoring any content.

Obviously, the larger your audience and the more reach you have, the more you'll be able to charge. But, even with a small, yet engaged audience, you should be able to secure a handful of sponsorships.
Plus, down the road, these sponsorships can become even more valuable. For example, blog sponsorship could turn into a long-term recurring podcast sponsorship.
6. Sell Your Services as a Freelancer
Maybe you like the idea of making money from your laptop, but you're not ready to make the jump into full-time blogging?
Solely relying on your blog for income can be a little scary. But, you can create a buffer by offering freelance services on the back of your blog.
For example, Tom Ewer created the blog Leaving Work Behind as a way to document his journey of transitioning away from the 9 to 5 into the world of online entrepreneurship.
He was then able to leverage this into freelancing full-time for other business owners. By running your blog, you showcase potential clients that you know what you're talking about and have the real-world experience to back it up.
Another example is Adam Enfroy. His blog is geared towards helping people make money with their blogs as fast as possible, but he also offers content marketing services on the back of that.
To get your creativity flowing, here are a few more examples:
You're a web designer, so you create a blog that offers web design tips, tricks, and insider secrets


You're a book editor, so you create blog posts that cover the benefits of editing, insider tips, and more


You're an avid hiker, so you create blog posts reviewing outdoor products and offering hiking tips


Once you're starting to get more traffic you might have potential clients reading your blog, so all you need is a services page, and you can expect some leads to start rolling in.
However, you don't have to wait for clients to come to you, there are even faster ways to start making money via online job boards.
There are all kinds of remote gigs out there. In fact, there are over 53 million people doing freelance work in the US alone!
Some of the best places to find awesome remote gigs include:
In Closing: What's the Best Way to Make Money With Your Blog?
Making money with a blog is a pipe dream for most people.
But, not you. Since you're reading this post, you're different. You take action, and your dreams become achievable goals.
By now, you should be fully equipped to start making a lot of money off your blog and generating a full-time income, or even building a lucrative side hustle, if you don't want to blog full-time.
You don't have to implement every money-making approach above, but you should combine multiple approaches in time, so you're not leaving extra money on the table.
To get started with your blog today, make sure that you choose a high-quality host like Bluehost that'll support your new and growing WordPress blog.