According to The Podcast Consumer 2019 report, you are more like to earn more than $75,000k per annum than the average American if you are a podcast listener – and I don't disagree with these numbers.
In recent times, this medium has achieved phenomenal popularity with a total of 700,000 active podcasts being aired on a daily, weekly or monthly basis.
Podcasts don't just allow you to learn more about your niche and the strategies that are best suited to it; you can also learn about cross-channels and keep in touch with the latest trends.
And talk about the convenience that podcasts bring to us! From listening to one while driving your car to playing your favourite on Alexa at home, podcasts are a way to enjoy great content from around the world –
What Is A Marketing Podcast?
Some of the most popular podcasts out there deal with marketing and all of its relative aspects.
Modern-day marketing has evolved to encompass different genres that include conversion optimization, social channel optimization, lead generation and sustainability amongst others.
As such, they allow you to learn more about the sub-genre or niche you are interested in from the very best out there.
Topics like
Search Engine Optimization
Social Media Marketing (Instagram, Facebook, LinkedIn)
Content Marketing & Content Creation 
Marketing Tools for Email
and of course the newest marketing trends.
Why Should I Listen To Marketing Podcasts?
Most podcast hosts are top professionals & thought leaders in the niche they serve; and along with interviews with successful marketing gurus that are a regular feature of many episodes, they allow people and business owners to gain insights and actionable advice that they wouldn't have access to otherwise.
Simply put, marketing podcasts cover everything related to marketing under the sun – so whether you are looking for general roundups or niche-specific discussions, you will find these podcasts full of them.
How To Listen To Marketing Podcasts?
If you have made a decision to become a regular listener of marketing podcasts, you have a wide variety of channels to choose from.
Usually, most podcasts are available on Apple's iTunes store so if you have an iOS device, you can easily subscribe to them
Some of these podcasts are also available on Google Play Music, but the best bet for people with other devices is to go to the website and listen to the episodes from there.
How To Listen To Marketing Podcasts On iPhone?
If you have an iPhone of any other product powered by iOS, you can subscribe to most marketing podcasts via iTunes.
You just need a valid Apple ID – and of course, some earphones – for this and you are good to go.
My 45 Best Marketing Podcasts 2024
If you are new to podcasts and don't know much about the best ones out there, you should definitely read my blog about the top 45 marketing podcasts in 2019.
I have compiled this list after reviewing the top-rated episodes out there and singled out the ones that you will find highly relevant for most topics.
Let's dive in:
The Marketing Over Coffee Podcast is a fan favourite when it comes to top rated shows on marketing.
For 20 minutes each week, marketing experts Christopher Penn and John J.Wall sit at different local coffee shops and offer actionable insights on different marketing topics.
A special feature of every podcast is the part where listeners can ask questions and the hosts readily answer them.
Definitely recommended! Listen to the great podcast every Thursday morning by subscribing to it here.
The Tropical MBA is not your regular marketing podcast in the marketing world, you can be sure of that.
Dan and Ian, the podcast's hosts, usually focus on use cases in marketing that they come across in their vast marketing network.
These podcasting hosts are entrepreneurs themselves and also invite founders of small and mid-sized enterprises such as Dylan Smith and Travis Jamison.
If you want to learn more about how to build a successful business from scratch, then follow this podcast – the hosts go live at 8 am EST every Thursday.
Michael Stelzner and the guys at Social Media Examiner, a top blog on social media related insights, run this podcast on Fridays.
The Social Media Marketing Podcast uncovers the latest strategies to optimize your brand on different social sites along with industry insights.
If you can dedicate 45 minutes every week to learn more about social channels and how to market your business on them, then you must subscribe to this podcast via iTunes from here.
The Science of Social Media is a podcast that no marketer should miss out on.
Run by the same team as Buffer's blog, podcasts from this channel can help anyone from brands to influencers with fresh, insightful and actionable content.
Neil Patel and Mari Smith are some of the top gurus who are regular guests on the podcast, so if you want to learn from the best, this is the one to subscribe to.
If you want to start now, click here and listen to all previous podcasts.
The Startups for the Rest of Us podcast is all about entrepreneurial marketing.
Mike Taber and Rob Walling, the hosts of the show, explain multiple marketing strategies to kickstart your new business and ensure that it's a success.
Whether its product testing or learning how to scale after launch, startups can actually gain a lot of important insights from this show.
Subscribe to this weekly podcast series here.
The Indie Hackers podcasts gives you in-depth insights and advice on online business and marketing from within its incredible community of entrepreneurs.
Courtland Allen, the show's host, brings these stories to life and streamlines specific points of action on how to build and run successful businesses from point zero.
The podcast follows a conversational, friendly tone and includes some inspiring interviews from local entrepreneurs.
To become a subscriber to this amazing podcast, just click here and start listening to it on iTunes.
Marketing guru Neil Patel along with digital marketer Eric Siu upload 10-minute episodes on unconventional but tested marketing techniques on the Marketing School every day.
This podcast is more like a roundup of what's best in the marketing domain at the moment, dispelling conventional wisdom and giving space to newer, better ideas.
And if you don't feel like listening to it, you can always read up on a recap published on their site.
Become a subscriber to the Marketing School podcast on iTunes here.
Run by host Jon Nastor, Hack The Entrepreneur explores different habits, abilities, behaviour of successful entrepreneurs .
This podcast, aired thrice a week, takes a meaningful look on how you can lead yourself to success by taking cues from the best ones out there.
Jon Nastor likes to keep things brief and understandable, allowing for much more value for each second invested in listening to this great podcast.
Subscribe to Hack The Entrepreneur by clicking here.
CopyBlogger FM is one of the best podcasts for content marketers out there.
An incredible team of content specialists led by the talented host, Sonia Simone, power their way through the latest in copywriting, content syndication, email templates and more.
These weekly episodes run for 30 minutes and contains real advice from experts.
Copyblogger FM can be subscribed to by clicking here.
Want to know how to drive more traffic and build a loyal audience for your product? Then the Hustle and Flowchart Podcast run by Matt Wolfe and Joe Fier is what you need.
Apart from data driven insights from the hosts, the podcast regularly brings on-board top marketers who have a wealth of experience with powerful growth hacks.
Conducted in a very open and often funny tone, the podcast is packed with information.
Start listening to the Hustle and Flowchart Podcast by subscribing to it here.
Online Marketing Made Easy is a podcast series that focuses on breaking down daunting marketing strategies in easy to digest bits.
Amy Porterfield, the podcast's long standing host, empowers small businesses and startups by giving them valuable advice and actual case studies.
Subscribe to Online Marketing Made Easy here.
Top notch demand generation experts are a regular feature on Demand Gen Chat, an extremely popular podcast for B2B marketers.
Emil Shour, the show's host, teams up with experts each week to explore topics ranging from SEO to different marketing channels, while keeping an overall theme of how to grow your business.
For B2B marketers, it doesn't get much better than this.
Listen to this amazing podcast here on iTunes.
Hack To Start is one of a kind series that focuses on the innovative ways that people find success.
Each episode engages entrepreneurs and growth hackers through a deeply personalized and conversational tone.
This is the podcast to listen to if you need the motivation to do something worthwhile with that great idea that's been on your mind for quite some time now.
iTunes has all the previous episodes of the Hack to Start Podcast and you can listen to them here.
The Foundr Podcast makes it extremely easy for those on a difficult entrepreneurial journey to learn more about tackling challenges from the very best out there.
Ranging from how to approach venture capitalists for funding to scaling a product with a new approach, the Foundr podcast delivers clear advice and tips.
To start listening now, subscribe via iTunes.
The ConversionCast Podcast charts out the inner workings and marketing mechanisms of the firm Leadpages, an Inc 500 company.
The firm's paid subscribers have also surpassed the 40,000 mark, so to understand how they got to this point, this podcast engages real employees and their strategies.
Startups should definitely be listening to this one right now.
Subscribe to the ConversionCast Podcast here.
Don't confuse it with the book even though it follows a similar trajectory. The Seeking Wisdom Podcast tackles conventional problems like conversion optimization and a bonus.
Apart from the usual business and marketing talk, the show's hosts David and Dave open up about the daily fears, challenges and doubts faced by everyone.
Don't miss future episodes and subscribe to them here.
One of the most interesting podcasts on this list, the Startup Podcast series sheds light on the journey of its own parent company, Gimlet Media.
In each episode, you will get to hear about how the firm embraced their challenging journey from a struggling startup to a world renowned media firm in a short span of time.
The show's host, Alex Blumberg, who also happens to be the CEO of Gimlet, is a powerful narrator and can really hook you on with each episode.
Startup is available for subscription on iTunes. Click here to subscribe.
The Growth Marketing Toolbox is a niche focused podcast run by Nicholas Scalice.
The overall theme focuses on growth hacks for marketing, gathering info from different sources such as case studies and industry experts.
Actionable tips on every single strategy presented in the podcast can really help you turn around your business.
Subscribe to the podcast by clicking here.
Are you also one of those who keep thinking about generating passive income but don't know how to convert the idea into a real opportunity?
Then the Smart Passive Income Podcast, run weekly by Pat Flynn, is what you need to start listening to right now.
Pat interviews different people who have been highly successful at building passive income projects. From advice on how to monetize a podcast to strategies on making yourself a better influencer, Pat covers everything.
Subscribe to Smart Passive Income here.
The Tim Ferris Show is a podcast that's run by highly acclaimed author, Time Ferris.
Just like his book "the Four Hour Work Week," Tim shares insights on how people can become successful by adopting different routines and strategies.
His top rated guests include celebrities like Amanda Palmer and Arnold Schwarzenegger.
Listen to past episodes on iTunes here.
The Side Hustle Show has been a real hit amongst all those who want to get their businesses up and running, but don't have much time to invest into it.
Nick Loper, who hosts the show, discusses top strategies and shares experiences from people with successful side businesses.
Apart from this, Nick also focuses on relevant issues like skill development, finance management and scaling.
This weekly podcast can be subscribed to here.
If you are struggling to run PPC campaigns that return good ROI, then the The Perpetual Traffic Podcast is for you.
Hosts Keith France, Molly Pittman and Ralph Burns focus on how to best optimize traffic through paid channels and drive more conversions.
Perpetual Traffic runs on a weekly basis and you can subscribe to it here.
After the success of OkDork, Noah Kogan decided to offer the same material he pushed on his blog through the podcast Noah Kogan Presents.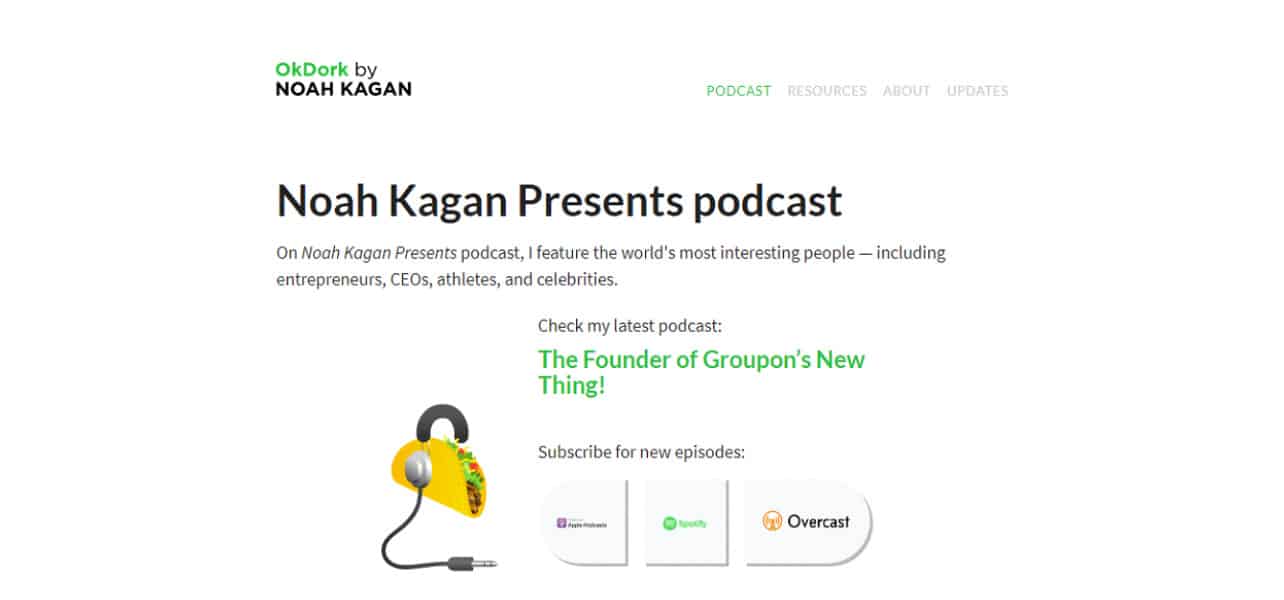 This podcast has a little bit of everything; from industry developments to the routines of top marketing executives.
Noah Kogan Presents is available both on iTunes and Google Play Music.
The Call to Action podcast features exactly the kind of info that its name suggests. Powered by Unbounce, this podcast unravels the true story behind major marketing campaigns, from idea to implementation.
The hosts regularly push the latest tools and events in the world of business and marketing as well.
If you want keep up to date on the latest trends in marketing and advertising, then listen to the podcast every Wednesday by clicking here.
The Social Pros Podcast is run by long time social media strategists Jay Baer and Adam Brown – both hosts are famous for collaborating with multiple Fortune 500 companies.
They take leading social strategies, explain them to their audience, critically analyse their viability and whether or not they are a good fit in today's world.
The Social Pros Podcast can be subscribed to here.
The Growth Mapping Podcast covers conventional marketing topics but with a new take on each one – and that's exactly what makes them so interesting.
Sujan Patel and Aaron Agius talk on every topic from growth to mistakes in digital marketing in a light hearted, but informative manner.
This podcast should be on the list for all startup owners.
Click here to listen to it on iTunes.
The Animalz Content Podcast doesn't like to go about delivering simple tips or hacks.
Instead, they produce in-depth episodes on different aspects of a successful content marketing strategies and how to overcome major challenges while promoting a brand.
The podcast is hosted by experienced content marketing professionals Jan-Erik Asplund and Jimmy Daly. They take each 25 minute episode and focus on a common challenge faced by content marketers these days.
From upselling your content to writing powerful, brand interactive blog posts, this podcast is where you can learn everything about content marketing.
Subscribe to the Animalz Content Podcast here.
The Business Method Podcast runs series on a specific theme, rather than doing just one episode on a topic and then moving on to the next one.
Hosts Chris Reynolds and Noah Laith first series was incredibly well received where they conducted 100 interviews of people with an annual income of $100k plus.
Moving on, the podcast next held a series where entrepreneurs who have businesses valuated at more than 7 figures were interviewed.
Currently on the podcast, you can gather some really inspirational stories including how and who made GoPro grow from just $600k to $600 million.
To listen to previous episodes, subscribe to the podcast here.
Most podcasts have a long-running time, often going for 15-30 minutes on average.
If you don't want to invest yourself for that long and would like to just get a quick roundup of the latest in marketing, you need to listen to the Two Minute Marketing podcast.
Eyton Buchman keeps things to the point and delivers a short, but succinct message on each episode about new techniques and developments.
Subscribe to Two Minute Marketing Podcast on iTunes here.
The Empowered Marketer is a podcast hosted by Cara Hogan; in this, she primarily explores marketing tactics for B2C businesses.
Experts are a regular part of the show and most of panelists have a highly successful background as B2C marketers.
In this podcast, listeners can learn from top professionals on how to run B2C campaigns and excel in drop shipping techniques.
Listen to this podcast on iTunes by subscribing to it here.
Rick Mulready is a top-notch entrepreneur with years of experience building digital traffic from paid channels for firms like Yahoo and AOL.
His new podcast series – The Art of Paid traffic – revolves around sharing his expertise and how can anyone build sustainable traffic from different social and digital channels.
Some episodes are short and concise, while others go on for longer, depending on what Rick is exploring on the day.
Subscribe to this podcast series here.
The Marketing Scoop has the stamp of authority in the digital sphere; after all, it is run by the popular SaaS platform, SEMRush.
David Bain and Judith Lewis come live every Wednesday to talk more on what's new and trending in the digital circles at the moment. They discuss topics at length, giving subscribers a chance to learn and understand new marketing strategies.
Some episodes also highlight success stories from global brands, so if you want to know how IKEA manages such a large marketing profile, then you better subscribe to this podcast here.
The Everybody Hates Marketers Podcast primes itself as a "no-nonsense" marketing show with no fluff or buzz keywords.
The hosts like to get straight to point and ask different experts on how to go about a certain marketing strategy in a streamlined, step by step manner.
From securing large scale speaking engagements to problems with traditional funnels, this podcast explores everything related to branding.
Everybody Hates Marketers runs every Tuesday; click here to listen to all past episodes.
Run by Sarah Green, the HBR IdeaCast podcast by Harvard Business Review is perfect for trailblazing marketers and top industry professionals looking to learn more about thought leadership in the industry.
The podcast also contains conventional marketing advice and strategies, but the interviews are what make it so popular with new marketers.
Run-on a weekly basis, you can subscribe to HRB IdeaCast here.
Building a strong online presence can be hard, especially with so much competition. But don't worry, the Build Your Tribe podcast has got you covered.
Hosts Chalene and Brock Johnson delve deep into the world of marketing and branding, and teach you how to build a loyal audience.
Start listening to this podcast on a weekly basis here.
Inbound marketing has worked wonders for a lot of brands out there, but not many marketers understand the underlying strategies that make it successful.
The Inbound Marketing Today Podcast is a dedicated show for inbound marketing and explores important strategies and customized practices for marketers from different industries.
Neil Brown, the show's host, makes sure that apart from all this, you also get to hear valuable personal experiences of successful inbound marketing strategists through interviews.
Listen to all past episodes this podcast here.
A lot of marketers get lost while building social campaigns, even if they know the formula behind it; but this is simply because they don't focus enough on the "why".
Derek Halpern unearths the psychology behind top social marketing strategies in his podcast Social Triggers Inside.
Involving information on human psychology, user behavior and more, this podcast always has an interesting take on things.
Past episodes are available here.
Led by Russel Brunson and featuring his own insights on marketing, The Marketing Secrets Show is a unique podcast series where everything from successes to failures is discussed.
Taking different experiences from his career, Russel builds each episode through a prologue on the issue he is going to talk about, what he knows about it and actionable tips on how you can implement the exact thing.
Listen to Russel Brunson speak on the Marketing Secrets show here on iTunes.
The ProBlogger Podcast sheds light on just how important good copywriting is for building a successful brand these days.
The show's host, Darren Rowse, highlights some really interesting stories like how Jeff Goins built a million dollar business through blogging the right way.
This podcast can allow you to really up your game on the writing side and learn how to create better, more engaging copies for your audience.
The ProBlogger airs on a weekly basis and you can listen to all of its past episodes here.
Digital analytics have become a core driver of success today.
The Digital Analytics Power hour podcast delves into this data driven aspect of marketing and outlines all the latest trends and challenges.
The trio of Tim Wilson, Moe Kiss and Michael Helbing also highlight the best analytics tools and how you can make data work to your advantage.
This is a weekly podcast with a long runtime and you can subscribe to it here.
Sales funnels are difficult to optimize, but listening to Dave Woodward's podcast The Funnel Hacker Radio can really make things easy for you.
Dave brings in the best experts on funnel optimization and asks them to provide actionable insights from the start.
From growing multi-million dollar businesses to landing pages, Dave has a new, exciting topic for every episode.
What's even better is that this podcast comes on live multiple times each week.
Listen to all past episodes of the Funnel Hacker Radio here.
Featuring a format of short 10 minute episodes that really pack in the information you need to make your content great again, Content Inc. Podcast series is really important for all modern marketers.
Host Joe Pulizzi and co-host Robert Rose ensure that every episode has one sure shot takeaway that can be implemented by listeners right then and there.
Subscribe to Content Inc. Podcast here for an insightful, content marketing session next week.
The Experts on the Wire Podcast demystifies the difficult world of SEO and makes it a whole lot easy for everyone ranging from novice to expert marketers.
Be it keyword research, snippet optimization, powerful content driven traffic or black hat techniques, Dan Shure tells you what works and what doesn't.
Experts on the Wire is a bi-weekly podcast; click here to get the full list of all episodes.
Entering its second season, the Confessions of a Marketer podcast tackles difficult issues in marketing.
Host Mark Reed Edwards calls on industry experts to explain and summarize complex concepts for the average listener. Season 1 touched over similar issues that include Marketing in the era of GDPR compliance, CCPA, marketing generation of today, etc.
This is a no-nonsense and in-depth marketing podcast; to subscribe to it before the next season begins, click here.
Are looking for insights to fast-track your Shopify store revenue growth? Then eCommerce Fastlane Podcast is the shot of steroids your business needs.
Get a dose of evergreen tactics to drive more traffic, improve eCommerce efficiencies, conversion rates, profitability, loyalty and customer lifetime value.
This top Shopify podcast is hosted weekly by Steve Hutt, a Shopify expert, eCommerce startup founder and Senior Merchant Success Manager at Shopify Plus.
For avid readers, eCommerce Fastlane got you covered, you can catch the latest eCommerce news on their blog. But for all podcast lovers, listen to them here.
To thrive in a rapidly evolving landscape, brands must move at The Speed of Culture. Join Matt Britton, Founder and CEO of Suzy, and key industry leaders, as they dive deep into shifting consumer trends within their industry, why it matters now, and how you can keep up.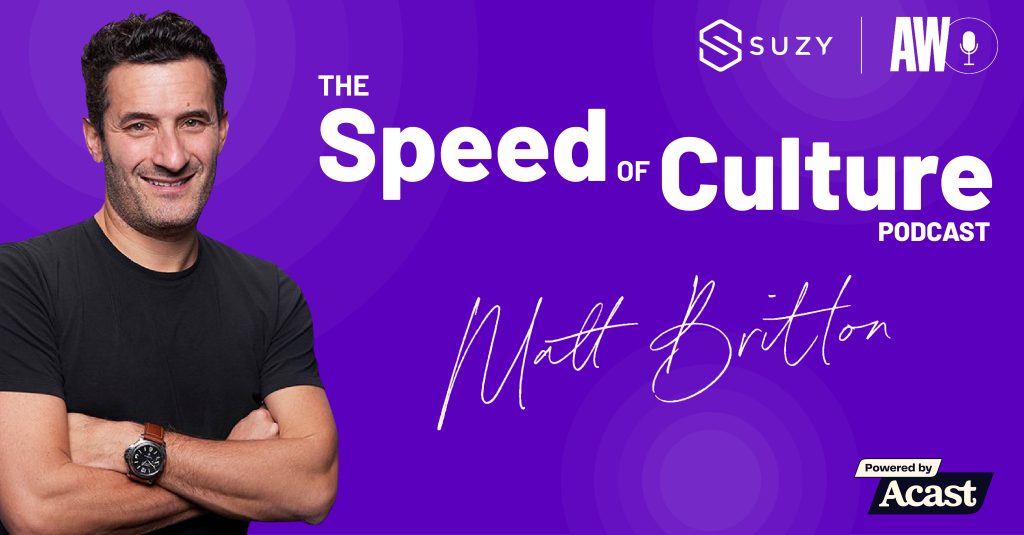 Here's Where You Can Find The Top Marketing Podcast Directories
You can always head on over to podcast directories that hold a high number of popular shows from multiple series.
Here are the most popular streaming libraries:

iTunes/Apple Podcasts
Spotify

Google Play Music
Where Can I Find More Marketing Podcasts?
While this is a long list of the best podcasts today, here are some directories where you can find more options:
Additional Podcast Distribution Channels
Many marketing podcasts are simultaneously uploaded to social sites, so don't forget to check these platforms out:
(search for "podcast")
And that's it – that's my list of the best marketing podcasts that you should listen to in 2019 and beyond. How do you like it so far? What is your favorite? Leave me a comment!