One of the greatest struggles you face as an online entrepreneur is choosing a brand name. It's challenging to find a catchy name that aligns with your company, your brand, and the domain at the same time. Fortunately, a name generator was built to help you with this particular hurdle – thinking out of the box.
There are so many instances where entrepreneurs have come up with the perfect name for their business only to realize that the domain name already exists. And this happens after you have invested in printing beautiful business cards and spreading the word on social media. The plans for your new business come crumbling down like a deck of cards.
Building a successful online brand calls for starting on the right path from the onset. The truth is that the cornerstone of your business is in your brand name. You should never compromise when it comes to having a business name that sells your brand identity.
But, why is the right name such a significant part of your business?
Because a business name should attract your targeted customers, the right company name is SEO-friendly and may use appropriate keywords. 
Why Should You Use a Name Generator?
It is easier for a name generator to use its pre-programmed logic to help you in the creative process of generating name ideas for your Business.  It is so easy for us to go with our favorite names and refuse to pick something else because we are so sure it will work. However, name generators pay attention to what matters most i.e., your brand definition.  It is a globally competitive market, and you need all the help you can get to build a community around your brand that will boost your income.
What type of name generator should you use to increase your online presence?
There are so many name generators in the market today. Nevertheless, always consider your target customers as you choose the name generator.
Let's dive in and look at the list of the name generators that will get you to the top of your niche.
Best Business Name Generator 2024
It performs as they say, 'jackpot for every trigger.'
With Names4Brands, you have various options to choose your business name. It is unique in that it gives you the freedom to use up to 18 languages to pick your name. You also get to pick the starting letter as well as the number of keywords you'd want to include.
The thing that makes it so unique is the dominant search tool with numerous filters that help you fine-tune your search.  Also, you can get a domain name and check the domain availability.
Are you planning to roll out a new Shopify store?
Shopify built the Shopify Business Name Generator for online store business owners. It is a one-stop-shop for business names and domain availability checks.  All you have to do is type in your niche keyword, and a list of business name suggestions will popup. It also shows all the available domain names using the .com extension. 
The business names and domain names suggested are very creative compared to other business name generators in the market. Plus, you can register your domain name directly from the tool and start selling ASAP!
The only catch is you can only register a domain from this tool if you create a Shopify store. 
BusinessNameGenerator.net is the fastest way to brainstorm and create a unique business name for your brand. The advanced naming algorithm will help you find the perfect business name, or jog your creative muscles as you explore naming options. As you search, you can set aside your favorites and choose between catchy one-word and multiple-word brand names. All in all, if you're looking for a free way to get your business started, look no further than BusinessNameGenerator.net!
Dot-O-Motor is also a two-in-one tool that helps create a business name as well as check domain availability. You can quickly generate a business name by either entering the keywords or picking one from the name list. Generally, business names should have two names. So, type the beginning and ending words and hit the 'combine' button and see the magic happen.
Use a unique name with a few searches on Google. Additionally, the shorter, the better.  The site will show you the available as well as the already taken names. Also, register your business name and domain as soon as you have settled on them to secure them.
BrandBucket is a premium business name generator that comes up with very interactive, unique, and catchy. The business names cost you about $1000, and you get to buy them directly from their website.
The good thing is that you don't get to choose from what is left or not picked, but from what's right for your customers.  One of their most outstanding qualities is the testing done to ensure your business name passed the spelling, uniqueness, and pronunciations checks.
If you want creativity and quality when it comes to your business name and domain, BrandBucket is the tool to use. The domain transfer process takes between 2-5 working days so you can start making your ROI.
Are you planning to start a blog and sell products using your blog?
Cool Name Ideas is a three-in-one suit for your business names, blog names, and product names. You will have to answer the following questions to generate business name ideas.
What type of business are you naming?

What benefits will your business bring to the customers? Service, security, eco-friendly, etc.

What style of business are you naming? It can be cool, masculine, retro, edgy, etc.

Enter keywords that best describe your business. (you have the option of picking where you want the keyword to show in your business name)
The name generator lists the short and returned names list first.
Once you have picked a name, double-check the domain availability before proceeding.
Best Name Generator for Domain and Blogs
By just typing a term into the search area, users of WordLab's robust domain name generator can generate hundreds of potential domain names. This tool offers a wide variety of options, making it ideal for anyone wishing to establish a website or launch a new business.
Instead of employing artificial intelligence, which frequently produces names that make no sense, the WordLab generator employs a special algorithm that creates names depending on user input. The generator provides a variety of sections based on the demands of the user, making it the ideal tool for coming up with domain names.
Users can verify the availability of the most well-known top-level domains, such as .com,.net,.org, and.info, under the generator's Popular area. More than 4500 prefixes and suffixes, which are those most frequently used by website developers, are added to the user's keyword in the SEO area.
Through the use of a thesaurus, synonyms, antonyms, real-world intelligence, and related words using collocations and n-grams, the Similar section generates popular alternatives for the user's domain name. The Mix section combines the Similar and SEO phrases to produce novel concepts that are effective for SEO.
Users can check the availability of the hottest top-level domains, such as.xyz,.ai,.to, and others, in WordLab's Trendy area.
Lean Domain Search is one of the best freemium domain availability checking tools. Enter the keywords that best define your brand and click the 'search domains button.' Voila! Your list of available domain names with .com extension will appear. 
You can also filter your search by popularity, alphabets, and length. If you want to brainstorm for a blog domain name, you should start here. Additionally, you can register the domain directly from this platform and check Twitter username availability.
Are you looking for a more creative domain extension than the typical .com?
Name Boy has that covered. It is not only a domain generator, but it helps you build a website as well. You can quickly create a WordPress blog, generate a website name, and get web hosting services from third-party companies like Bluehost.
For the best results, enter both your primary and secondary target keywords before pressing the 'Submit' button.
The outstanding feature on Name Boy is the ability to check domain availability extensions from third-party platforms like GoDaddy. You can also see all the domains that are up for resale for you to purchase. 
Domain Puzzler is one of the most powerful domain name generators. It has a very user-friendly interface with three options; Easy, Advances, and Magic.
The Easy option makes you aware of the domain availability. The Advanced mode allows you to combine two seed keywords while the Magic mode lets you mix multiple keyword searches. Keep in mind the shorter and less cryptic the name is, the better it will be for customers to remember.
The most outstanding feature is the Page Rank that gives you an overview of how the domain names rank on SERPs.
DomainsBot is not only a domain name generator but a name spinner, as well. It picks out synonyms that match with your seed keywords for you to choose the best combination.
Enter your primary keywords and hit search. It will give you access to available domain name ideas, and you change extensions, add suffixes or prefixes, or use synonyms.  Once you have the domain, you can register it directly on the site.
Additionally, you get access to insights and tools that will help you understand the domain market and discover new business opportunities to give you a competitive edge.
Best Random Name Generator
A random name generator helps pick what someone or something will be referred to as. It can be a baby name, fictional name, female names, character names, band names, etc.
Are you a creative blog writer looking for people's names for different story plots?
Master Generator will help you generate random names for any occasion. If you need character names for your blog stories, then you can get them all here. From band names, rapper names, baby names, to cat names, Master Generator has you sorted. 
It has a robust and powerful search tool that helps you filter names based on country, gender, popularity, year of birth, etc.
As the name suggests, you can pick up any fictional random name with this name generator. It has a list of random English names for both males and females, and you can select if you want the ordinary, average, or rare names.
The user interface is pretty straight forward, but you can seamlessly generate random names. Random Name Generator has a directory of over 480 million names.
If you are a sci-fi blog writer or a fantasy book author, this fantastic tool will help you save time as it can generate random names in a jiffy. From real names, fantasy, pop-culture, places to medieval names, Fantasy Name Generator has it all.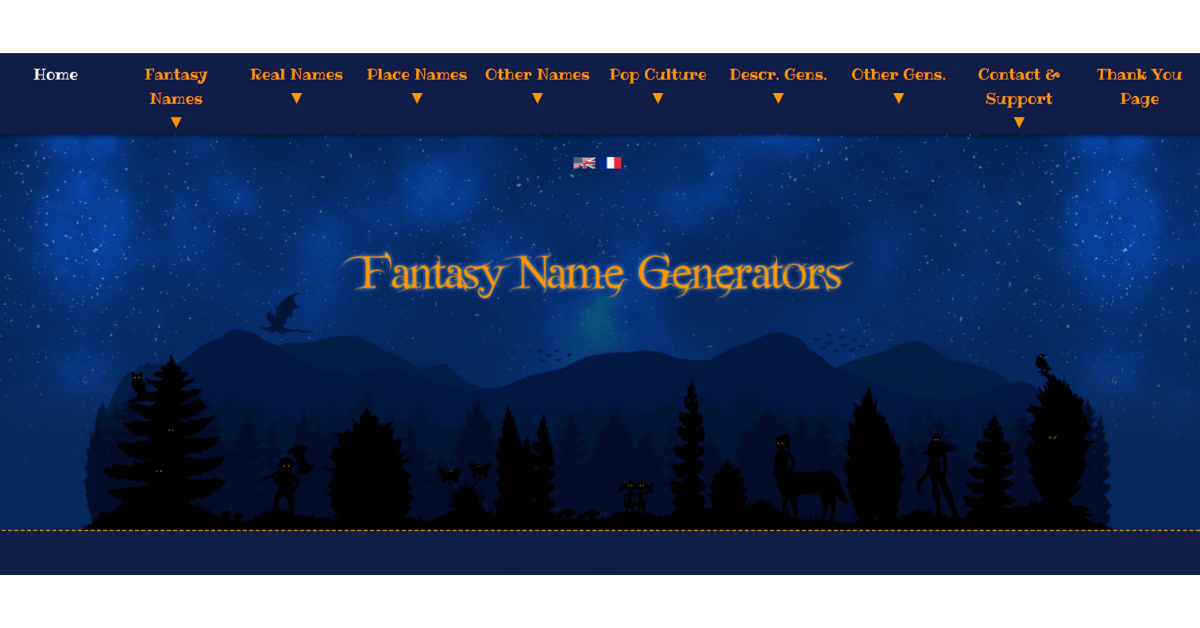 Random Lists has various random name generator suites from which you can select a name. From random animals, things, movies, addresses, names, countries, they have an extensive portfolio to choose from.
Any blogger or novelist who finds it challenging to come up with names and addresses of their characters will find Random lists very useful.
Best Name Generator for YouTube
Are you looking for a social media name that is personal and meaningful to you?
Jimpix is a username generator that will help you check the availability of your name across different social media channels, including YouTube, Facebook, Instagram, and Twitter. 
The 'Bells and Whistles' feature makes it possible for you to access different variations of the username. You can select either of these options:
Nice

: displays your username in beautiful font with a colored background.

Plural

: it adds an 's' to the first or second part of your username.

Reverse

: it reverses your username. For instance, a cat becomes tac

Spoonerism

: this is so much fun! Swiss-nuts becomes nwiss-suts
It creates numerous personalized name ideas for you. SpinXO got to know you first before generating a social media username. It is what makes it so amazing as it matches your personality to the generated usernames.
You will have to answer questions like names and nicknames, things you like, important words, what are you like, hobbies, etc.
Additionally, you can check their availability on social media networks by clicking on the username you liked. 
Social media is all about having fresh, funny, and great random names. Well, Username Generator saves you from the hassle of having to brainstorm for a username. Enter the keyword you want and watch as the name ideas unfold. 
Afterward, click on your preferred username and see it's availability on Instagram, Snapchat, Facebook, YouTube, and the like.
Conclusion
It's all in a name.  Choosing that name that will identify you for the long haul is a daunting task. It is so easy to buckle under pressure when selecting a website or blog name for your brand. These name generators help keep your head above the water as you don't have to do all the brainstorming work on your own.
Look at your naming requirements, whether it's a business name, social media username, blog site name, or fiction article character names- these tools will help you pick a name you will love.
I hope you are eager to start trying them out. Share your experience with us in the comments!