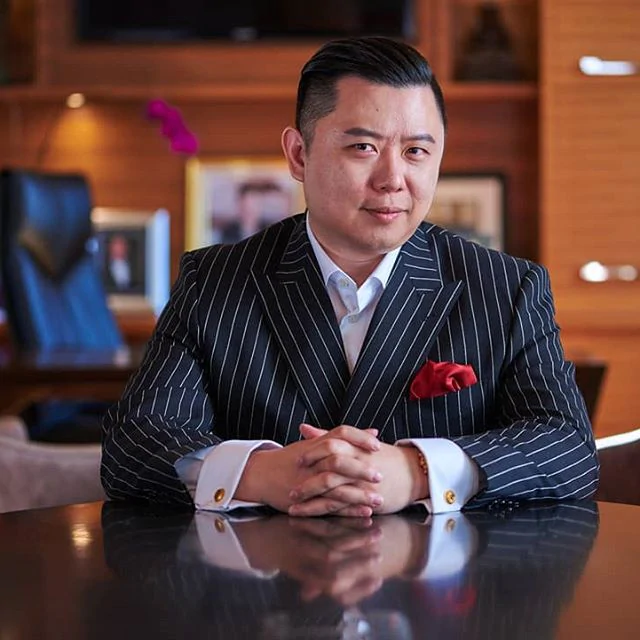 Source: Briefly
Dan Lok is a Chinese-Canadian entrepreneur, philanthropist, bestselling author, TEDx speaker, and business strategist. The 37-year-old multi-millionaire is a mentor, motivational speaker, YouTuber, copywriter, business coach, and marketer who resides in Vancouver, Canada.
Dan, known as the king of high ticket sales, has built a network of multi-million-dollar companies. He is the founder of Closers.com, a SaaS platform that connects companies to closers, and the CEO of Dan Lok Marketing Inc. People around the world follow him to learn how they can create 7-figure business empires.
The Dan Lok Organization has over two dozen companies with one mission – promoting global financial wellbeing through mentorship, education, and strategic advantage. He is married to Jennie Lok, and they live together in Vancouver, Canada.
The Story of Dan Lok
Dan Lok grew up in a financially stable home in Hong Kong, China. His dad gave him enough money to have $100 in his pocket always. He had no ambition or interest in success. Things started to turn sour when he turned 14. Lok and his mother had to immigrate to Canada. They lived in a low-rent, one-room apartment in a bad neighborhood in Vancouver.
When he turned 16, Lok's parents divorced. However, his father still sent them money from Hong Kong. Then, one day, they got a call that his father had gone bankrupt and couldn't send them any more funds. Lok's mother didn't have any paying job, and they were already struggling to get by with the little money his father sent.
Watching his mother break down in despair, spurred Dan Lok to be more serious about his life. He started reading self-help books to improve himself. Overnight, Lok changed from the immigrant kid who could barely read or write English and hated school to a regular in the library. At first, he struggled and had to use a dictionary to translate as he read. But because of his desire to step up to the plate, he didn't allow himself any excuses.
As one of only three Chinese students in his high school, Lok was the victim of racial taunts and bullying. He became adept at being invisible and going under the radar. Then, one day, he saw the Bruce Lee movie, Return of the Dragon. He felt an instant connection to his character because their circumstances were similar. So he began taking Martial Arts courses to be more like Bruce Lee. The classes helped him become more confident.
Then he stepped up to the plate and started several side-hustles. He fixed computers, mowed lawns, flipped textbooks, even stocked supermarket shelves to make quick money. Eventually, these side hustles evolved into more stable business ideas. After high school, he attended Douglas College in Vancouver for full-time business classes.
Lok's success got into his head, and he became more overconfident and cocky. Coupled with his inexperience, it was a ripe recipe for disaster. He started borrowing money from relatives to fund his increasingly crazy business ideas. Each time he failed, he tried another business. Within three years and by his 21st birthday, he was already $150,000 in debt.
He eventually met a mentor, Alan Jacques, who coached him to make millions annually copywriting. By 27, Lok was already a self-made millionaire and entrepreneur. Today, Lok is a Forbes Book Author with 14 published books, including
Creativity Sucks! How to Generate Million Dollar Ideas in 60 Seconds or Less
The Art of War for the New Millennium (co-author)
Lies Salon Owners Believe: And the Truth That Sets them Free
F.U. Money
The Midas Touch
Unlock It: The Master Key To Wealth, Success, And Significance
Lok's motivation to go into business was to provide for his family. However, when he was too busy to visit his sick father before he died, that changed. He stopped chasing money and decided to provide opportunities for other people.
He now uses his social media channels, with over 4.5 million followers to teach others. Some of his resources include his podcast "The Dan Lok Show," "Dan on Demand," and "Tube Your Own Horn," where he teaches people to grow their business with social media. As of June 2019, his YouTube channel has 1.6 million subscribers.
The Business of Dan Lok
After he found himself in deep debt, Lok started looking for new businesses. No one could understand why he couldn't just get a job. However, Lok knew that the secret to getting out of debt was wealth creation, not working for a minimum wage.
Source: The Dan Lok Show
After Lok read Claude Hopkins' book, "Scientific Advertising," he became obsessed with marketing and soon discovered marketing expert Alan Jacques. He studied Alan's sales letters and attended his seminars, where he eventually met the man.
He offered to buy Alan lunch, and they talk for hours. When Lok asked Alan to be his business mentor, he declined. However, he wasn't discouraged. He would visit his office every day for three months, doing everything to show his willingness to learn and help, including lawn mowing and trash collection. One day, Alan finally caved and agreed to mentor Lok.
He dropped out of college to work for Alan. Under Alan's mentoring, Lok learned copywriting. He spent weeks crafting his first sales letter, only for Alan to reject it. He rewrote it seven times before Alan was satisfied. He later confessed that Lok's first draft was OK, but you couldn't master anything by just being OK.
Source: Dan Lok
Eventually, Lok created his first business – a one-person advertising agency where he made $10,000 a month. Within 12 months, he was generating millions of dollars from his sales letter alone. He could finally pay off his debt and care for his mother. He met his wife, then Jennie Li, at a karaoke place when he was 26. She began working with him as his chief strategy officer while they dated until they got married in 2015.
In the following decade, he started businesses in the internet marketing industry. To date, Lok has founded or partnered in more than fifteen business ventures in industries ranging from luxury goods, digital marketing, education, and e-commerce, including Charm Junction Jewelry.
Source: Closers.com
Lok also offers coaching and masterclasses on his official website. He teaches sales and other high-income skills through the Inner Circle mastermind and High-Ticket Closer Certification Programs. His project, Closers.com, then matches companies with the high-ticket closers he has trained.
What Is the Net Worth of Dan Lok?
As of 2018, Dan Lok's net worth was an estimated $74.5 million.
Why Is Dan Lok Such a Great Idol?
Lok failed at thirteen businesses and was owing people a lot of money. It didn't let that discourage him. His hard work towards wealth creation eventually paid off, and he became a successful multi-millionaire.
What Are You Waiting For?
There is always a next level, better than your current situation. You don't have to settle for the average. No matter where you begin or the obstacles you face, the most important thing is to begin. Imagine if Lok had given up after his first few failures?