Follow your passion and earn Income with that – while working from home. 
Do you want to work from home on a part-time basis?
With the Passion Lifestyle, there's a smart way of earning and living, you just sit in the comfort of your home and work with your own schedule while earning a lot more than those working 8 hours daily. And no, you do not need any extra equipment to do part-time jobs in most cases. With your computer, mobile phone, a stable internet connection and maybe your favorite cup of coffee, you are good to go.
Sound easy, right? Wait for it; you can decide how much you are paid. Oh yes, you can choose to work only for an hour in the morning or a few hours at night.
You are probably thinking along the line "How do I make extra income without stress?" Are you looking for a way to utilize that special skill you have? You do not need to join the millions of job seekers out there. Read this post and learn the work at home jobs that gives you the freedom to work at your own schedule.
Disclaimer My content is reader-supported. If you click on some of the links I might earn a commission. This is at no additional cost for you. I only recommend what I carefully reviewed.
Best Work from Home Jobs Part Time 2024
Here you find various ideas on part-time work from home jobs you can do with flexible hours.
1. Work as a Virtual Assistant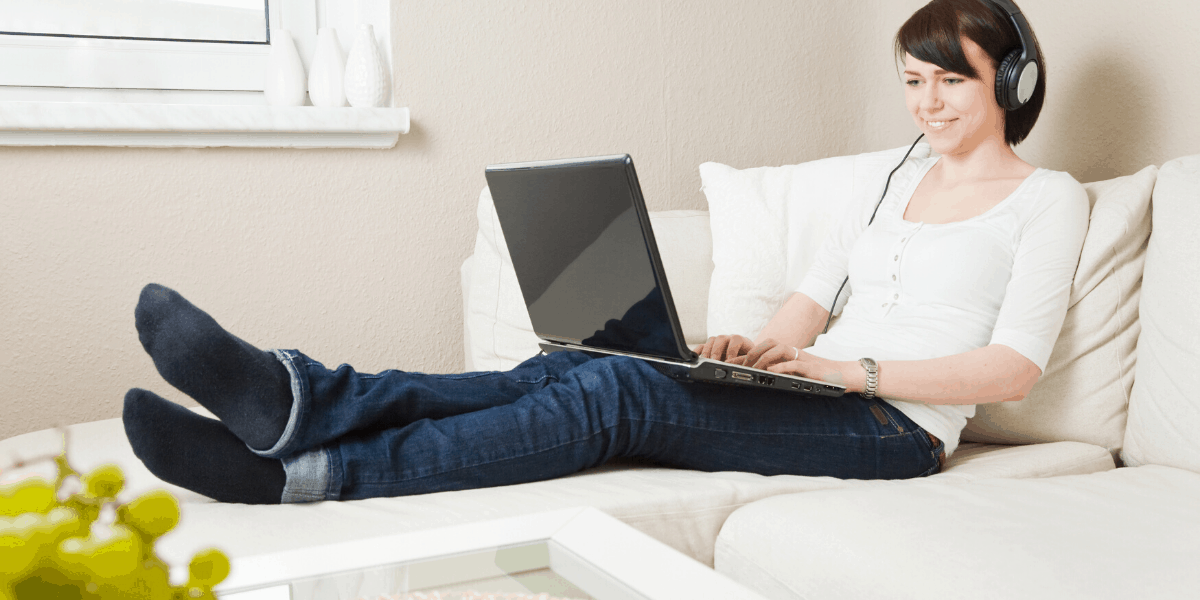 Working as a virtual assistant is not only profitable, it gives a sense of fulfillment and satisfaction to both parties involved. As a virtual assistant, you need to be able to communicate, manage and organize events and daily activities of a business owner. It is the same as being an office manager or a secretary but sometimes a VA requires a particular skillset and this makes for you, an attractive income.
Find Virtual Assistant Jobs here: FlexJobs, Upwork, Remote.co,Freelancer.com
As a VA, you can make up to $25 to $40 per hour depending on the tasks assigned to you. There are many small and medium businesses looking for VAs. You can enroll as a Pinterest Virtual Assistance and with just a few weeks after training, you can start gaining your clients. Whether you want to acquire a new skill set like Tara. She got started 7 days after enrolling to the Pinterest VA course and now making $7.500 monthly Revenue
or you want work flexibility like Dama?
Do you want to get paid to play on Pinterest? Try the free workshop from PINTEREST VA.
2. Transcribing
How fast and accurate can you write what you hear? How attentive can you listen when people talk? Attentiveness and ability to type fast are the two must-have skills for transcriptionists. Transcribing is an age-old tradition of making a copy of what you hear in writing. This means you must be able to reproduce what you see or hear correctly and clearly. This is where your knowledge of grammar and punctuation comes to bear. Transcribing has been made easier by online facilities and applications like Express Scribe, OTranscribe, Inqscribe, and Transcribe.
With little or no experience in transcription, you can become a freelancer with such platforms as gotranscript.com, scribie.com, and rev.com where you simply apply, pass the test and start earning. As a transcriptionist, you could earn up to $20 per hour. If you specialize in law or medical transcription can be paid as high as $23,000 according to Payscale, all in your living room. How cool is that?
3. Customer Service Representative
Employers are now realizing the benefits of hiring a customer service representative that work remotely and the era of hiring full-time CSR is gradually fading. CSR is one of the most common work-from-home jobs in the US. You can take advantage of this to become a savvy customer service professional with basic knowledge, excellent communication, and people skill.
There are many avenues available to find work as a home call center agent. Freelance agencies like Hubstaff Talent, Upwork, and Freelance.com will aid you in your job search. According to Payscale, a customer service agent earns between $9 and $18 hourly.
4. Online Tutoring
If you are an expert in a particular subject and you have a passion for teaching and imparting knowledge, you can try tutoring online. The difference in time and space between an educator and the students is non-existence with freelance tutoring. An online tutor typically assists students in various grades with their assignments or supports them in a difficult subject. Your work is similar to that of a teacher except in this case you will work in your comfort zone via video conferencing. What's more? You determine how much you are paid but an online tutor is typically paid $15 to $20 per hour.
As a tutor, your communication skill should be top-notch and experience in teaching will also come in handy. Furthermore, you need at least a bachelor's degree to tutor online or but some people require college students with deep knowledge in a particular field. Well-grounded companies in online tutoring like John Hopkins Center for Talented Youths, Pearson Smartthinking, Tutapoint.com, and Tutor.com are constantly looking for Online Tutors, so you may start your online tutor journey from there.
5. Writer/Editor
You have probably heard the idiom "you have a way with words" spoken on several occasions. This is exactly what you need to start your part-time job as a writer or an editor. While this may get you through the door as a beginner in writing, a successful career as a freelance writer requires a little more effort. You will need to have a good understanding of how to do search engine research and a flair for flexibility in writing style with the patience to go through the rigorous process of editing.
Acquire the necessary skill sets to get to the top
Use materials from Skillshare and Udemy to learn more about writing. If you want to write, you might as well do it right by learning from the best. Such writers like Clare Lynch with decades of experience in writing and Jessica Brody, a bestselling author teach students the rubrics of writing. You can write web content, ebooks, articles for magazines and newspapers or blogs.
Where is the best place to find a blogging job?
Online writing job listings like Flexjobs, Solidgigs, Fiverr, Problogger, freelancewriting.com, textbrokers.com, and Contena connects freelancer bloggers with employers.
6. Social Media Manager
Just like a Public Relations Officer is the face of a company, a social media manager is the voice of the company. As a social media manager, your job is to manage and increase the presence on social media of the business. The advent of social networks like Facebook, Instagram, and Twitter prompted companies that want to widen their reach to compete for space online. While anyone can use Twitter with a few clicks of a button, you need to have a comprehensive knowledge of the workings of various social networks to do this job. Also, since you are the voice of the business, you are required to have such skills as communication and interpersonal relations. You need to be up-to-date to know how to beat the competitors.
You can acquire the necessary skill set by attending online classes like that given by Lottie on Udemy. Here you will be taken through the various ways of managing a business social media. At the end of the classes, you would have acquainted yourself with the various forms of content and the most effective ways of using them.
Similarly, on Creativelive you can enroll in one of Jasmine Star's classes where you will be given a crash course on social media management and how to achieve the goals your client set for you.
7. Translator
If you love languages, this is for you. One important perk of being bilingual or multilingual is that you can earn extra money with it. There are millions of people around the world that require your skill. While you are helping people communicate effectively, you also decide your own schedule and income. Although it may seem like a professional work, translation does not require a bachelor's degree and prior experience. You can be like Cloe who became had absolutely no experience in translation but earns $350 a year and that's just a bonus.
Better yet, there is no shortage of opening for translator jobs.  You can get translator gigs on already established online freelance agencies to translate English to other languages and vice versa on Upwork, Glassdoor, and Successful freelance translator.
With your training and experience and of course your passion for language, you can earn up to $60/hour as a translator. As a translator it is important to hone your listening skill and your level of patience must be above average.
8. App and Website Testing
According to Statista, the largest app store has over 2 million apps for users to download in the third quarter of 2019 while Internetlivestats give live reports of the existence of billions of websites in the world. The internet has become so indispensable that it will be difficult to imagine a day without it which is why App and Website testing is one part-time work that is here to stay. This is because businesses must find a way to test for durability, security, accessibility, functionality, and definitely performance.
With a stable internet connection, a mobile phone, laptop computer, and various other devices, you can be a beginner App or website tester in your home office. The payment for testing apps varies but you can earn up to $15 for each App you test. Userfeel and Userlytics are both great starting points for you as an App and Website tester.
9. Virtual Call Center
A virtual call center performs duties similar to that of conventional call center agents. You are expected to talk to the clients via phone calls, answer emails, respond to inquiries about the company and chat online through messages. You can also be asked to involve in telemarketing and marketing surveys for a business. This online job requires you to be able to think on your feet and familiarize yourself with the firm that hires you quickly.
As this part-time work requires that you converse with a current or potential client of a company, it goes without saying that your communication skill must be exceptional. However, as a virtual call center, you can choose your schedule while working from the comfort of your home office. You can reach out to companies for a job as a virtual call center agent. There are millions of call center home opportunities on online job postings like The Balance careers, Glassdoor, and Indeed. You can be paid $15 to $20 per hour depending on your chosen field.
10. Data Entry
Hiring typists is a thing of the past for most companies as most businesses now take advantage of the interconnection in the world to hire a data entry agent who can work remotely. It is a given that you must be able to read and write to land a data entry job. Nevertheless, to be an accomplished data entry professional your mastery of the MS Office tools like Word, Access, and Excel is important. Your typing speed must be outstanding but you must be able to type accurately to get a repeating customer. Most companies that hire freelance will emphasize the accuracy of your result to pay you.
You may also be asked to transcribe in conjunction with entering data depending on your client's specialization that means you need to be versatile. Outsourcing online job listings like Flexjobs, Upwork, and Working Nomads have countless vacancies for this remote job. You can also use tools like LinkedIn for increased bargaining power. A part-time data entry jobs make an average of $12 per hour but it depends on the quantity of the work and your level of accuracy among other factors.
11. Online Travel Agent
When you have a destination in mind or you know you need a vacation but can't decide where to go, your first thought will be to seek advice. Who do you turn to? A person knowledgeable in beautiful places and can convince you of why that vacation is long overdue. This is the job of a travel agent. However, unlike the conventional travel agent, you can decide not to travel the world before learning about the exquisite locations suitable for your client. How do you do that? You need to be conversant with search engine research.
Mark Trim resigned from his full-time job to start an online travel agency RoundAboutTravel and he is making as high as $6m yearly. You can also be like Mark but you got to start from somewhere.
Remember, an online travel agent is essentially a sales agent who earns commissions. So, you need your power of communication and persuasion here more than anything. Use online job boards like Indeed to find openings for remote travel agent jobs or Rolling Globe which connects those who need to travel with travel consultants.
Work-at-home online travel consultants can be paid up to $70 per hour. Being organized and thorough is handy for an online travel consultant because you will be handling the logistics for your clients. You must also be continuously updating yourself about "it places" in the world.
12. Direct Sales Consultant
A direct sales consultant or agent markets and sells a company product. If you have a flair for sales and persuading people, direct sales consultancy is for you. With the inception of e-commerce comes the development of part-time Direct Sales Consultants. Direct selling is one of the fastest-growing industries in the world. As a direct sales consultant, you must have the right attitude and personality to be able to sell anything. In your job search as a Direct Sale Consultant, Recruit4.Work or Glassdoor might be your first stop.
However, you can build your niche base on your interest and experience. With a high school diploma, you can become one of the tops in the industry of direct selling. You can take a leaf from successful direct sales consultants like Belinda Ellsworth of step into success, connect with other Direct Sales Consultants and attend courses on direct selling. You get paid commission base on your sale.
13. Music Reviewer
You probably have something to say about that recent album you just downloaded. Instead of voicing your opinion for free, why don't you speak your mind and still get paid for it? As music critic cum freelance writer, your opinion on albums, artists, and their performances is very crucial so you need to constantly update your knowledge of music and that of writing. This part-time work from home job can be daunting due to the diverse nature of the music but if you can pick a niche and work with it, you can write authoritatively on the song with that genre.
Knowing good music from the bad or the ugly is just the basic aspect of music reviewing as a job. Reviewing online is easier than writing in print, says Steve Bell, a professional music critic at The Music. Check out music review sites like The Guardian, Relix, and Pitchfork to send pitches. Finally, Music Reviewer earn from $15,000 to $30,000 a year.
14. Make money on Instagram
By simply chronicle your awesome life, you can make loads of money on Instagram. Posting a picture of your favorite holiday spot as you travel around the world or how you rock your new dress can open the gate for you to have more followers. Getting more followers means you will start getting noticed by both small and large businesses alike and bam, you are an influencer. Anyone can become an Instagram influencer. However, you must constantly post content and have "true" followers.
Choose a niche you are passionate about, say, fashion, and post pictures about everything fashionable. Be the trend-setter when it comes to chic and trendy outfit and you start getting a partnership from companies.
On the flip side, you can become a Micro or Nano influencer, in which case you need only about 5000 followers as opposed to mega influencers who have millions of followers. You can make as high as $1000 per post as an Instagram influencer. While the glamour of being an influencer is attractive, it requires persistence and authenticity in addition to the ability to engage your audience to be a successful Influencer on Instagram.
15. Create product reviews and get paid
You can make money by sharing your honest opinion about new products. You can create content about a product a firm is about to launch or an already existing product in the market. As a reviewer, you help other shoppers like yourself make informed decisions about their next purchase and you help firms improve the quality of their goods and services.
Now you are probably asking, "so, what do I gain from this?" You are not only getting paid for your service, but people will also trust your opinion on products. Nobody loses. You can get paid for testing products through Tomoson. As a reviewer, you not only get paid for your effort, you also get lots of free goodies too. Tomoson also lets you discover and explore new things.
16. Start a Podcast and get sponsorship and advertising
Podcasting has become popular in recent years even though the term was coined by Ben Hammerly in 2004. If you enjoy an episode of your favorite show on Podcasts, you must know that it takes a good amount of planning to create a podcast episode that leaves viewers or listeners wanting more.
Check out this step-by-step guide on how to set up a successful podcast. The uniqueness of your podcast can easily set you up for success. With your patience, diligence, and ability to engage the audience, you can get sponsorship from companies and even advert placement. You can take advantage of free hosting for your podcasting but ensure you have quality tools for your recording. With this investment down, you can be paid $15 to $20 per 1000 listens.
17. Start an Ecommerce with Dropshipping
Buying and selling have gone beyond the traditional manufacturer-wholesaler-retailer-consumer channel with dropshipping. Dropshipping is a way of selling products online without a warehouse or holding stock. You act as an intermediary between the buyers and sellers but you do not need to have the goods in stock. Since you do not have to make physical contact both with the goods and other parties involved, dropshipping can be the best alternative for work-at-home moms.
You can start a dropshipping business from scratch on Shopify. Shopify helps freelancer to create unique e-commerce business from branding to set up and ultimately pricing. Depending on the country your goods are being shipped from you can also create a shop with Oberlo or Spocket.  Whichever dropshipping platform you choose, you can start with as small as $100 and as your business is growing, you can increase your capital.
18. Sell Handcrafted Items on etsy.com
Do you have a unique creative idea that you want the world to see? Join the millions of people selling on Etsy. Etsy brings makers of rare handcrafted items to meet potential buyers. If you have a vintage piece that you will like to sell, Etsy is your stop. You can make a habit of crafting different ideas and breathing life into them and sell for more than a reasonable amount on Etsy. You can make items like jewelry, clothing, and shoes, as well as natural beauty products.
Your income is determined by how valuable your piece is among other factors. To be a successful part-time seller on Etsy, be prepared to pay the fees for selling $0.20 Listing fee renewable every four months, 5% transaction fee of the total amount you sell your goods and a standard Paypal processing fee on every sale you make.   Although this may seem daunting initially, with a community of sellers to guide you, you can rise to become a top seller. You can be like Alicia and make as high $80,000 a month on Etsy.
19. Start a blog and make money on the side
A blog is like your journal, you choose what the content will be. You can share your personal experience, gush about your crush, or even rant about your dog. With millions of blogs online, there are avenues for news to spread like wildfire. If you have a flair for making the mundane sound interesting or you know how to deliver trendy information, try blogging. There is no limit to how you can use your blog as thousands of purposes are available for you to choose from. However, try having a niche and ensure you get repeat readers.
Most beginner freelance writers use WordPress to start their blogging journey but can also select Blogger or Tumblr. You can place ads on your blog including affiliate ads, offer paid online courses and workshops in your niche, and sell digital products to earn money as a blogger. You can earn as high as $100K per month as determined by how you take advantage of your blog. With your determination, you can also become one of the most successful bloggers.
The Passion Lifestyle – Work from Home Part-Time
Take advantage of the new Passion Economy to earn a living at the same time having fun. Stop existing and start living by doing what you love.
A Passion Lifestyle can fit everyone. A stay-at-home mom will have more time for the kids creating an excellent work-life balance. You can travel to the places you love with your remote work. You get to express yourself more and have time for other things that are crucial to healthy living like exercise and nutritious food. The biggest advantage of it is that you can make tons of money while working at your own pace.
Take charge of your life by doing the things you want in your flexible hours and getting paid for it. Choose from these categories of part-time work from home jobs and continue to update yourself to become better. If you have any comments on this post, don't hesitate to reach out.