Have you thought about creating an online course but you are still not sure which is the best teaching platform to choose from? Selecting an online course platform for your courses is a BIG decision, and you probably want to explore this option and decide which platform to use before you start creating any course.
A search on Google for "online course software", will probably leave you overwhelmed. There are many user-friendly platforms out there with different features and options and at the end of the day, it comes down to your personal preference and unique situation.
In this article, I go into great length to review the top-ranking online teaching platforms on the market. This guide ranks and reviews online platforms based on the following variables;
Site's features
Reliability
Marketing tools
Technical support
Pricing
Profit potential.
Let's get started.
Disclaimer My content is reader-supported. If you click on some of the links I might earn a commission. This is at no additional cost for you. I only recommend what I carefully reviewed.
What are Online Course Platforms?
Online course platforms are all-in-one solutions that allow you to build, host, and earn money from online courses. There are a variety of different course platforms available including, free, premium, searchable platforms, and more.
The course platform you choose will depend on your needs. For example, if you have an existing source of traffic you may prefer a premium platform like Kajabi or Podia. While, if you want visitors to be able to discover your course, a platform like Udemy will be more valuable.
What Types of Online Course Platforms Exist?
There are a variety of different types of course platforms available, depending on your needs. Here are the most common:
Standalone Hosted Platforms
These platforms are run separately from your website and allow you to build and host your course materials. These are platforms like Learnworlds, Thinkific, and Teachable. They allow you to create professional-looking courses, but you'll need to have a separate website and handle marketing yourself.
All-in-One Platforms
This kind of course platform includes a website, marketing, course creation tools, email tools, and much more. This includes platforms like Kajabi and Kartra. These platforms make it easy to manage your online course, but you don't have a lot of freedom.
WordPress Plugins
If you're a WordPress site owner and want to add course functionality to your site you can use a plugin like Learndash, Lifter LMS, and LearnPress. These plugins let you create and host online courses on your existing site. This gives you complete freedom and ownership over courses, but there's a steeper learning curve.
Online Learning Marketplaces
These marketplaces have 1000's of different courses and take care of the audience and selling for you. Platforms like Skillshare, Udemy, and Coursera, let you create and upload your courses for free. People can search for your course and purchase it right on the platform. This makes things easy, but they take a cut of your total sales and you're giving up control to a platform.
Video Platforms
Platforms like Uscreen and Muvi let you create your very own video subscription channel. This is great if you want to create a ton of video content and ongoing membership courses. The only drawback is you'll need to create a constant stream of video content to keep your members happy.
Live Event Platforms
Live event platforms like reach.live, sutra.fit, lu.ma, joinhologram.com lets you host live video presentations and events. These can be used alongside an existing online course, as a way to generate new students, or as courses entirely in themselves. Since this is a virtual event platform you're limited by the type of content you can create, but it can be a great way to connect with people.
What Should You Look for in an Online Course Platform?
You'll want to choose an online course platform that best supports your unique needs and the type, of course, you want to sell.
However, here are some universal elements to look for on any platform:
Easy to use. You must be able to use the platform, upload courses, and bring on students without hassle.
Within your budget. There are a ton of different free and premium options that'll fit within your budget.
Features you require. Maybe you require video streaming capabilities, a comment function, email list management, or something else. Make sure the platform you choose supports your goals.
Why Trust Me for This Guide
Navigating the online course platforms requires expertise, and my background offers both depth and breadth in this field. With 13+ certificates in Digital Marketing, including seven from Google, two in SEO, and others in Facebook, Instagram, and Growth Hacking, my knowledge base is extensive. I hold a Professional Diploma in Digital Marketing, solidifying my expertise.
My 20+ years as a lecturer, trainer, and coach have seen me train over 20,000 executives globally, providing me with a diverse perspective on learning needs. This experience has honed my ability to discern quality in educational content and methodologies. I've designed and structured hundreds of courses, focusing on their relevance and effectiveness for a wide range of audiences.
In crafting this guide, I've drawn from this vast experience to give you a comprehensive and practical overview of online course platforms. My aim is to empower your decision-making for your training and educational endeavors. Trust this guide as your resource for choosing the best online course platforms, backed by years of expertise and a commitment to your success.
In essence, this guide is your gateway to informed decisions in selecting online course platforms, shaped by my extensive experience in digital marketing and education.
Let's dive in..
Best Online Course Platforms 2024
The best All-in-one tool for course creators to create engaging courses, build a community in the platform, and with the website creator, you can create a beautiful website for your online school.
LearnWorlds is a powerful online training tool that is reliable and easy to use for individuals and enterprises. Over recent years, it has gained a broad audience by offering training solutions to employees and associates, educating customers, and selling online courses. It provides professionals and entrepreneurs with a solution that best meets their specific needs through its cloud-based e-learning platform. LearnWorlds also offers beautiful templates, a built-in- social community, a modular page builder, and advanced analytics for designing a comprehensive online learning experience.
LearnWorlds – Features
Landing and sales pages
LearnWorlds lets users create appealing landing and sales pages that convert using its page builder. With this platform, one can quickly build all his informational pages without necessarily maintaining a separate website. This is made possible by a rich library of ready-made beautiful and responsive templates that users can choose from.
Branding and theme editor
The theme editor allows you to customize the style, logo, and theme of your school to reflect and promote your brand.
Customized notifications
It allows you to use its personalized "welcome" and course completion emails, which you can send to your students based on enrollment, course status, and a dozen other filters.
Complete course catalog
LearnWorlds offers a comprehensive school experience with a ready-made course catalog. You can further customize it to fit your brand using the page builder.
Advanced CSS and JavaScript editing
LearnWorlds allows you to easily make modifications to any of your courses and pages, and add code snippets to integrate with affiliate programs, third-party marketing and analytics tools easily.
LearnWorlds – Target group
LearnWorlds has been rapidly growing, and at the moment, it already accounts for over 10,000 customers in over 70 countries, ranging from personal entrepreneurs to professional training organizations, technology companies, and government agencies.
LearnWorlds – Pricing
LearnWorlds is a premium platform given the depth of features that it offers positioning it as fair, and so is their pricing. In its monthly fee plans, LearnWorlds offers four packages; Corporate/ High Volume, Learning Centre, Pro, and Starter.
To get a rough idea of what to expect, you can also enjoy a free 30-day trial without paying an upfront fee or sharing your credit card details.
Starter Plan
Customer domain
Built-in community
Basic integrations
Free SSL certificate
24/5 e-mail support
Pro Plan
5 admins
Unlimited courses& pages
Customized check out page
Certifications
SCORM/HTML 5 support.
Premium integrations
Onboarding call
Affiliate system
Subscriptions and payment plans
24/7 e-mail support.
Learning centre Plan
Fully white-labeled
20 admins
Bulk student upload
API integrations
Interactive video
Single sign-on
Custom mobile app
Premium onboarding
24/7 premium support
Corporate Plan
All features included in previous plans
Dedicated account manager
Flexible invoicing
Optional SLA
LearnWorlds – Pros
It is intuitive, easy to use and flexible
It offers web hosting, essential marketing tools, integration of affiliate programs and email marketing tools
LearnWorlds – Cons
More comprehensive plans are a bit expensive, but you save the website builder
The uploading system lacks the option of organizing your files in folders, but that's manageable
LearnWorlds – Examples
Check out this examples and learn how they build up their online schools:
LearnWorlds – Conclusion
LearnWorlds is an online teaching platform that combines interactive videos, eBooks, and social features allowing people to have an exciting learning experience. Anyone with something to teach can make a profitable learning school out of this platform.
---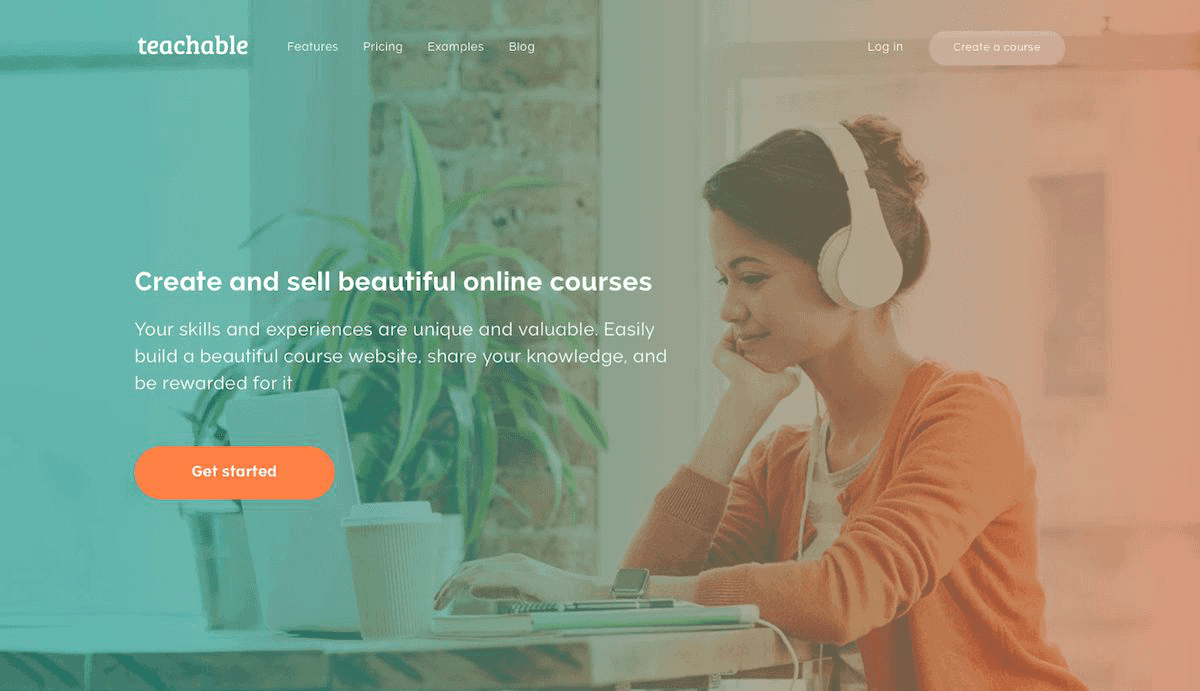 Teachable is an online course platform that lets you generate, manage, and sell your online courses. It simplifies the online course development and launch process by letting you upload your content without worrying about the technical aspects of the design features.
Teachable – Features
An easy to use course builder
Using the Teachable platforms allows you to simply put together your course since all the content aspects are readily available. You only need to upload and get it organized to your preference and taste. The course builder has a drag-and-drop interface, therefore, removing the need to be acquainted with code.
Powerful course sales features
Teachable provides an all-in-one solution when it comes to payments. You don't have to pay any affiliates, or sign-up for a payment process since Teachable has its own payment gateways. Only a small transaction fee will be deducted from your credit card.
Ability to create your blog
Another outstanding feature on this platform is the ability to set-up your blog within the Teachable admin profile.
Mixed media on a single lesson
Teachable allows you to add videos, texts, and comments within your course – all on one page. This feature is quite helpful to learners since they first get introduced to a video file at the start of the webinar before they open to view it.
A high converting single check out pages
The check-out pages are unique since they have a summary of the order at the top for students to know precisely what they are buying and at what cost. Besides, they have an option of the checkbox for instructional and promotional emails.
Teachable – Target group
Teachable is a real deal for entrepreneurs with little to no knowledge in setting up hosting, creating web pages, using a content management system, or incorporating ecommerce capabilities with other platforms.
Read more on finding your audience while using Teachable here.
Teachable – Pricing
Teachable has three pricing tiers, and unlike other platforms, they don't limit you with per-user pricing or limit the number of courses and students you can have.
Teachable Free Plan
Teachable does not offer a free plan.
Basic Plan
5% transaction fees
Monthly payouts
Two admin-level users
Customer support
Product domain support
Integrated affiliate marketing
Integrated email marketing
Third-party integrations
Professional Plan
Everything in basic plus
Instant payouts
No transaction fees
Five admin-level users
Advanced reports
Unbranded website
Advanced theme customization
Business Plan
Everything in professional+
100 admin-level users
Bulk student enrollment
Priority product support
Customer user roles
Teachable – Pros
Teachable is easy to use
Teachable focuses on helping you develop your brand
It has excellent options for free courses
Fair pricing options
Teachable – Cons
There aren't enough integrations like Google Drive and Dropbox
Lack of enough learning elements like course portfolios and projects
The course builder is confusing and unintuitive, especially when adding content.
Teachable – Conclusion
Teachable is of great help to course creators who mainly focus on marketing, selling, and branding. Online creators who want to go deeper with their learners in content creation might be forced to look for another platform.
There are many success stories from Teachable. Find out how other course creators made it on their website.
---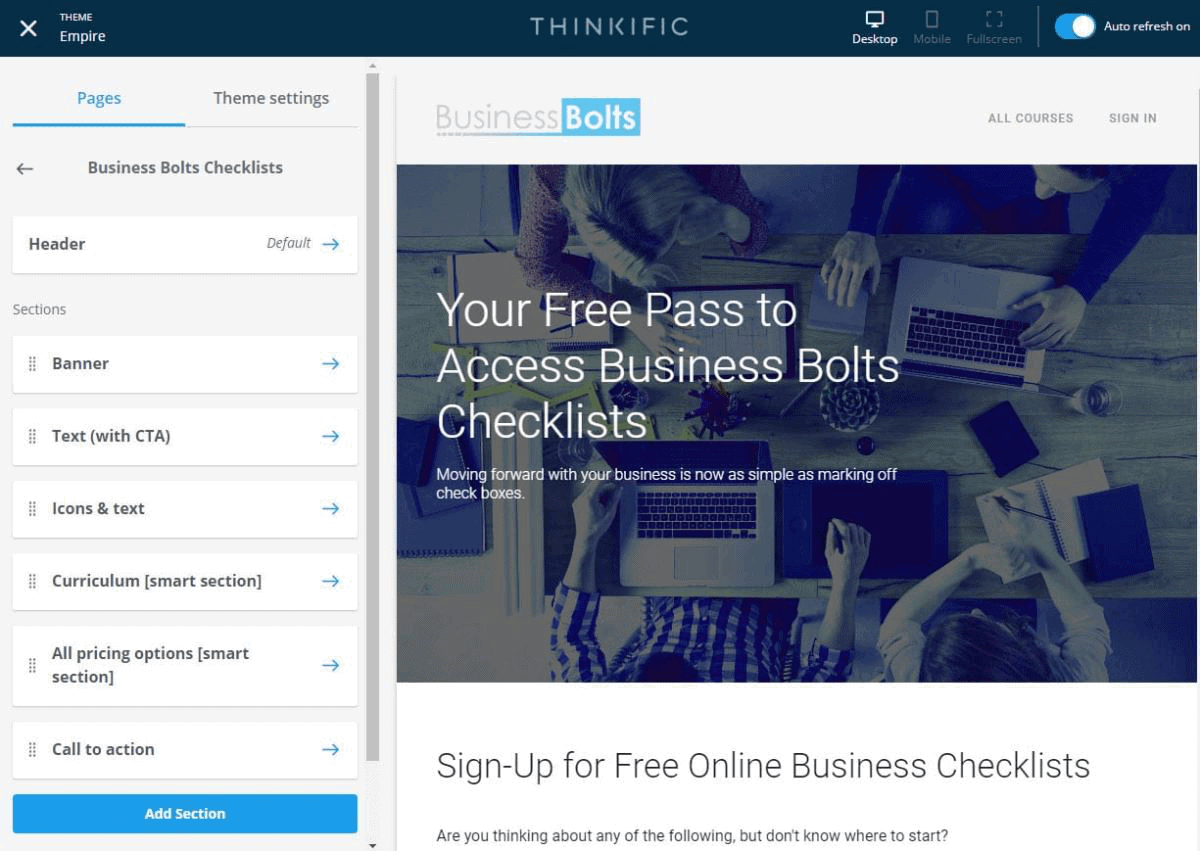 Thinkific is a cloud-based learning management system that enables entrepreneurs to create, market, and sell online courses. It offers you custom domains and brandable sites that can be edited by CSS and HTML. It also allows you to build multimedia courses and attach PDF and voice-over slide presentations that are downloadable.
Thinkific – Features
These are the features that make Thinkific stand out:
Thinkific course builder
You can upload a complete course and organize it the way you want within the Thinkific admin. This is done by adding the content provided in the menu on the course website and then in the form that pops up on the main page.
Possible white-labeling
There is no distinct Thinkific URL for your sign-up and login pages, as these are all available in the Thinkific.com subdomain.
Course templates
There are several templates to walk you through the course that you choose.
Payment capabilities
Thinkific allows you to incorporate Stripe and PayPal to make payments.
File uploads
The platform allows you to upload files created by eLearning authoring tools such as iSpring and Captivate to get an exceptional learning experience.
Logo link
You can redirect your logos on all your pages to go back to the homepage.
Thinkific- Target group
Thinkific is targeting those with little to no experience when it comes to running an online business. It is the right choice if you want to minimize your technology headaches.
How much does Thinkific cost?
Thinkific – Pricing
Thinkific offers a free plan and three paid subscription plans that are; basic, pro, and premier, paid through a monthly fee. Under the free plan, you don't need to make any upfront payments and therefore they don't need your credit card details. The main difference between the Plans is the transaction fee, and access to features like competition certificates, custom domain, priority support, coupons, and promotions.
Thinkific – Pros
Thinkific allows you to create aesthetically appealing courses. Everything has its place, and it's not overcrowded.
With Thinkific free plan, you can get started for free. Although it has minimal functions, you can still launch your course business at no cost.
With Thinkific, you can create as many courses as you desire on all the plans, including the free plan.
Thinkific allows you to create a course sales widget as a result putting up your course directly for marketing on your social media channels.
Thinkific allows you to get paid directly via PayPal or Stripe.
Thinkific – Cons
The Thinkific paid plans cost more per month, making it slightly higher in comparison to its competitors.
If you are new to creating online courses, it might be challenging to start off on Thinkific.
You can't do workshops or live office hours on Thinkific.
Thinkific Alternatives
The most important thinkific alternatives are
teachable
Learnworld
learndash
podia
kajabi.
Thinkific Course Examples
Thinkific- Conclusion
Thinkific is a platform with a lot of momentum. Beginners also have the rare opportunity of learning more on the Thinkific discussion forums too. I'm confident that if the platform keeps improving, then it will be around for a long time.
On their website, you find some interesting success stories from online course creators using Thinkific.
---
Unlike its competitors (Teachable, and Thinkific), Podia is a full-featured online platform that allows you to sell online courses, memberships, and digital products. It is effortless to use because of its drag-and-drop builder, and also has enough customizable options, making you feel like you are taking full control over your product.
Podia – Features
These are the features that make Podia stand out:
Email marketing
With this feature, you can easily send out newsletters and stream your campaigns to keep your subscribers engaged. It also allows you to send manuals and automatic messages, including your personal branding to your followers.
Endless online courses
With Podia, you can create as many online courses as you need. Podia gives you a modern, streamlined theme, from which you can upload whatever file type that you want.
Membership
Podia takes you step by step through the process of creating a professional-looking membership for your clients and its customizable element allows one to create lasting connections.
Bundle up
With Podia, you can bind your products and sell them as a solo item to help create and move sales on your platform. Giving your customers numerous products for a lower price that's lower than their specific total lures them into buying a new product.
Embed your buy button
This is one of the favorite Podia features, as it allows you to turn any page into a course sales page. It, in turn, makes those visiting your page purchase your content without leaving the page itself.
Podia – Target group
Podia targets anyone who wants to sell digital products and memberships, alongside online courses.
Podia – Pricing
After a 14-day trial, Podia offers you two price plans, namely; the mover plan, and the shaker plan – both attracting a monthly fee. Take a look at the features they offer and then choose the one that fits your needs.
Mover Plan
Two months free when billed annually
Online courses
Digital downloads
Email marketing
Zero transaction fee
Unlimited everything
24/7 support
Shaker Plan
All the Mover features +
Memberships
Embedded checkout
Affiliate marketing
Third-party code
Free migration
Podia – Pros
Set up a member platform for your clients to earn by promoting your products.
Fair and affordable pricing based on the features
Large storage and bandwidth to host your videos
Fixed checkout option that allows users to check out without leaving the site.
Zero transaction fees on all the plans
Podia – Cons
Podia lacks design flexibility
The email composer in Podia requires personalized fields
Lack of a membership feature in the mover plan.
Lack of critical features like Google Analytics, and Facebook Pixel, that will help in targeting customers based on their interests and interactions.
Podia – Conclusion
Podia genuinely wants to see your brand grow and succeed; that is why it offers diverse features and excellent customer support.
Read their story of Groove on how they managed to hit more than $120,000 in five days, when they launched their first online course website, 'Content Marketing Mastery'.
---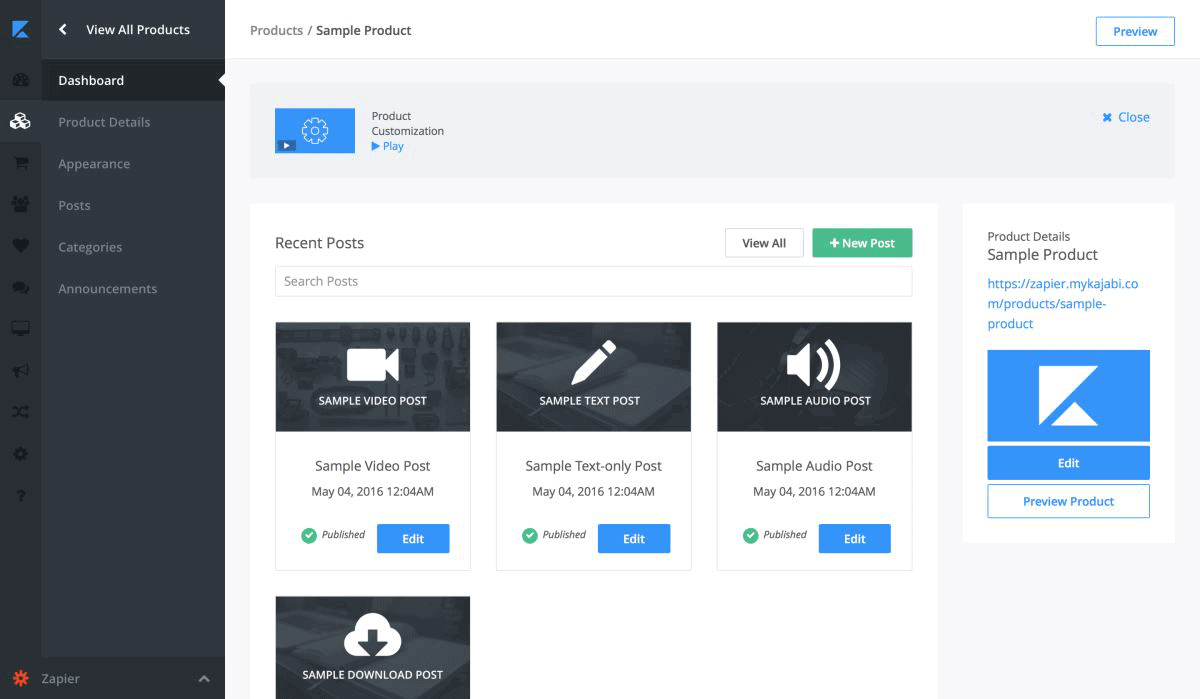 Kajabi is a web-based all-in-one platform that provides web hosting, course creation, membership site business, payment handling, and email list management. With Kajabi's powerful tools, you can build highly interactive learning environments with unlimited video hosting, homework assignments, drip content, and more. Kajabi is not only limited to courses since it also offers coaching services, eBooks, and product sales. Did you know you can also create your own website on Kajabi?
Kajabi – Features
Pipelines
This is one of the unique features that help entrepreneurs join several actions and link them together. Anyone who visits your created links and pages will want to follow through and take action on the specific agenda that you've set up.
Landing pages
The capacity to create landing pages is the main reason entrepreneurs seek to put up their businesses online. Landing pages can serve as a video sales letter, a page where you can offer free downloads, or where you can discuss products and many more.
Product creation
With the product creation feature, you can display your product and create a menu allowing your digital clients to navigate through your items and choose what they need with comfort.
Blogging capability
Kajabi allows you to reach your target audience giving them access to your products and services. With the blog feature, you can market your business, establish your brand, and solve your audience's problems.
Community feature
This is a Kajabi feature that facilitates student discussions. Members can access the community from their dashboard and start a new discussion, or they can still contribute to the ongoing one.
Kajabi – Target group
Kajabi is a platform made for experts, coaches, leaders, and course creators to sell online courses and other digital products over the internet.
Kajabi – Pricing
Kajabi offers you a 28-day free trial where you can access all the features offered in the basic plan, after which you will be required to subscribe to any of the three plans if you are interested.
Basic – Plan
Five products
1,000 marketing emails/Month
One admin user
1,000 active members
One site
25 landing pages
Pro Plan
100 products
40,000 marketing emails/Month
Five admin users
10,000 active members
Three sites
100 landing pages
Premium Plan
Unlimited products
100,000 marketing emails/Month
25 admin users
Unlimited active members
Ten sites
Unlimited landing pages
Kajabi – Pros
Kajabi offers strong video streaming capabilities.
Includes in-built email marketing and customer relationship management.
Powerful pipeline feature lets you create all types of sale funnels.
Offers more than ten well-designed themes and a lot of customizable options for users.
Excellent 24/7 customer support.
Kajabi – Cons
Pricing plan is higher compared to that of its competitors.
Blogging functionality lacks flexibility
Doesn't allow you to create certificates natively.
Doesn't support advanced quiz elements such as question banks, randomization etcetera.
Kajabi – Conclusion
Each feature that Kajabi offers helps users save time and effort while striving for better results that will capture the thoughts of their audience. I can't, therefore, vouch for Kajabi as the most well-furnished platform that is creating an impact among its users.
Read some of the success stories, and marketing advice from the Kajabi team to dig deeper.
---
LearnDash is a WordPress plugin that offers practical experience and guidance for major educational institutions, enterprises, and many smaller websites and instructors. It has numerous integrations and customizable features that enable you to create a professional-looking learning platform.
LearnDash Features
Creating unlimited online courses
As a WordPress Plugin, the primary purpose of this platform is to develop online courses for WordPress sites. It allows you to publish limitless courses and has no limit to lessons or questions you can add to your course.
Unique video progression feature
LearnDash comes with a feature that enables you to easily embed either self-hosted or externally hosted videos in your courses.
Engagement triggers for automation
This is a powerful feature that lets you to automatically perform some functions, based on the action a learner has taken. Once you trigger a reaction, there is a little you can do from your side e.g. sending a specific email to users.
Charge for access to courses
LearnDash can monetize your online courses by integrating with PayPal to enable payment collections through your website. LearnDash also supports recurring payments.
Powerful reporting and administration tools
Logged in users can view their profiles on the front-end of your website. They are able to see how many courses are available for them, how many they have chosen, and other details regarding their progress. All this is done through one easy-to-access portal.
LearnDash – Target Group
LearnDash is targeting anyone with interest to publish courses online, whether they want to add a few educational materials to an existing WordPress Site, or they want to create their online school.
LearnDash – Pricing
LearnDash is a premium plugin. It has three pricing plans; Basic, Plus Package, and Pro Package. The only difference between the methods is the number of site licenses that come with it. The Basic Plan supports one, the Plus Package supports up to10, and the Pro Package supports up to 25 site licenses. Always be on the lookout as LearnDash offers discounts on occasions.
LearnDash – Pros
It has an in-built video progression tool that supports the airing of video courses.
The drag and drop course builder makes it easier to organize the courses in the folders.
It has a deep functionality that gives you more control in many areas.
The email trigger functionality activates automation.
LearnDash – Cons
The deep functionality can be confusing for new users
A plugin needs to be integrated for payments of the various packages.
LearnDash – Conclusion
LearnDash has a lot of exciting features to engage learners during webinars and to motivate them to take more courses. To learn more, beginners can also engage in the LearnDash discussion forums.
However, it is my view that LearnDash should continue adding more innovative features to stay ahead of the competition.
---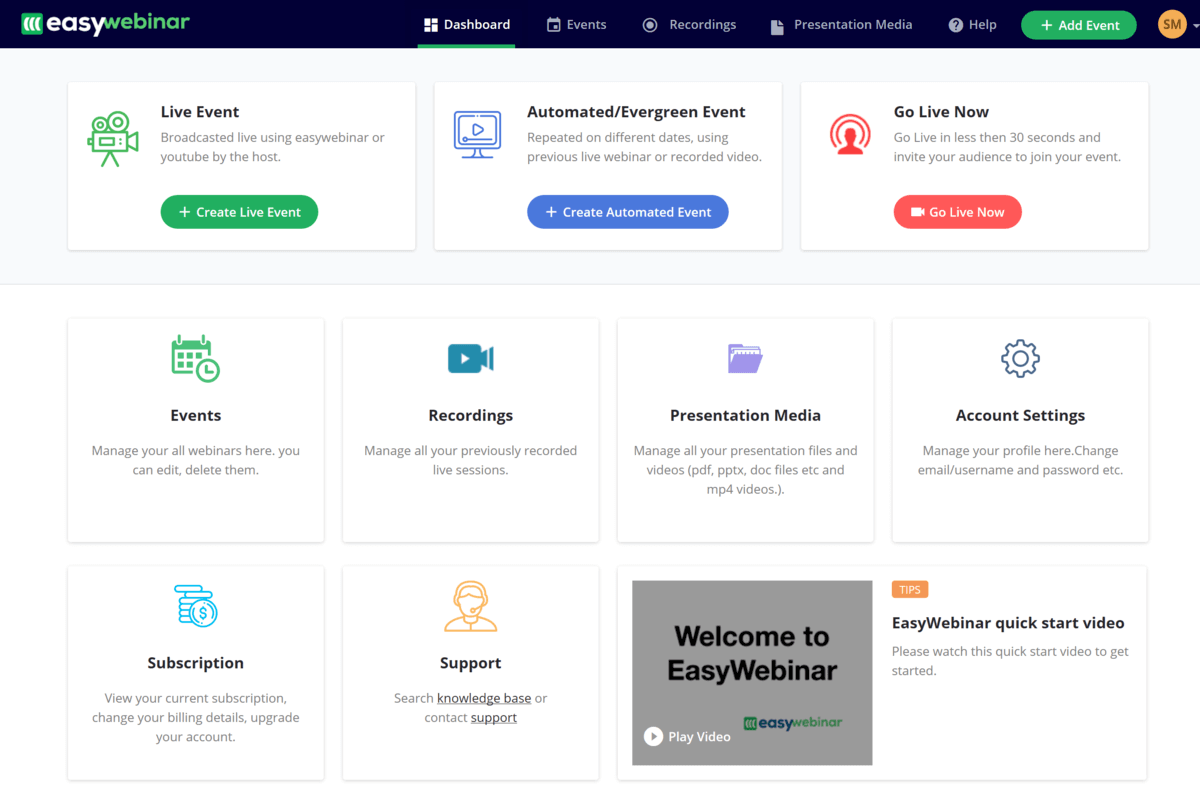 EasyWebinar is a flexible webinar platform that helps businesses host online meetings, remote conferences, training, and marketing. It can accommodate four multiple presenters and gives room for the attendee to be a presenter as well. EasyWebinar provides high-quality streaming of videos without delay and latency. It has several features that make it a powerful marketing software.
EasyWebinar – Features
Webinar funnel pages
EasyWebinar comes with all the market landing pages that you need to run a live webinar.
Blind editing
EasyWebinar comes with editable registration pages, thank you pages, event pages, and reply pages. The editing of pages is limited to some extent and can only be done at the back-end interface.
Real-time chat
Easy live chat makes engagement with your users smooth and fun with the full support of emojis. It allows you to send links and any communication in real-time.
Record and archive
This platform allows you to record and save all the live webinar sessions to download and watch later.
Amazing audio with TrueVoice technology
TrueVoice technology enables streaming of high bandwidth with no delay and reduces the noise even when two people are speaking simultaneously.
Multiple presenters
It supports up to 4 presenters in a live webinar making a presentation to an audience. The presenters can each use a camera and microphone and also share their screen for presentation.
EasyWebinar – Audience
This platform tends to target bloggers, start-ups of small and big companies, and affiliate marketers. This is because the internet is becoming progressively video-centric and also because its live video feature is fascinating.
EasyWebinar – Pricing
EasyWebinar has three packages; standard, pro, and enterprise. There's no free trial except that it has a 30-day money-back guarantee that should give you an insight before entering a monthly fee or yearly package. As a result, you have to pay upfront on EasyWebinar.
Standard Plan
100 live attendees
Unlimited automated webinars with up to 100 simultaneous attendees per session
Unlimited live attendees using YouTube live integration
WordPress site integration
EliteWebinar Mastery foundation course
Instant on-boarding call
Chat support
Pro Plan
500 live attendees
Unlimited automated webinars with up to 500 simultaneous attendees per session
Unlimited live attendees using YouTube live integration
WordPress site integration
EliteWebinar Mastery foundation course
Instant on-boarding call
Chat support
Custom fields from the registration page
Easy cast Facebook live and YouTube live streaming tool
Enterprise Plan
All pro features
2000 live attendees
Unlimited attendees on all automated Webinars when paying annually otherwise it is up to 2000 simultaneous attendees per session.
EliteWebinar Mastery full course
Dedicated account representative
EasyWebinar – Pros
Live and automated webinars are combined in a single platform
Relatively affordable pricing especially the pro package
EasyWebinar – Cons
Outdated looking templates for your webinar landing pages.
Webinar room lacks marketing and engagement tools, unlike other platforms.
Live chat is implemented poorly for Q&A sessions.
EasyWebinar – Conclusion
EasyWebinar is a slightly above average webinar solution for small, mid-sized, and big companies. Its automatic Webinar feature is one of the unique features that put it on the map. However, much needs to be done on outdated templates for EasyWebinar to keep up with today's competition.
On their website they have great story of how Devin Duncan made $20k per day with EasyWebinar. Yes. You read right. $20k per day!
Hyax is a product designed to help creators build run and manage their business online. It focuses on courses, membership sites, sales funnels, and stores allowing users to monetize in multiple ways whether it be selling content/knowledge or selling merchandise.
Hyax – Features
Customized builder
The customization in this course-building platform is taken to the next level with the amount of control you have over the design and content. If you are not about customizing and just want something up quickly, they have premade templates as well.
They also have this great build-in feature called "global styles" which helps you keep fonts, colors, etc matching throughout the course, landing pages, and store.
Different product types
The unique thing about the Hyax course builder is that you can sell other products within your course. Think PDF's, audio files, cheatsheets, merch or even services.
The platform makes it really easy to create products, set a price, and then add it to any of your course lessons.
Sales funnels & landing pages
Creating the course is 1 thing, getting people to sign up and take it is another. Hyax has done a good job in this department as it gives users the ability to make unique sales pages or even funnels with multiple steps.
Membership area
When you create a Hyax account you have the option to enable a blog or members area. This is a great way to deliver more value to students. It is managed much like a blog and you can choose to charge for access or make it free.
Student accounts
A fantastic feature in Hyax is the seamless user experience for students. They create their logins and can access all assets, products, courses from that single login.
It also saves their payment information so it's easy to purchase additional courses or products with 1 click. For example at the end of your course upselling students to join the members' area.
Hyax – Target group
Hyax is really forced on making the process of creating and managing an online business seamless for entrepreneurs and creators. No coding, no technical skills, just focusing on creating a good product and helping people sell it.
It can be seen that the founders have a marketing background to help course creators optimize revenue from their content.
Hyax – Pricing
Hyax has multiple plans but the interesting thing about their pricing is that you can create an account, build your course, store, landing pages, etc, and only pay when you active them.
This gives users the chance to try the product, see, and use all the features before committing to the purchase.
Beginner Plan – $99/m
0% transaction fees
All tools (courses, memberships, funnels, store, etc)
SSL Certificate
Hosting and CDN
Minimal branding
100k/m pageviews
10k contacts/students
3 projects (brands or websites)
10 products/course
Integrated referral & affiliate marketing
Third-party integrations
Advanced Plan – $199/m
Everything in beginner plus
No branding
Unlimited/m pageviews
25k contacts/students
10 projects (brands or websites)
40 products/course
Enterprise – Contact them
Everything in advanced plus
Unlimited/m pageviews
25k+ contacts/students
Unlimited projects (brands or websites)
Unlimited products/course
Hyax – Pros
Hyax is flexible
Hyax has a lot of customization
It has a lot of marketing and conversion features
It has multiple revenue types (courses, products, memberships, etc)
Video upload options (direct, youtube, embed)
Hyax – Cons
A more expensive option
Needs more integrations
Setup can take some time if you are not using the quick launch option
You will need a Stripe and PayPal account to charge students
Hyax – Conclusion
Hyax has a lot to offer but could be overkill for people who are only looking to create a course. There is the option to do this but you would want to use the other feature to take full advantage of the tool to justify the price tag.
Overall a good tool for creators and those looking to better monetize their content and audience.
---
Best Online Learning Platforms for Students and Teachers
Skillshare is an online learning platform with thousands of creative and entrepreneurial classes to teach educators and learners real-world skills. It aims to make the learners shine in their professions, improve their lives, and keep doing what they love. Skillshare covers topics like marketing, freelance, design, and more. Skillshare has robust functionality and value for money.
Skillshare – Features
In the last couple of months, Skillshare has added some essential features that make learning easier. Those features are:
Skill tags
With this feature, one can quickly add up to a maximum of 5 skill tags when creating your course to increase its discoverability. Learners can find specific skills that they would like to major in and follow to personalize their recommendations from Skillshare.
Upload video lessons
The platform has made it possible for you to upload video files directly from your desktop. Videos will only be hosted and accessed by Skillshare members.
Interactive project steps
Since most lessons on Skillshare are project-based, the teacher is allowed to add to each phase of the project, and also, the students can interact with each project step. You can easily upload photos from the desktop through every step of the project. This gives you the flexibility to display the information in your own way.
Attach files to videos, steps, and resources
You can attach files to your video lessons, project lessons, and other resources.
Skillshare – Audience
Skillshare targets professionals, creators, and entrepreneurs to make money online. Through online teaching, it offers teachers a platform to upload their video lessons so that the students can get complete access and a chance to learn.
Skillshare – Pricing
For students: Skillshare offers a free two months trial to new users that allows you access to an unlimited course catalog of over 24,000 classes. After the two months trial, you can only get access to the courses after a premium membership payment for either a month or a year. The premium membership comes with the ability to download the classes which you can watch later. In addition, it has no advertisements, supports teachers, and offers scholarships to students.
Royalties for teachers:
Skillshare teachers earn revenue based on a royalty system. Each month, between 30% and 50% of Skillshare's Premium Membership revenue goes to a royalty pool for teachers. The remaining revenue goes towards marketing and promoting your classes, supporting and investing in the website and platform, and running the day-to-day operations of our business.
On average, first-time teachers earn $200 in their first month on Skillshare, with top teachers earning upwards of $3,000!30 Your courses must get a minimum of 30 Premium minutes watched across all of your classes within a month in order to receive a payment for that month.
Skillshare – Pros
Provides offline learning to the users at a go.
Anyone can upload a standardized course on the network.
The platform is very interactive and well developed to help users switch between classes.
The price ranges are lower compared to other online platforms.
Skillshare – Cons
The non-creative courses have lower content quality in comparison to the creative ones.
It has unclear course access as the user has to go through a few clicks to reach the intended video.
Some of the courses are not accredited, and there are no certificates.
As Skillshare is a subscription service,  teachers get paid from a pool, earnings vary.
Skillshare – Conclusion
Skillshare aims at being the best as the platform incorporates its unique features to better the delivery performance. For people who are looking for a platform with unlimited class options at an affordable cost, and independent hands-on activities, Skillshare is the way to go.
---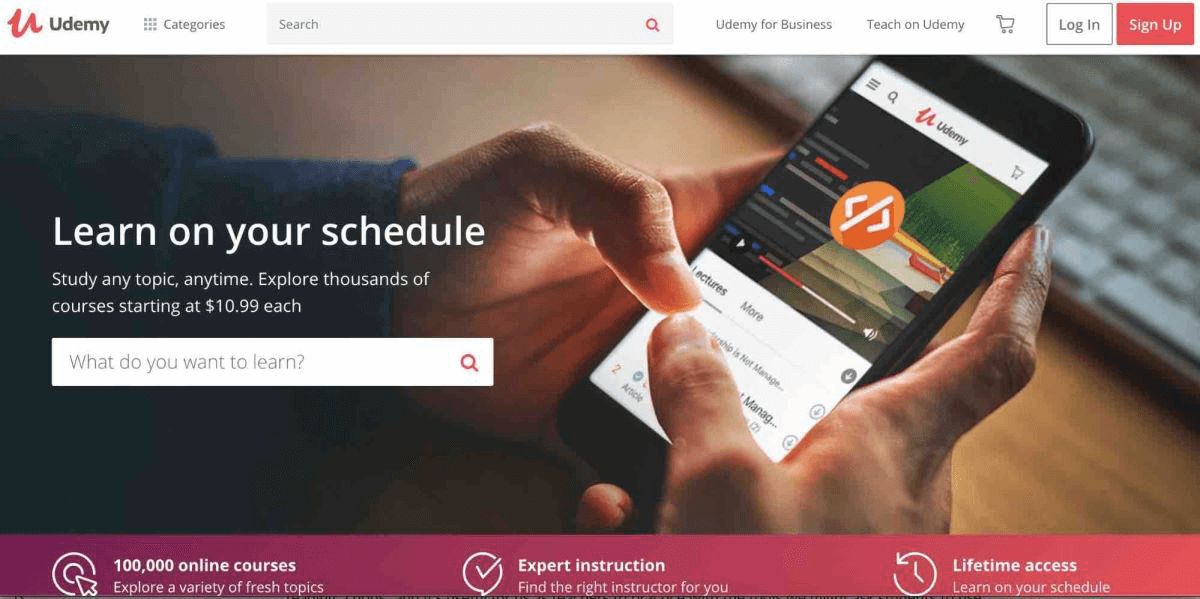 As we speak, Udemy is the most popular online learning platform in the world taking the most out of the revenue share generated from online course platforms. At its very core, it was developed to offer people the ability to learn new skills with the aim of reaching their desired educational levels. Udemy provides a standard experience while navigating the pages.
Udemy – Features
Wide range of course offerings.
Udemy offers more than ten major categories of courses ranging from music, art to software development, with up to fifteen subcategories under the major categories.
No qualification needed to take a course
Students can take any course that appeals to them.
Lifetime access to the chosen course
Courses enrolled can be reviewed in a limitless number of times without any extra charges incurred. This ensures that students get the full aspect of the material despite their schedules.
Self-paced.
Courses come with video lessons that can be viewed, stopped, and replayed as many times as one wants. The videos include short questions at the end, which helps to gauge the student's understanding.
Certificate of completion
Udemy realizes the importance of the certificate as it may be required when applying for a position or job.
Udemy – Audience
Udemy is a global marketplace that offers an opportunity for instructors to make money online and to connect to students around the world who are ready and willing to advance their careers. Once learners complete a course, they are allowed to add their Udemy certificate on their LinkedIn profile.
Udemy – Price
There is no fee to create and host a course on Udemy, and you can publish as many free and paid courses as you like.
You get 97% revenue share on sale when you promote the course to your students
50% Revenue is shared when no Instructor coupon is used.
If Paid Acquisition Channels (Ads or Affiliate partner) generate the course sale, a 25% Instructor revenue is shared.
Udemy – Pros
One of Udemy's most outstanding feature is the course marketing functionality. It allows the instructors to market their courses to students and sell their products to the right audience.
With its course quality checklist functionality, the instructors are sure what they are offering is marketable, professional, and innovative to supplement the learning experience of the pupil.
Udemy students have the chance of working and sharing their assignments so that they can apply their knowledge and training to improve their skills.
Udemy – Cons
Inadequate assessments
Limited video captioning and language support
Lack of course masterly validation. Most of the courses in Udemy target beginners with little or no knowledge in a particular area of study.
Udemy – Conclusion
Learning is a lifetime experience as it is critical in maintaining an individual's position in the workplace. Formal classes are either unavailable or have become too expensive to deliver the knowledge that benefits students in their professions. Udemy is an evolving entry into providing education; it focuses on the transfer of knowledge rather than just attaining a certificate.
25 year old entrepreneur Nick Walter was introduced to Udemy by a friend, managed to make more than $60,000 in 30 days with his video "How to make a freaking iPhone app."
---
CreativeLive is an online platform that airs live classes to an international audience for free. The online course platform connects learners and instructors through webinars and its social features like CreativeLive FB. They make use of their customer's feedback to improve their courses making them a leader in the pack in the creative industry.
CreativeLive is one of the world's largest live-streaming education website.
CreativeLive – Features
Efficient learning platform. CreativeLive video features can speed up or slow down the videos. It allows you to go through the learning materials quickly if you are in a hurry, slowly take notes or repeat a section, and even add subtitles if you can't listen with sound or you don't understand the language.
The CreativeLive videos are 30 to 40 minutes long, but you don't have to finish them in one sitting. The platform allows you to pick up from where you left the previous session without any difficulties.
HD interactive classrooms come with lifetime access, wherever you are and at any time with the support of offline sync and CreativeLive's iPhone and iPad applications.
CreativeLive- Audience/Target group
CreativeLive targets anyone with an interest in broadening their creativity and realizing their full potential. This includes artists, entrepreneurs, photographers, business professionals, musicians, and artisans who want to achieve their goals through live classes. One of the popular courses on CreativeLive is social media and offers learners a chance to learn the potential of lucrative social platforms designed for professionals e.g. LinkedIn.
CreativeLive – Price
CreativeLive's pricing varies from time to time since they often have sales ongoing. You can, however, purchase a year-long subscription which offers approximately 1500 courses or rather pay per course every time you want to take one.
CreativeLive – Pros
It offers a wide selection of affordable classes that are taught by well-known professionals such as Tim Ferris, Kelly Starret, and Diane Fu.
It has top-notch production values, which puts the platform in front of the studio audience.
Individuals who are not able to commit financially to a course can watch free workshops from professionals around the world.
CreativeLive instructors make it easier to connect emotionally to the content. They can talk about straight- forward topics and also go deeper into what drives a creative mind, and this makes the learner more involved and willing to contribute.
CreativeLive – Cons
The prices vary significantly from class to class.
Many of the free classes offered only focus on photography, leaving out crucial areas like health, fitness, and lifestyle.
The platform lacks accessible customer support channels for customers having problems with the service.
CreativeLive – Conclusion
CreativeLive is one of the leaders in the competitive world of online training and online learning. As an online learning platform, learners who want new skills or want to advance their current creative profession have access to some of the most innovative, inspirational brains in the world. They can also communicate with them directly on live streaming videos and workshops.
Read their stories of some creative minds who have made blogging their full-time job with CreativeLive and are making a living out of it.
Skill Success is an innovative online learning platform that offers a wide range of courses designed to help individuals acquire new skills and enhance their personal and professional development. With an extensive library of courses spanning various subjects, Skill Success aims to empower learners of all levels to unlock their potential and achieve their goals.
Skill Success – Features:
Skillsuccess.com boasts an impressive array of features that set it apart from other online learning platforms. Here are some notable features:
a) Diverse Course Catalog: Skill Success offers an extensive selection of courses across multiple disciplines, including business, technology, personal development, languages, software tutorials, and much more. Learners can find courses that cater to their specific interests and goals.
b) Experienced Instructors: The platform collaborates with highly knowledgeable and experienced instructors who are passionate about sharing their expertise. Learners can benefit from the wisdom and guidance of industry professionals.
c) Flexible Learning Experience: Skill Success provides a flexible learning experience, allowing learners to access courses at their own pace and convenience on desktop and mobile.
Skill Success – Audience/Target Group:
Skill Success caters to a broad audience of learners, including individuals seeking personal growth, professionals looking to advance their careers, entrepreneurs, and hobbyists. Whether you are a beginner or an experienced learner, Skill Success offers courses suitable for all levels of expertise.
Skill Success – Price:
Skill Success offers affordable pricing options, making quality education accessible to a wider audience. The platform operates on a subscription-based model, offering unlimited access to the entire course library for a monthly fee. The pricing structure provides excellent value for money, especially considering the wide range of courses available.
Skill Success – Pros:
Wide Range of Courses: Skill Success offers a vast selection of courses across various disciplines, making it suitable for learners with diverse interests.
Affordable Pricing: One of the standout features of  Skill Success is its affordable pricing structure.
Quality Instructors: Skill Success boasts a roster of knowledgeable and experienced instructors.
User-Friendly Interface: Navigating skillSuccess.com is a breeze, thanks to its intuitive and user-friendly interface
Skill Success – Cons:
Limited Specialization: While Skill Success offers a broad range of courses, it may lack in-depth specialization in certain niche areas.
Lack of Interactive Learning Features: Skill Success primarily relies on pre-recorded video lectures, which means that it lacks interactive learning features such as live classes or real-time feedback.
Limited Learning Path Customization: Although Skill Success offers a wide variety of courses, it falls short when it comes to tailoring learning paths to individual goals.
Skill Success – Conclusion
Overall, Skill Success offers a cost-effective solution for individuals seeking to expand their knowledge and skills. With its extensive course library, affordable pricing, and experienced instructors, it provides a valuable platform for learning. However, it may not be the ideal choice for those looking for specialized courses or interactive learning experiences.
---
Is Creating Online Courses Lucrative?
Today, online learning via webinars is one of the fastest-growing industries out there. In 2015, the e-learning market was worth $165 billion. Annually, the industry is growing at a rate of 5%. It's estimated that in 2025, it will be worth $325 billion. In most countries, organizations and corporates have embraced online methods of learning. New opportunities are coming up as a new generation of innovative teachers challenge the concept of traditional educational methods as they embrace online teaching. Learning institutions are also increasingly shifting from lecture halls to virtual classrooms as they increasingly rely on live webinars.
It goes without saying that online courses will dramatically increase your earning potential. Earnings are through the set fee that students pay to access the course. I highly recommend that you strategically position yourself and get a piece of this revenue share and boost your earnings.
When looking for an online teaching platform, reliability is key. Opting for a well-developed platform with an integrated learning management system (LMS), membership capabilities, affiliate programs, and e-commerce will set you on the path of success. Such a platform will allow you to create, organize, and finally deliver your course(s) efficiently.
What Online Courses Are in Demand?
The following are the most common areas covered under online courses in 2024;
1. Digital Marketing
Digital marketing is a leading trend today when it comes to online courses to a point some quarters suggest it's saturated although I don't share similar sentiments. The area is getting more diversified and specialized every day. These are the common areas on online learning platforms;
Affiliate marketing
Google Adwords
Facebook Marketing
Social Media Marketing
SEO
Instagram Marketing
Marketing Analytics
2. Blockchain
Blockchain technology is increasingly becoming widespread and it's here to stay. Cryptocurrencies have made blockchain popular worldwide but it's being used in other areas too including; financial services, government, healthcare, and the Internet-of-Things (IoT). Common courses under blockchain offered online today include;
Hyperledger
Cryptocurrency
Blockchain Development
Solidity
3. Game Development
Digital gaming has existed since the age of the 1st computer. However, with mobile phones and apps, gaming is taking the world by storm. Courses in game development are a leading niche. These are some of the popular areas covered under game development;
Game Design
Unity Development
Game Development
Blender Design
Unreal Development
4. Data Science
I bet you've heard that "Data is the New Oil". Fields covered in this niche range from data mining, data analytics and data science. It's interesting to note that you don't need a background in software development to do data science. Courses included under data science cover;
Python
Data Science
Machine Learning
Big Data
R Programming
Deep Learning
5. Artificial Intelligence and Robotics
This domain is increasingly getting popular. Today, augmented reality, robots, and bots are all around us. There is a broadening base and a growing need for qualified personnel in this niche, therefore, offering many opportunities to those who pursue this area. Popular courses included under artificial intelligence and robotics cover;
Robotics
Chatbots
Artificial Intelligence
IoT and Arduiono
Virtual Reality
There are many diverse topics that one can begin with to create their online course. Is starting with any topic you've in mind a great idea? It entirely depends on how successful you want your course to be since the income you get is directly dependent on the popularity of the course. It's back to the basics of digital marketing and SEO. A simple way to check the popularity of your course is by doing a keyword search on Google trends. Find out if people are looking at the particular topic you have in mind. The inverse of this statement is true. Some people are hesitant to build their course thinking that their particular topic has no niche. Key in any ideas you have in mind on Google e.g., food, yoga, or technology, and see how popular that topic is. Depending on its popularity, make a decision and then start creating the course.
---
How to Start Creating & Selling Online Courses?
Creating an online course isn't difficult. Once you have settled on a niche and did your research, you're halfway there.
Please feel free to embed this image, just cite the source with a link back to this article. Thanks!
Here is a step by step process of creating a quality online course.
Select a course topic that you're passionate about since it will make it easy for you to research and compile the course content.

Ensure that the course subject has a high market demand. Ask yourself the following questions;

Are people discussing this topic?

Is it trending online e.g. on Google, Twitter, Facebook or any of the social media sites?
Is there a gap in the market that you can cover?


Create compelling learning outcomes that demonstrate to the learner how they'll benefit from the course.


Research and collect the course content. This stage is normally the hardest as you gather lots of information but when done extensively, it will make a difference.

Structure the course plan and modules based on the content.

Decide the best method of delivering your content i.e. whether to use reading content, videos, or audio content.


Production: Film, record and edit your online course.


Select an online course platform from this best 10 online course platforms list. Basically, there are three options; All-in-one learning management systems, software or plugins on your website, and online course marketplaces.

Choose the pricing option that works for you.


Launch your course (start with beta students to test and improve)


Engage in marketing to increase your course sales.
Frequently Asked Questions Online Course Platforms
Easiest Online course platform for Beginners 2024
One of the easiest online course platforms to use is Teachable. This platform includes all the features to create, launch, and manage your online courses. It's an all-in-one tool, which means you can take care of every single aspect of your online business from one easy-to-use platform.
What are the advantages of taking courses online?
Online courses are becoming one of the preferred ways to learn. They offer students a way to learn on their schedule, at their own pace, at any time of day they want.
This not only caters to different ways that people learn, but it gives students freedom around learning as well.
How should I price my online course?
The price of your course influences things like, how you market the course, the types of students that join, and how much revenue you'll earn.
You'll probably want to charge more for your course than you initially think. After all, premium buyers are often more dedicated and will implement what you teach.
You can test different price points until you find the highest price people are willing to pay until enrollment numbers start to drop off.
Why should I create an Online course?
There are a variety of reasons to create an online course. Here are some of the most common reasons:
Start a teaching business and start earning money online
To create a virtual training platform for your employees
To share your skills and gifts with the world
To add an additional revenue source to your current business
How to create an online course for free
You can create an online course for free without any money upfront, here's how:
Join a free online course platform like Udemy or Skillshare
Decide on the topic of your course
Create your course content and media content
Get feedback on your current course content
Launch your course to the world
Promote your course and get students
What are the best online course websites 2024
Here are some of the best online course websites:
Udemy
Skillshare
Coursera
LinkedIn Learning
Udacity
edX
Khan Academy
Best free online learning platforms / Best free online course platforms 2024
Here are some of the best free online learning platforms that are entirely free:
Coursera
Open Culture Online Courses
Khan Academy
Academic Earth
edX
MIT OpenCourseWare
Best online course platform for programming 2024
If you want to learn how to program, Codeacademy is going to be one of the best choices. Here you'll find free lessons in 12 of the most popular programming languages.
How can I create/ set up online courses for free 2024
If you want to create and set up an online course for free there are a few different options. The first is using a plugin like LearnPress if you're a WordPress user. The second is using a platform like Thinkific, which offers a free tier.
How much can you make selling online courses 2024
There is no income ceiling when it comes to how much you can earn selling online courses. Some course creators earn six and seven-figure incomes just from selling courses online.
How to create an online course with WordPress
Once you have WordPress installed and your site setup you'll need to install an LMS plugin like LearnPress.
Once you've installed the plugin follow the steps below:
Add a new course

Configure the course settings

Add new lessons

Add assignments and quizzes

Create course completion certificates
What does online course builder mean?
An online course builder is a tool that helps you build out your online course. Instead of having to do everything from scratch, an online course builder can speed up the process. It makes it easy to host your course files and media, organize your course, manage your students, and more.
Software to create online training courses
There are all kinds of different software to help you create online courses. You'll find software that helps you build and sell your courses, email your members, manage your members, and more. Some of the software to create online training courses are:
Learnworlds
Thinkific
Teachable
What equipment do I need to create online courses
If you want to create an online course you'll need the right equipment to produce high-quality course content.
Here's some production equipment you'll need to create online courses:
A quality microphone
A webcam or video camera
Screen recording software for walkthroughs
Video editing software
Whiteboard
Down the road, you may even want to invest in merch like t-shirts, hats, and mugs for your members.
Course creation template
A course creation template is a template that you can follow to help you build out your course. Usually, you'll get these from a course creator who's built out a successful course. Instead of having to build out a course from scratch, you can use a course creation template to build your course quickly.
One example is this:
Topical Course Outline Template
(Course subject)
– Main topic 1
– – Subtopic
– – Subtopic
– – Subtopic
An example of such a list could be this:
Course subject: How to start a blog
– Main topic 1: Introduction to blogging
– – Subtopic: Finding the right niche
– – Subtopic: Finding your web hosting
– – Subtopic: Organizing your content
– Main topic 2: The importance of keyword research
– – Subtopic: How keywords determine your blogging success
– – Subtopic: Tools to find the right keywords
– Main topic 3: The benefits of writing long-form content
– – Subtopic: How long-form content helps you rank on google
– – Subtopic: Examples of long-form content
How to host online classes 2024
There are a few different ways you can host your online classes. The first is using an all-in-one tool to host all of your site's files like Learnworlds, teachable, thinkific. The second is using a self-hosted platform like WordPress, where you're responsible for hosting your course files and materials.
How do I set up my Online course?
It's easy to set up a course using LearnWorlds. Once you create an account you can use the course builder to upload and organize your course materials.
Here's a process you can follow to setup your online course:
Create course sections and learning activities to complete
Insert videos, PDFs, and audio files
Create eBooks within the tool
Add certificates to award course completion
Drip feed content or make it available at once
How long does it take to create an online course
The length of time to develop the course will depend upon the length and depth of the course you're creating.
A good rule of thumb is to plan for 2-3 months to brainstorm, research, plan, design, create, and test your course. You can even bring in a few BETA students early on to help inform the direction of the course.
How much should I charge for an online course?
You should probably charge more than you think about your online course. If it's a short course that can be consumed in a single day you should charge at least $99. However, longer courses can scale up much higher than that, into the thousands of dollars. Overall, you should monitor your competition and test different price points to see what converts.
Can I Have a Custom Domain with Online Course Platforms?
Yes, you can. It depends on what platform you're using, but most will support this functionality. Platforms like Thinkific, LearnWorlds, and Teachable all offer this.
It's recommended to have a custom domain for your online course, as it allows you to build an actual business. It's difficult to build a long-term business on a subdomain.
Which Online Course Platforms Allow Blogging?
Having built-in blogging functionality allows you to create a content marketing strategy to get more traffic and paying students. But, a lot of platforms don't allow built-in blogging functionality.
Two of the best platforms that allow for blogging include Teachable and LearnWorlds.
Are online courses profitable?
Yes, online courses can be very profitable. The demand only continues to increase, and it offers an incredible business model for online entrepreneurs.
Online courses do take continued work in terms of marketing and engaging with students. But, once you've created the course, the bulk of the work is done, and you can sell what you've created again and again.
How long is an online course?
There is no set length of an online course. The course should be as long as it needs to be to deliver the information effectively.
For example, you could have a short 10-minute intro course, and have a flagship course that contains over 40 hours of content.
Typically, the more a course costs, the longer the course should be, but this isn't always the case.
How do I create an online WordPress course for free?
If you want to create an online course in WordPress for free you'll want to use the LearnPress LMS plugin. This free plugin lets you create online courses, take payments, and stay in touch with your students. If you're already running WordPress, this is the only way to build a feature-rich online course.
What are the most profitable online courses?
Profitable online courses can be found in almost any niche. However, trending niches tend to make more money since there's a larger audience.
Some of the most in-demand niches today include:
Digital marketing
Game development
Cryptocurrency
Data Science
Artificial Intelligence
How do online teaching courses make money?
Online teaching courses make money by selling courses to students. Some even make additional revenue by offering affiliate products, or even offering up-sells to one-on-one coaching.
What are the disadvantages of online classes?
Online classes aren't for everyone. As a teacher, you must have great communication skills and be adept at understanding student needs.
Here are some student disadvantages:
It can be much easier to procrastinate
Online classes require good time management
Online learning can get lonely
Online classes make the student responsible for learning and asking questions
How do I start an online learning business?
To start your own online learning business you'll need to decide what you want to teach, validate the idea, create your course, get feedback, and improve your course, and finally launch your course. You can also release multiple courses in time to help solve more of your student's needs.
Can you make a living teaching English online?
Yes, teaching English online can be a great way to make a living. Depending on your qualifications, you can earn anywhere from $12 to $25 per hour. Sometimes, you can earn even more once you've built up a roster of satisfied students.
How much money can you make with an online course?
The range of how much people earn from online courses is pretty vast. You can earn nothing, all the way up to $50k per month and beyond. The only limits to how much you can earn are the quality of your course and the size of your market.
How do I start my own training center/ training company?
Starting a training business begins with you. What kind of professional skills do you have that people would love to learn? Training companies usually teach people in conference-like settings, like Tony Robbins.
Here's a quick process you can follow to get started:
Decide on the skills you're going to teach
Decide what audience you're going to address
Build your company website
Create your training programs
Launch your training programs to the world
How do I start an eLearning course?
Here's how you can easily create an eLearning course:
Decide on the topic of your eLearning course
Research your audience to find pain points your course will solve
Outline and create your course materials
Get feedback from early students to refine your course
Launch and market your eLearning course to the world
How do you create an online course and sell it?
Here are a few of the main things you'll need to do to create and sell an online course:
Pick a course topic that you know about and is in demand
Validate that your course topic has a market
Create your initial course content
Choose a platform to host and sell your course
Choose a price for your course
Create a sales page
Start marketing your course
What makes a good eLearning course?
A good eLearning course delivers on the promises you made in your marketing and delivers a great user experience. Sadly, a lot of people buy online courses and never finish. But, by creating an incredible learning experience that delivers on the promises, you'll set yourself apart and leave your students happy.
How do I create an online training course?
Here's a quick process you can follow to create an online training course:
Find the perfect course topic that's in demand
Choose the right platform to host and sell your course
Put your course content together
Get BETA students to test drive your course
Improve your content via their feedback
Launch your course to the world
How do I create an online training course for free?
There are a variety of online course platforms that offer free tiers, including Thinkific. This allows you to build out your course entirely for free and you'll only have to pay a percentage of your course sales. After you start earning revenue you can upgrade to a higher plan to reduce transaction fees.
How do online teaching courses make money?
Online teaching courses make money by charging for course access. This can be either a monthly subscription or a one-off fee.
Online courses are an in-demand business model and can earn teachers a lot of money if the course topic is in demand.
Is Zoom good for online teaching?
Zoom offers a ton of features that make it great for online teaching, including:
Live video
Live chat
Screen sharing
Recording lessons
Screen annotation
Whiteboard feature
If you're creating an online course, you may want to use a different tool, but if you're teaching one-on-one, in a virtual classroom setting, or are doing coaching calls, it's a great choice.
How do I become an online tutor?
Online tutors usually have experience and passion for a certain subject. Here's how you can become an online tutor:
Choose your subject
Know what kind of students you'll be tutoring
Decide how you're going to teach
Choose a course or one-on-one model
Join a platform or market your services individually
Start tutoring students
What is Zoom for online classes?
Zoom for online classes is where a teacher and multiple students can join together for an asynchronous class.
The teacher will have control over audio and chat, and can even take individual questions. It operates similarly to a physical classroom, but everything is digital.
Is Zoom safe for online classes?
Unless you're discussing state or corporate secrets or disclosing personal health information to a patient, Zoom should be fine. For online classes, get-togethers, or even workplace meetings that stick to routine business, there's not much risk in using Zoom.
To make zoom online classes more secure, follow these steps:
Password protect your meeting
Authenticate the users
Do not allow to join before host (Account settings)
Lockdown your meeting after it starts (Account settings)
Use waiting rooms (and screen participants before you let them in)
Avoid filesharing
Use always the newest version
How do online tutors work?
Online tutors work through one-on-one digital classrooms. Some platforms like Wyzant offer a place for tutors and students to connect, and combine online teaching schools. Lessons can also be done via platforms like Zoom and Skype, which allow for virtual one-on-one lessons.
How do I start an online tutoring business from home?
An online tutoring business is a great way to reach students around the world. Here's how you can get started:
Choose your tutoring topics and types of students
Join a tutoring network for easy access to students
Get student testimonials
Use testimonials and your growing skills to branch out on your own
Create a network of student referrals
How do I start a tutoring business from home?
Starting a home-based tutoring business means that you'll be relying on your local network of colleagues and students.
Here's a quick process you can follow to get up and running:
Decide on your tutoring topics and hourly rate
Join a tutoring network like Chegg, Tutor, or Brainfuse, or start from scratch
Make a list of potential students
Network with other schools in your local area
Obtain materials and tools you'll be using to tutor
Create a marketing and referral plan to generate students
How do I start tutoring?
Becoming a successful tutor all starts with your first student.
Here's a process you can follow to start tutoring:
Decide which topics you want to tutor on
Choose which age groups and grade levels you want to focus on
Get familiar with what the students are learning and the curriculum
Create your teaching methods
Create a website and join tutoring networks
Get your first tutoring student
What is the best way to tutor online?
First, you'll want to define your USP (what makes your tutoring business unique). Next, you'll want to create a simple website with your skills and experience.
To get the word out about being a tutor you can create profiles on sites like Talentnook and Wyzant to pair with students who need your skills.
How do I promote myself as a tutor?
The best way to promote yourself as a tutor is by making yourself easy to find for potential students, and even parents.
Here are some tips:
Create your tutoring website
Join websites dedicated to connecting you with students
Get testimonials from past students
Share learning tips across your site and social media
Ask for referrals from your satisfied students
How do I start a coaching institute?
Starting a coaching institute can take your coaching business to the next level. With a coaching institute, you train other coaches in your unique method that gets people results.
First, you'll need to map out your method and how you can teach this, so you can certify other coaches.
Then, you can start generating new clients and pass these clients onto your network of trained coaches.
How can I promote my online teaching?
There are a multitude of different strategies you can employ to promote your online teaching. First, you'll need to define your target audience and where they hang out online, then try out some of the strategies below:
Answer questions on Quora related to your niche and link back to your online teaching website
Do cross-promotions with other online teachers in a related field
Share resources from inside your course across social media and on your blog
Do podcast interviews with other people in your niche and related niches, sharing wisdom and information about what you teach
How do I advertise myself as a teacher?
Once you've built your online course, you'll need to get the word out about what you teach.
Beyond having a website that markets your skills and courses there are a few additional ways you can establish yourself online:
Update your Linkedin profile to reflect your current teaching profession and new website
Publish guest posts on relevant blogs and websites within your niche to build your authority
Update your email profile and add links to your LinkedIn and website
Take advantage of a site like Quora to answer relevant questions and grow your audience
How can I increase my online sales course?
The only true way to increase sales to your online courses is to get more traffic to your website. There are a ton of different online marketing strategies you can use, including:
Publish short clips of your videos on YouTube with links back to your course
Create in-depth blog posts that cover similar topics to your course
Create infographics that pull tips and tricks from your course and share it widely
Publish guest blogs that teach readers similar topics as your course content
How can I make 1000 a day with online courses?
Earning 1,000 a day as an online course creator is entirely possible. However, it depends on the size of your market and the overall price of your course.
Here's a quick breakdown of a few different ways you can earn 1,000 a day selling courses:
Sell 20 courses per day at $50
Sell 10 courses per day at $100
Sell 4 courses per day at $250
Sell 2 courses per day at $500
Or, if you price your course at $1000, then you'd only need on sale a day to hit your goal.
Once you have a source of traffic (paid or free), you can figure out your conversion rate to see how much traffic you need per day that'll convert into paying students.
What are some free online courses?
There are hundreds of thousands of different free courses available online. You can learn virtually any skill with the wealth of information available.
Here are some of the most popular free courses available online:
Which are the best free online courses?
There are hundreds of thousands of different online courses you can take. But, sometimes it can be hard to choose what course to take.
Here are some of the highest-rated online courses from top universities:
What is the most useful skill to learn?
One of the most useful skills you can learn is learning how to learn. This is what's called a meta-skill, in that it underlies every single other skill you want to pick up.
By learning how to learn, you'll be able to pick up other skills at a faster rate and understand how you learn best.
What is the highest paying skill?
If you want a high-paying career, or earn more as a freelancer, then you'll need to learn a high-paying skill.
Here are some of the highest paying skills that you can teach yourself online:
Data science
Software engineering
UX design
What skill can I learn in 1 month?
In only one month, you can learn some valuable skills that'll impress a new employer or add value to your life. You won't master these skills in a month, but you can lay a solid foundation.
Here are a few great skills you can learn in 1 month:
A foreign language
Coding and web development
Cooking
Photo and video editing
Learn to solve a Rubik's cube
What skill can I learn in 3 months?
Only three months from now you could possess some new skills that are incredibly valuable.
Here are three skills you can learn in three months:
Programming and website building
Public speaking
Photo editing
What is the best skill to learn in 2020?
If you want to learn a skill this year, a good idea is to choose a skill that'll be valuable well into the future.
Here are some of the most in-demand skills for 2020:
Blockchain
Cloud computing
Data analytics
Artificial intelligence
UX design
What skills can I learn online?
Anything you can learn in person, you can learn online. You probably have an even wider range of skills you can learn since you have access to teachers from around the world.
Here are some popular skills to learn online:
SEO
Web development
Copywriting
Graphic design
Photography
Digital marketing
Which app is best for online earning?
There are a variety of different apps you can use to take courses online. If you're looking for an app that has a wide range of different courses, then these is the best app for online learning:
Udemy
Khan Academy
LinkedIn Learning
While if you want to learn another language, Duolingo is always a popular choice.
What skills can I teach myself?
There are all kinds of skills you can teach yourself, it depends on your overall goals and how you learn.
Here are some of the most valuable skills you can teach yourself:
Graphic design
Programming
Web Development
Video game design
Photography
Foreign languages
What skills should I learn in my free time?
If your goal is to earn money online by selling courses, then you can't go wrong with learning skills like:
SEO
Digital marketing
Basic web development
Beyond the online marketing world there are all kinds of other fun skills you can learn like:
A new language
Speed reading
How to draw
Learn an instrument
Learn how to program
And more
Final Thoughts
In this article, I have taken you through the best 10 online platforms to choose from if you are thinking of going to the next step and making your online courses available to the world. However, it's vital that you take into consideration your audience before choosing the right platform.
The sites provided are the best as they're reliable and reputable and will provide you with great features that will enable you to upload your course(s) and share it with your students easily via webinars. Upcoming online course platforms such Academy of Mine, Wiziq, and Ruzuku are giving these listed platforms a run for their money but at the moment, the best platforms have been listed here and I'm keen on seeing how these upcoming ones will perform.
Online courses are a great way to grow your audience, teach students topics that you care about, or generally launch a side hustle. When choosing an online teaching platform, consider the marketing features provided, time restrictions, and monthly fees. Ultimately, what makes you stand out is the quality of the courses you upload and how well you plan and market your courses.