When you're searching for influencer accounts it's easy to get distracted by big numbers. You see an "influencer" with a huge amount of followers and assume they're dominating their space.
However, this isn't always the truth. A lot of accounts that seem influential are filled with fake followers and fake likes.
At first glance, this can be difficult to spot. But, with the right vetting tool, you can search through Instagram accounts and find accounts that have real followers and engaged audiences.
One of the best tools for this is called HyperAuditor. In this post we'll dive deep into this tool, highlight the core features, uses, and pros and cons, so you can decide if this Instagram analysis tool is right for you.
What is HypeAuditor.com?
HypeAuditor is an Instagram, TikTok, and YouTube account authenticator and research tool that's powered by AI. The comprehensive set of tools that utilize an algorithm that draws conclusions about the quality of the influencer accounts.
Here are a few unique components of this tool:
Detailed search filters to find the exact kind of influencer you're looking for
Over 35 different detailed metrics to analyze the performance of the account
Influencer fraud detection to determine if the account has organic followers and likes
Detailed competitor analysis, campaign tracking, and influencer reports
Overall, it's a great tool that will help you find, analyze, and track influencers across Instagram, YouTube, and TikTok.
You can use this tool to find the best influencers for your next influencer marketing campaign. Finding the right influencers isn't just about seeing who has the most followers, you'll want to find relevant influencers that have highly engaged followers who have an overlap with your market.
HypeAuditor is a great tool for the following types of users:
Influencers
Bloggers and content managers
Business owners
Marketing agencies
Influencer marketers
Pros and Cons of HypeAuditor
HypeAuditor won't be the best tool for everyone. Here are some of the biggest pros and cons of using the tool:
Pros
You can search for influencers on the most popular influencer platforms
The interface is simple and easy to use
You can quickly see detailed account breakdowns
Identify fake followers and accounts with inflated statistic
There's a free plan that lets you try out different features
Cons
You only get API access with the paid Pro plan
Since the full reports are so detailed they can take a while to generate
If you're using the free plan, you'll have to pay for each analytic you want to unlock
It only focuses on Instagram, TikTok, and YouTube
Pricing
To start, HypeAuditor has a version that's available entirely for free, which will give you access to a handful of basic features.
If you want access to the entire functionality, then you'll need to upgrade to one of the paid plans.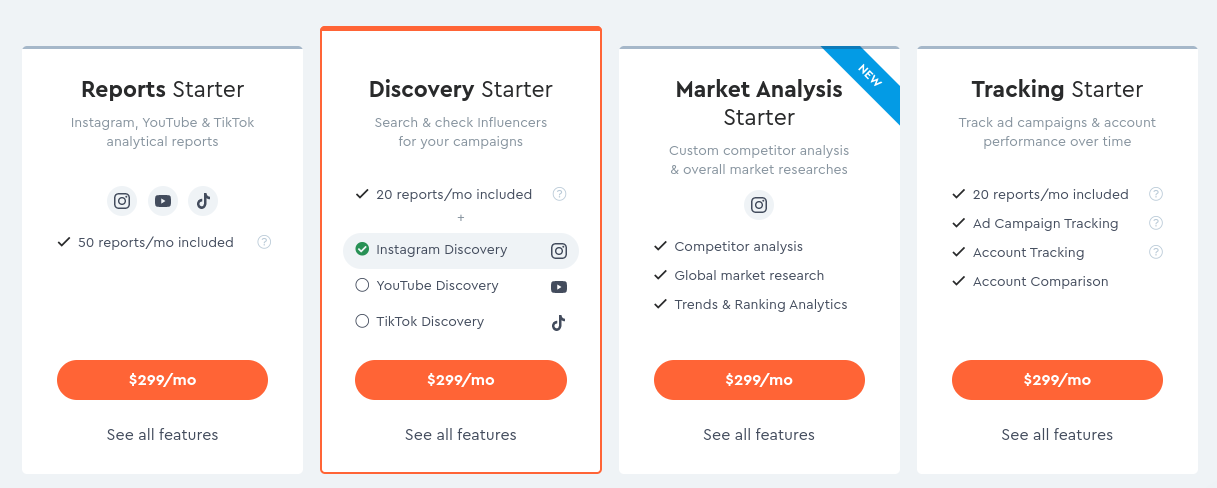 Currently, there are two different paid plans to choose from:
Starter. $299 per month for each starter plan. There are four different plans depending on the feature set you want access to and the social media networks you want access to.


Pro. This plan gives you nearly unlimited access to the platform, however, you'll need to reach out to the sales team to get a custom quote based upon your needs.
HypeAuditor Core Features
HypeAuditor is a pretty feature-packed tool with advanced functionality.
Here are some of the core features this tool offers and the type of things you can accomplish.
1. Discover
The core of HypeAuditor is an influencer discovery tool that you can use to find Instagram, TikTok, and YouTube influencers. It has over 18 million different influencer accounts in its database, so you're sure to find the right kind of influencer for your digital marketing campaign.
When you fire up the tool you'll get access to what's called the 'Influencer Discovery Hub'. This tool lets you search for influencers by different things like category, location, person, age, whether or not they're verified, audience information, demographic information, and more.

All of these features can also be tailored to each social media network, whether that's Instagram, TikTok, or YouTube.
Here's how you can uncover influencer information on each of these platforms:
Instagram Analytics Tool
Instagram is the social media platform that birthed the influencer. But, how do you know if the Instagram influencer you want to work with is actually legit?
HypeAuditor helps you answer that question. Using this tool you can find the number of followers, how often they post, and the overall engagement. You can also sort by what's called the 'Audience Quality Score' (AQS). This will show you influencers based on who has the highest quality audience.
If there's an influencer that you like and you want to find a similar influencer, then you can use the 'Similar As' feature. This will find influencers with similar stats to the influencer that you like.
YouTube Analytics Tool
YouTube is one of the most popular search engines in the world. With all those visitors, there are a ton of influencers on the platform. People who follow YouTube influencers and celebrities tend to be very dedicated and passionate as well since YouTube videos are much longer and capture more of their attention.
When searching for YouTube influencers you'll find similar filtering factors to the Instagram option above. Plus, there's a 'Channel Quality Score' which will rate the overall quality of the channel based on the following metrics:
The quality of the audience
The overall credibility of the channel
How engaged the audience is
The overall influence of the channel
Each influencer will get a score, with 100 being the highest.
TikTok Analytics
TikTok is one of the newer additions to this tool. However, as one of the most popular social media networks in the world, this is an incredible network to find influencers on.
The ability to sort and find influencers will be similar to both YouTube and Instagram above. You'll be able to filter by the number of total followers, the type of content they post, overall audience engagement metrics, and more.
2. Analyze
The first step of the process will help you find a handful of influencers that you can reach out to. Now, it's time to analyze those influencers you've found to find the ones that are going to be worthy of collaboration.
With HypeAuditor you can obtain detailed influencer analytics reports that will break down engagement metrics and overall reachability, so you can choose the influencers that'll best support your brand.
You can generate these reports for Instagram, YouTube, and TikTok.
Here are the four big social media analytics areas that you'll be able to pull for your reports.
1. Influencer's Audience Quality
One of the main reasons to do an influencer marketing campaign is to get your product, services, or brand, in front of their audience.
You'll want to find an influencer who has an audience that matches your target audience. If you don't know your audience demographics yet, then make sure you establish these before you start generating audience reports.
Here are some of the key metrics that will define audience quality:
The type of audience
Audience location
Audience interests
Demographic information like age, language, gender, etc.
2. Channel/Account Growth
When you consider working with an influencer you want to see positive growth. But, follower growth is easy to fake. There are all kinds of ways that people can buy followers, likes, and even comments.
This can make the account look good on paper, but most of the audience will just be comprised of bots and not real people.
This tool will show you the year after year growth of the channel or account, so you can spot things like mass follows and unfollows, which is a spam technique to gain more followers.
This feature can help you find fake influencers who look like they have huge accounts, but won't bring you any new customers, leads, or subscribers.
A lot of times the biggest accounts won't be the best for your brand, but often small-to-medium-sized accounts with very engaged and passionate audiences.
3. Audience Engagement
Engagement metrics are some of the most valuable. These numbers can be more telling than having a big Instagram following or a ton of YouTube subscribers because it will show who's paying attention to their content.
HypeAuditor doesn't just check the total number of comments, but it checks the accounts that comment as well, to ensure that they're not bot accounts.
Some influencers who are trying to boost engagement rates on their accounts with purchase comments from bots. This tool sorts the real from the fake, so you can work with influencers who will end up helping you grow your business.
HyperAuditor will give accounts authenticity scores that can help to weed out fake accounts.
It will rank the authenticity of their accounts and engagement on the following factors:
Comment Rate. The percentage of your audience that leaves comments.
Comments Authenticity. The number of comments you have from authentic accounts.
Likes-Comments Ratio. The number of comments you receive compared to likes.
Likes spread. The spread of likes between similar accounts.
Ideally, these will all be in the 'Good' category, but it'll help you make a value judgment whether or not that influencer has a quality account.
4. Value of the Channel (Estimated Cost)
The value metric quantifies all of the above information and answers the question: how much is this influencer worth?
Based on the performance and engagement metrics this tool will quantify how much the influencer could charge per post. This will help with your negotiations when you're approaching an influencer about a per post rate.
This will also break down any existing paid posts, mentions, ad performance, and more. This will help you see just how open the influencer is to collaborating and doing paid posts. It can also help you see the type of brands they've worked with, in the past.
3. Track
This tool lets you track the performance of any Instagram account. You can use this to monitor the performance of your own account, or you can monitor your competition's accounts.
You can include up to five accounts that you regularly monitor. This is a great way to get real-time feedback on how your campaigns are performing against your competitors.
You can also track the performance of the influencer campaigns that you run. This will show you if you got a good investment or not. Over time, you'll be able to see what kind of influencers have been the most beneficial to your brand.
The campaign tracking reports will give you information like:
The CPM and the CPE
The total amount of likes, comments, clicks, and more
The audience you were able to reach
The quality of the audience you reached
How much you spent on your promotion
4. Research
Most other influencer discovery platforms lack this single feature, the ability to conduct influencer and industry research. HyperAuditor provides in-depth industry research reports, along with influencer rankings and trends.
The Research Hub will help you better understand your market and the influencer space as a whole.
Here are a few things you can do:
Uncover Industry Trends
The industry trends report will show you the top Instagram, TikTok, and YouTube accounts across various industries.
You can sort via niche, account type, length of time, location, country, account size, and more. You can even sort via accounts that are currently trending or accounts that have the most mentions.
The charts are very easy to read and digest and allow you to take in valuable influencer information without having to manually open every single account. This allows you to quickly see which accounts are the most valuable and influential in your chosen niche.
Do Competitor Analysis
With the competitor analysis tools, you can analyze the influencer campaigns that your competitors are running, and even see the results of influencer marketing campaigns.
This can even help to shortcut your influencer research because if an influencer worked well for them, they should be a good fit for your business as well. You can even get ideas about the kind of influencer campaign you should run.
The competitor analysis tool will show things like:
The influencers your competitors have worked with
How much they spent on the campaign
The type of creative materials they used in the campaign
The performance of the post
Whether or not it was a good investment
Alternatives to HypeAuditor
HypeAuditor provides the most in-depth feature-set, but if you're looking for a simpler here, here are a few additional influencer marketing platforms worth checking out:
1. BrandFollowers
BrandFollowers is a free Instagram analytics tool that lets you analyze brands and influencers and their followers. You'll get access to information like follower demographic data, new followers, unfollowers, fake followers, and engagement rates.
2. Social Blade
Social Blade lets you track influencers from Instagram, YouTube, Twitter, and more. You'll get daily updates to influencer accounts, along with the audience and demographic data.
3. Heepsy
Heepsy is an Instagram influencer search engine. All you have to do is type in your keywords and the tool will pull up relevant profiles you can get in touch with.
HyperAuditor FAQ
Here are some of the most common questions that users have about HypeAuditor:
Is there a free trial?
There isn't a free trial, but instead a forever free plan that lets you test out the basic features of the tool before you buy.
What are credits?
To gain access to reports you'll need to purchase credits. You can also purchase credit packs if you want to unlock multiple reports. You need one credit to unlock a single report for a year.
How do you pay?
You can pay via PayPal, credit cards, or even invoices for larger volume purchases.
Are there any discounts or coupon codes?
Currently, the cheapest way to get the tool is through the free version. However, bulk discounts are available. If you want a bulk discount, then you'll need to reach out to the sales team.
What are white-label reports?
If you run an agency, then you can generate white-label reports that offer detailed breakdowns of the accounts you're managing, or campaigns you're running. Since they're white-label you can add your own agency logo and branding.
How many influencers are in the database?
Currently, there are over 10 million different influencers you can search through. This is one of the largest databases of searchable influencers you'll find online. Plus, over 15,000+ influencers are added on a daily basis, so there will always be new influencers for you to work with.
Is HyperAuditor Right for You?
HypeAuditor is an all-in-one influencer research tool. You can find and research influencers, study your competitors, and get all the data you need to execute a successful campaign.
For those on a budget, the tool might be a little expensive, however, they still offer a variety of free tools and calculators you can use to start analyzing Instagram, YouTube, and TikTok accounts.
Overall, HypeAuditor is a solid tool for anyone who wants to succeed in influencer marketing. Plus, you can always take the free plan for a test drive to see if it's right for you.