You're here because you want to make money off your YouTube channel?
It's not a pipe dream. This reality is closer than you might think
Best of all, you don't need to have a channel that has hundreds of thousands of subscribers to make a living. All it takes is a dash of creativity, and some of the ideas highlighted in this post.
By the end of this post, you'll see just how close your YouTube dreams really are, plus you'll be equipped with over a dozen ideas that can make you money off YouTube today.
Can I Actually Make Money On YouTube?
YouTube gets over one billion visitors per month, that's a billion with a B! That makes YouTube the second most popular search engine in the world. The only other search engine ranking above it–Google.
YouTube is a powerhouse for content creators, and there are a ton of people making money there. There are already one million people who are a part of YouTube's partner program. This program alone gives returns of about $2-4 for every 1,000 video views.
That might seem like small potatoes, but if you had 50 videos with 10,000 views apiece, that would be between $1k to $2k.
But, that's just one avenue to make money on YouTube. And it's far from the most lucrative option too.
Keep reading to learn about over a dozen ideas you can apply to your own channel to turn it into an income generating machine.
Disclaimer My content is reader-supported. If you click on some of the links I might earn a commission. This is at no additional cost for you. I only recommend what I carefully reviewed.
12+ Ideas to Start Making Money on YouTube 2024
The traditional response to making money on YouTube is usually starting your own YouTube channel and then just run ads on your videos. Now, this can work. But, there are many other ways you can make money as a YouTuber–running ads on your videos is just one approach!
Below you'll learn a dozen other ways you can monetize your YouTube channel and turn your YouTube channel into a full-time business.
1. Get Paid for Advertising (Become a YouTube Partner)
One of the most straightforward and conventional approaches to earning money on YouTube is to join the YouTube Partner Program.
This program allows you to earn money with your videos in a few different ways, including:
Advertising revenue. Earn ad revenue from overlay ads, display ads, and video ads.
Recurring memberships. Members can make monthly payments to access exclusive perks that you decide to offer.
Merchandise. You can showcase branded merchandise for your followers to purchase.
Super chat. Your followers can pay to have their messages highlighted in your chat stream.
Premium revenue. You'll receive a portion of the premium subscribers' subscription fee.
To get accepted into the program, your channel will need to have 4000 total watch hours during a 12 month period, and a minimum of 1,000 subscribers.
If your channel isn't quite there yet, then it's worth exploring the YouTube Creator Academy. This is a collection of videos and courses created by the YouTube team to help you create the best channel possible.
As a whole, you'll get 55% of your total earnings when you run ads on your videos. Yes, you're splitting revenue with Google (who owns YouTube), but they're taking care of the platform, hosting your videos, providing an audience, managing the ad platform, and more.
If you want an easy and straightforward way to monetize your channel and satisfy the requirements, it's worth signing up for the program.
2. Give Your Viewers a Way to Fund You
If you feel uncomfortable running ads on your videos, linking out to affiliate products, or selling your products or courses, there is still a great way to transform your growing YouTube channel into a business.
It's called Patreon.
Patreon gives your viewers a way to support you directly via a monthly pledge. Typically, you'll create different reward levels that people get access to for contributing a certain amount.
There are a lot of YouTube creators making a full-time living from Patreon contributions alone. Here's a handful of examples:
As you can see, almost no niche is too obscure to earn a living. Above, we have a cooking channel, a couple who sails, a health channel, and a channel who creates animated videos
The important thing is to focus on a specific niche and work on creating the best possible content in that space. There's a lot of money to be made on Patreon, and your channel could be next.
3. Make Affiliate Income By Promoting Other People's Products
Affiliate marketing is one of the most popular ways to make money online. It can be done via multiple online mediums, including your blog, social media, and now through your own YouTube channel.
If you're not familiar, the process is simple. You direct people to other stores via your affiliate link. Then you receive a commission from any product that person buys. When the viewer clicks your affiliate link, a cookie is placed on their device and tracks what they purchase.
Any video you create that recommends or reviews a particular product is the perfect place for an affiliate link.
You can find affiliate programs for almost every product out there. Just google "product + affiliate program." Alternatively, you can explore affiliate marketplaces like CJ Affiliate, ShareASale, and ClickBank to find affiliate products you can promote.
ClickBank offers a variety of digital products you can promote, here's a quick look at some of the products and categories they offer:
Alternatively, you can direct people to a blog post that contains a review of the affiliate products you're reviewing or recommending. We go into this in more detail below, so keep reading.
4. Review and Recommend Your Favorite Amazon Products
Amazon has one of the biggest affiliate programs in the world. No matter what niche of YouTube channel you're in, you can find relevant products on Amazon to recommend. With Amazon you can expect an affiliate commision that ranges up to 8 – 10% of the total price of the product.
Here's a list that shows the commission percentage depending on the niche of products you select:
Even though some of the affiliate commissions might seem low, there's one caveat. Once someone clicks through your link to the Amazon store, you'll make a commission on any product they decide to buy.
So, if you're recommending a new backpacking backpack, but they decide to purchase a new washer and dryer set as well, you'll make a commission on that too!
There are hundreds of successful affiliate websites that are solely built on the back of Amazon, there's no reason your YouTube channel can't reach the same levels of success.
Sign up to get started as an Amazon affiliate today
5. Sell Print on Demand Dropshipping Products
A lot of YouTube channels have cult followings. You have your own language, phrases, and inside jokes. Just like how shows and bands sell their own merchandise, you can do the same thing.
Plus, you can do it in a way that doesn't involve any inventory. By selling print on demand products all you have to supply is the creative material.
You can print things like t-shirts, hats, other clothing items, posters, stickers, mugs, and more.
Then, you can print these items for yourself and wear them, or show them off during your videos. All you have to do is include a call-to-action in your video, or a bio link, and your viewers can pick up your swag
One of the best platforms for dropshipping print on demand products is Printful.
This service makes it almost too easy to start selling your own products. All you have to do is upload your creative material and they'll take care of the rest. Including payment, shipping, and tracking.
Here's a quick look at what your Printful storefront could look like:
6. Sell Your Own Physical Products
Affiliate marketing can be a great way to generate revenue, but if you want to keep the lion's share of profits, instead of just a referral fee, then you should consider selling your own products
This is a bit different than the idea above, as you'll be selling products that go well beyond just branded merchandise.
Instead, you'll be developing and selling your own products that are in alignment with the topics that you talk about on your YouTube channel.
For example, do you have weight lifting videos that show people how to lift correctly, drop fat, and get in shape? Then, you could create your own weight lifting belt, or even a line of supplements, like pre-workout, or post-workout shake.
Ask yourself what kinds of physical products that people in your niche would be interested in, then make it.
You have two different approaches to selling products:
6.1 – Method 1: Create Your Own Products and Shop
Creating your own products and running your own storefront is undoubtedly more work, but you'll reap more profits and can end up building a fairly successful store in the process
For example, health and fitness YouTuber Christopher Walker was able to create a successful supplement eCommerce store on the back of his YouTube audience
Here's a simple callout in the video description
When you click one of the links in the bio you'll be taken to the storefront:
You'll have multiple options when it comes to creating your own store.
The first is Shopify. Shopify is an all-in-one eCommerce platform that lets you host and build your website, buy a domain, add your products, make sales and process payments. Anything required to help you run your online store you can do it here–all for one monthly fee.
Beyond Shopify there are a handful of other eCommerce platforms that provide you with different features and means of creating your store.
Big Commerce. It operates similar to Shopify, but is built to scale with your store
3dcart. An all-in-one eCommerce tool that helps you build a store designed to rank in the
search engines.
Wix. A standard website builder with eCommerce functionality.
WooCommerce. A free eCommerce tool that will transform your WordPress site into a full-fledged online store.
Squarespace is an easy to use website builder with added eCommerce functionality.
Selz is an eCommerce platform that operates similar to Shopify, but it's focus is on being as easy to use as possible
6.2 – Method 2: Dropship Products
If creating your own products, managing inventory, shipping products, taking payments, and all that sounds like too much work, then you can choose to dropship products.
With dropshipping you work with a distributor who handles sourcing, manufacturing, and shipping products. All you have to do is list the product in your store and take the order. That's it!
You can also automatically import dropshipping products into your existing Shopify store. This takes nearly 100% of the hassle out of dropshipping
The two best platforms to use are Oberlo and Spocket.
Oberlo
focuses on products from all over the world.
while Spocket focuses on products that are manufactured in the US and Europe.
7. Promote Your Handcrafted Etsy Goods
Etsy is one of the biggest online marketplaces. There are currently over 50 million products listed for sale on Etsy. It's a marketplace for hand-crafted goods, vintage products, art pieces, and more.
Getting started on Etsy is easy:
Navigate to the homepage and click 'Open Your Etsy Shop'.


Next, you'll name your shop and customize your shop's settings.


Then, it's time to start listing your products, adding photos, entering your product descriptions and making your products look as attractive as possible.


Optimize your store by completing your bio, adding your shop's policies, and creating your seller profile.


Once your Etsy store is fully set up, optimized, and filled with your items, then it's time to start driving traffic. If you've set up your shop and optimized your profile for the right keywords, then you should start picking up traffic via the internal search engine.
But, you can also drive traffic via YouTube, if you have a related channel.
For example, let's say you have an Etsy store that sells refurbished typewriters.
You could create a related YouTube channel that shows you using the typewriters you're selling, or even walks your viewers through what the restore process is like. People who are interested in vintage typewriters will definitely check out what you're selling.
8. Write & Promote Your Kindle Book
Self publishing has taken the world by storm. No longer do you need the backing of a publishing house to get your book into the world.
Readers are hungry. If you're a natural writer, or have always dreamed of writing a book then self-publishing a book could be the perfect way to monetize your YouTube channel.
The hardest part about selling books is having an audience of interested buyers. But, if you have an engaged YouTube audience you can bet they'd love to read a book that's related to the topics you cover in your videos.
For example, Dan Middleton is a popular Minecraft YouTuber. When he released his graphic novel, he promoted it to his YouTube audience, and it was able to land on the number one spot on the New York Times Bestseller list. That's an incredible feat, but even more amazing is that it was done via YouTube and the engaged audience he was able to build there.
Plus, releasing a Kindle book is a great way to generate revenue without that much invested.
You also have the option to have an upsell course within your book. You hook readers with your book and offer a course that goes deeper into the concepts highlighted in your book.
9. Manage Other YouTube Channels Remotely
Maybe you don't have your own YouTube channel yet, but are passionate about YouTube as a whole?
Instead of spending the time creating, growing, and monetizing your channel, you can find a remote job managing channels for other YouTubers. There's a lot that goes into running a successful YouTube channel, and since a lot of YouTubers do it all themselves, it's easy for things to fall through the cracks.
This is where you come in.
There are all kinds of remote gigs available online, including YouTube management gigs. Check out the following sites for gigs:
To increase your chances of getting the job, it can be helpful to create your own YouTube channel and implement some of the tactics highlighted in this post.
Another great way to get started with YouTube management and other YouTube related gigs is to post a gig on Fiverr.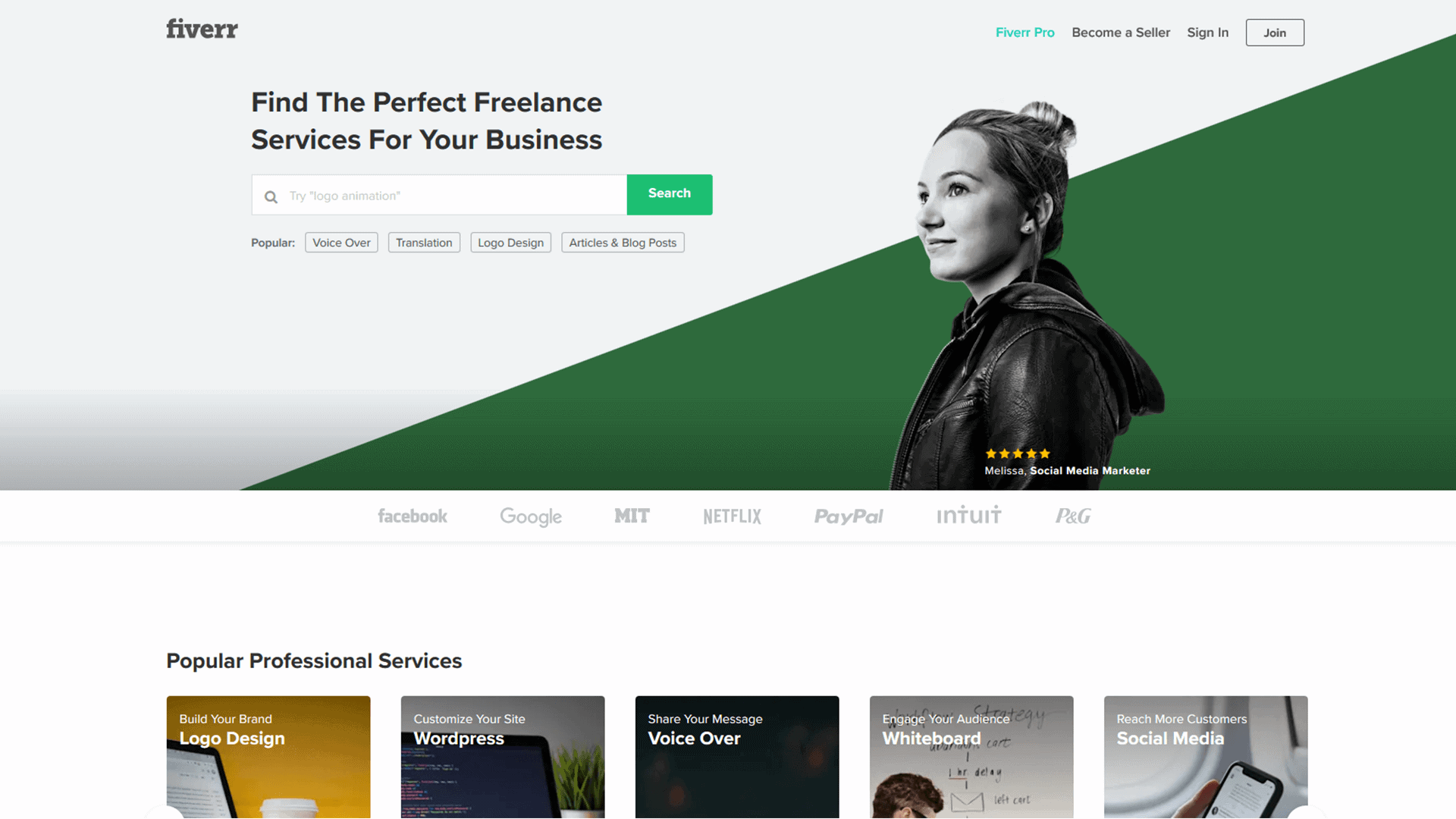 With Fiverr you'll create your own gig (usually with a low starting rate). Then, you can add upsells to your service which can lead to a decent amount of money.
Here's a quick look at some of the YouTube related services offered on Fiverr:
10. Monetize Your Podcast & Promote it On Youtube
The podcasting revolution is upon us. Chances are you have a handful of podcasts that you listen to every single week. But, did you know you can actually combine the power of podcasting and YouTube together?
Even though YouTube is a mostly visual platform, and podcasting is a verbal medium, they still work together. People listen to podcasts on a variety of different platforms, from Apple Podcasts to Google Podcasts, to Stitcher, and yes, YouTube.
To try and attract the biggest audience possible, it's a good idea to list your podcast across these different platforms.
You don't need to have a visual podcast either. For example, the James Altucher show has a podcast on YouTube that are just a recording of the podcast.
Read my article about How to Start a Podcast.


Before you launch your podcast you're going to need a place to host it.
There are a variety of podcast hosts you can choose. This is where you upload your audio files, and can even send them out to multiple different podcast networks. Podcast hosts also provide you with episode analytics, and even hosting for your podcast website, if you don't have one already.
Here are some podcast hosts worth checking out:
Once your podcast is up and hosted, then it's time to branch out to YouTube.
The best thing about uploading your podcast to YouTube is that it increases your chances for monetization. Podcasts are typically monetized by sponsorships, but you can sell products, merchandise, courses, and more.
11. Use YouTube Videos to Send Traffic to Your Monetized Blog
Generating traffic to a new blog is no joke. But, you can effectively bypass how difficult it is to rank in Google and send traffic to your blog via YouTube instead.
YouTube SEO is considerably easier than trying to rank in Google. Plus, you can grow your YouTube channel in the process and give yourself another revenue stream down the road.
The first thing you'll need to do is create a blog. There are many ways to do this, but the best approach is as follows:
Choose a quality host. Bluehost, Hostinger, Siteground, and iPage are all great choices.


Install WordPress. Every host above will have a one-click install that'll install the software on your site.


Build your blog. Now it's time to choose a theme and start customizing your site.


Recommended high-quality hosting services for your Blog
Once you have the initial framework for your site, then you'll need to create content that's monetized. You can do this through display ad networks like Google AdSense, Media.Net, and Ezoic. These types of networks will automatically show ads across your site and pay you for views and clicks.
Or, you can have content monetized via affiliate links (as mentioned above). Then, send traffic from your YouTube videos to your money posts.
If you have any existing content, you can repurpose it into a YouTube video; then, in the video description, you'll link back to the original post.
For example, the site Cloudwards is primarily a technology review site, but they also have an associated YouTube channel.
In the video description, you'll find a link that takes you to a blog post that reviews a similar product.
12. Start an Online Course and Promote it on YouTube
People are buying online courses more than ever.
If you have an educational YouTube channel, then you can easily monetize your audience by creating and selling a course on a similar topic.
For example, fitness YouTuber Kinobody sells a series of courses that go in-depth into the principles and fitness plans that he highlights in his videos.
Here's a link in the video description, which sends you to his site:
Then, once you go through the quiz, you'll be recommended a course that's in alignment with your goals:
There are a variety of online course platforms you can use to host your courses. Some platforms will allow you to host your course, while others have built-in communities where people can buy your courses as well.
Here's a quick breakdown:
Some platforms like Udemy and Skillshare are free to upload your course to, but take a portion of your course revenue. However, there are also built-in communities and search engines where people can find your courses without you having to direct traffic to your course.
For example, here's what Udemy looks like when you search for "Instagram":
The other platforms require a monthly fee to host your courses, but you can charge more of a premium for your courses, so you need fewer sales overall.
13. Negotiate Outside Sponsorships
Want to get paid to make YouTube videos, but want to earn more than what the built-in advertising platform will pay?
One great way to do that is to find outside sponsorships. This can be a product or service in your niche or a company that has an overlapping audience.
In exchange for a shoutout or mention at the beginning of your video (and usually a bio link too), that company will pay you a set amount per episode.
Here's the 'About the video' section on one of Chris Delia's videos. Notice the 'Thank you:' section–those are all sponsors!
Sometimes, you might get lucky, and a potential sponsor will get in touch.
But you can also take things into your own hands. There are all kinds of existing platforms that act as the middleman, connecting you with third-party sponsors.
Here are three worth checking out:
Third-party sponsors are a great way to earn massive amounts of cash from your YouTube channel. Plus, you can even earn from YouTube ads, products, and everything else on top of sponsorship revenue as well.
In Closing
By now you're well equipped to take over YouTube and turn your channel into a massive moneymaker. Hopefully, at least one of the avenues above can be applied to your channel.
In most cases, you can combine multiple of the approaches above to diversify your income streams.
Hopefully, you're inspired to finally start making good money off your YouTube channel. Feel free to share how you're going to apply the ideas above in the comments below! Or, share your best ideas that weren't mentioned above.